South Carolina self-reports impermissible icing on cookie cakes
The Gamecocks reported 22 secondary violations, seven of which were connected to the football team. One of them is funny.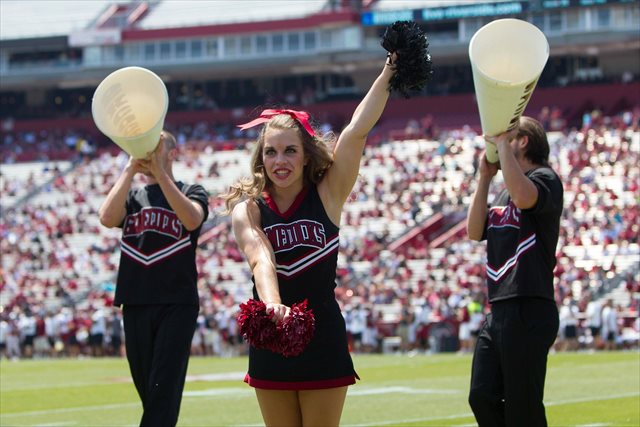 More college football: Jon Solomon | Dennis Dodd | Jeremy Fowler | Latest news
So: here is an exhaustive Associated Press report on the 22 secondary violations self-reported by South Carolina athletics over the past 12 months, obtained by the AP in an open records request.
Much of it is interesting. Some of it is not. And one particular item is this:
One infraction from last winter involved impermissible iced decorations on a cookie cakes given to prospects.
Hold on, let's read that again, because it's entirely possible you think you didn't read what you did, in fact, read:
One infraction from last winter involved impermissible iced decorations on a cookie cakes given to prospects.
Impressible. Iced. Decorations. On. A. Cookie. Cakes. [sic]
The knee-jerk response here is to aim one's laughter squarely at the NCAA, and there's no doubt its eternal celebration of everything bureacratic is a primary motivating factor in the Gamecock compliance department's willingness to self-report not that prospects had been given a cookie cake they shouldn't have, but that the cookie cake given to prospects had had too much icing applied. (Without more details, it's also possible the icing spelled out "COMMIT TODAY AND YOU WILL BE REWARDED WITH YOUR OWN JET-SKI," which would also be impermissible, but that seems like something more than a secondary violation.)
But as with Oklahoma's infamous Pastagate and Girlfriend Affadavitgate, the NCAA, honestly, doesn't really care about how much icing is on a cookie cake; it cares that compliance departments go the extra mile to report what they can. And there doesn't seem much doubt anymore that South Carolina's does.
Show Comments
Hide Comments
Florida State's star wideout saw a middle schooler eating lunch alone, so he pulled up a c...

Utah State will take on Weber State live, and you can watch it for free

Ishmael Zamora will miss three games and is being forced to give up his dog
Osa Masina will not travel with the team while suspended

College football gets going this weekend, so we're ranking all 14 SEC teams heading into the...

The star quarterback will play in front of twice as many fans as he ever has in Week 1 at Kyle...