Spring Practice Primer: TCU
The least you should know about the Horned Frogs this spring.
Because the college football calendar never stops, we're covering dozens of teams over the next few weeks as they knock off the rust in their first practice sessions of 2013. Here's the least you should know about TCU Horned Frogs this spring.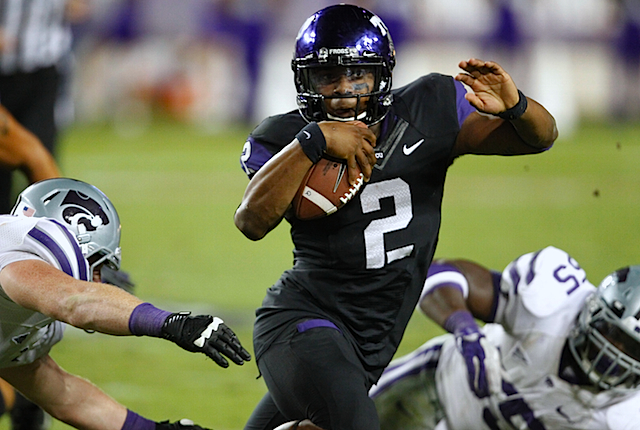 Trevone Boykin will have to fight to keep Casey Pachall from reclaiming the starting quarterback job. (Getty Images)
2012 Record: 7-6 (4-5 Big 12); Lost in the Buffalo Wild Wings Bowl
Practice Began: March 1
Spring Game: April 6
Returning Starters: 15 (6 Offense, 9 Defense)
• Casey Pachall wants his old job back. Without a doubt, the most compelling storyline in Fort Worth this spring (and arguably one of the most compelling in the nation) is the return of Pachall, a one-time starter who was briefly exiled from the program last October in the wake of an arrest and being charged with DWI. At that point, TCU was 4-0 and Pachall ranked fifth nationally in pass efficiency. From that point, the Horned Frogs dropped six of their last nine –- one more loss than they suffered from 2008 to 2011 combined -– and failed to top 17 points in four of those six. In a season marked by injuries, attrition and youth, Pachall's absence was the most glaring difference between the team that began its Big 12 debut with visions of a conference title and the one that wound up limping into the Buffalo Wild Wings Bowl.
Badly as the offense missed him, though, Pachall isn't being carried to the top of the depth chart on a litter. His understudy last year, Trevone Boykin , was as inconsistent and turnover-prone as one would expect from a redshirt freshman thrown to the wolves without warning, but he also flashed enough potential to enter the spring as the de facto starter until Pachall proves otherwise. If Boykin's brain continues to catch up to his raw talent, the question could easily linger into August.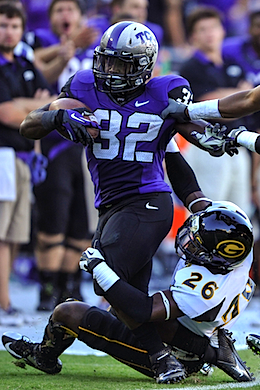 Waymon James missed 11 games in 2012 with a knee injury. (USATSI)
• How many tailbacks does it take to find the one? Less urgent but equally intriguing is the three-way backfield battle among senior Waymon James , sophomore B.J. Catalon and sophomore Aaron Green , a once-hyped recruit out of San Antonio who sat out last year after transferring from Nebraska. At least there he was safe, unlike James, who led the team in rushing in 2011 but left the rotation desperately thin in 2012 when he went down with a season-ending knee injury in the second game. With that, the bulk of the carries for the rest of the season went to Boykin, Catalon and injury-plagued senior Matthew Tucker None particularly distinguished themselves.
TCU has always favored the tailback-by-committee approach under Gary Patterson -– no Horned Frog rusher has averaged more than 15 carries per game since 2005, and only one has cracked the 1,000-yard mark –- though as the fresh face in the group, there are inevitably high hopes for Green to emerge as an every-down headliner. Otherwise, there will be plenty of room for four-star signee Kyle Hicks to make his move when he joins the fray this summer.
• The transfers shall inherit the offense. Aside from Green, the offense is in search of a spark from another notable transfer, ex-Florida Gator Ja'Juan Story , who happens to be one of two new faces (along with cornerback David Jenkins , a refugee from LSU) hitting the reset button at TCU after washing out at a blue-chip SEC powerhouse. Of the two, Story has a much shorter path to the field: Where Jenkins remains stuck behind both of last year's starting corners, Kevin White and All-American Jason Verrett , the Frogs are in immediate need of targets to fill the void left by outgoing receivers Josh Boyce and Skye Dawson . Coaches already know they can rely on sophomore LaDarius Brown and junior Brandon Carter , the resident deep threat. But Story is an x-factor: Like Green, he started out as a relatively hyped, four-star recruit, and will command the spotlight if for no other reason than his unknown upside.
• Don't mistake youth for inexperience. TCU is still a relatively young team (only 10 seniors are listed on the depth chart heading into spring practice, only three of whom are returning starters), but it is not a green team: Last year, 21 players classified as freshmen or sophomores started at least one game, mostly by necessity, and more than half of that number wound up as full-time starters. Three of them, defensive end Devonte Fields , defensive tackle Chucky Hunter and safety Sam Carter , were tabbed as first- or second-team All-Big 12 picks by league coaches, with Fields, a true freshman, earning the Associated Press' vote as the conference's defensive player of the year.
For obvious reasons, the main theme of 2012 was survival in unfamiliar, hostile territory, but the result is a team that's in much better position to compete in a conference with no clear frontrunner; the last four Big 12 championships have been claimed by four schools, and last year's co-champs, Kansas State and Oklahoma, are facing major attrition, beginning with their celebrated senior quarterbacks. TCU's celebrated senior quarterback is back in the fold, opposite a defense that returns largely intact from the unit that led the league in yards and points allowed. Barring another round of bad luck on the injury front, the door to the top of the Big 12 is wide open. If they can get a foot inside this fall, the Frogs are built to stay for awhile.
Show Comments
Hide Comments
Welcome to the world, Flynt Anderson-Foster Pruitt

Baylor should value faith over football and do what's right in the wake of seven Title IX...

The conference will adopt two divisions when it becomes a 10-team league in 2018
Like his brother, Lanard Fournette will be running the ball for the Tigers

Ranking the strength of schedule for each of the 12 teams in the Pac-12 entering the seaso...

Thomas Tyner will reportedly re-start his college football career at Oregon's biggest riva...