Status of Idaho-Florida game won't be determined until Tuesday at earliest
Officials and Florida and Idaho are still sorting through options on how to make up Saturday's game that was "terminated" due to heavy rain and lightning.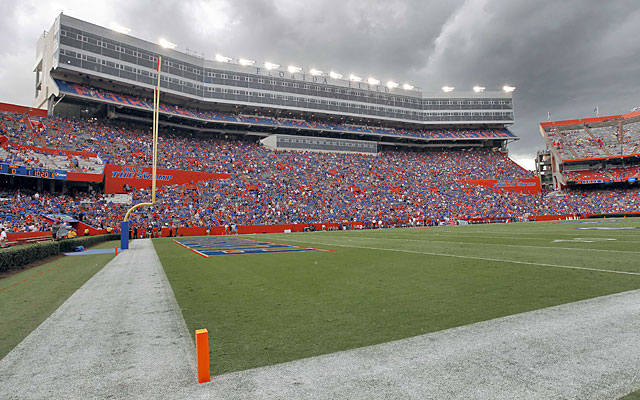 The status of the cancelled Idaho-Florida will not be decided until Tuesday at the earliest, CBSSports.com has learned.
The athletic directors at both schools spoke again Monday regarding Saturday's game that was affected by heavy rain and lightning. There are number of logisitical issues to work through, including the only common bye date between the two schools, Oct. 25. That is Florida's bye before the Georgia game. Idaho officials are concerned about playing 11 consecutive weeks before a bye week on Nov. 22.
Idaho's guarantee for the game, $975,000, equals approximately a quarter of its football budget. Meanwhile, Florida is one of the 20 or so schools in FBS that actually makes money in its athletic department. It's not clear if either side has insurance to cover the guarantee if the schools don't make up the game.
A 12th game could be key to Florida coach Will Muschamp's job security. In other words, 7-5 could look a lot better than 6-5. Idaho is coming off a 1-11 season in which it lost at national champion Florida State 80-14.
The game wasn't played on Sunday -- in part -- because of problems with Idaho having to reserve hotel rooms for an additional night, according to a source. Also, the charter that flew the Vandals 2,800 miles to Gainesville may not have been available.
The game was delayed by weather for approximately three hours Saturday. After finally getting in the opening kickoff, the game (after 10 seconds) was delayed further by weather. It was "terminated" 40 minutes later.
Each team has a seven-game losing streak.
>> More Gators news? Florida reinstates three banned for opener
Show Comments
Hide Comments
The former coach weighed in on the new NCAA recruiting rules

Wiggins has played more than 30 games in the ACC and SEC during his career

Our panel of experts drafted the best sports video games that have ever been created
The players allegedly conspired to steal belongings from another student's dorm room

Harbaugh handed the Pope a Wolverines helmet and special shoes

How Markeeth Taylor has become a last chance for NFL hopefuls like LeBeaux Cooper