Stoops: Sooner fans need to 'get on board' with tweeting recruits
Was Bob Stoops serious or not when he said Oklahoma fans need to start tweeting at recruits as part of the recruiting process?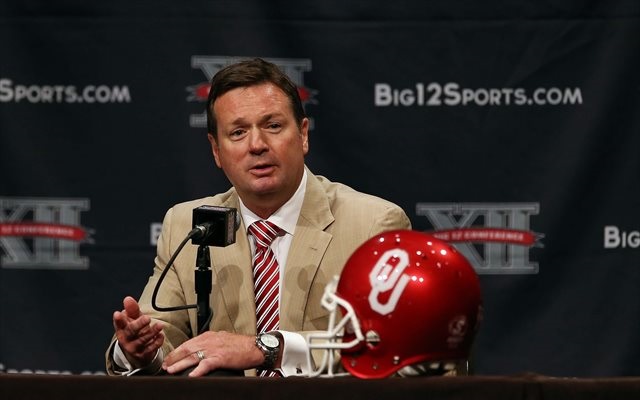 Was he joking?
That's the first and biggest question that comes to mind after reading Bob Stoops' comments on the role of Sooner fans on Twitter in the recruiting process. If you're thinking "wait, why should there even be a role for Sooner fans on Twitter in the recruiting process?" you're not alone, but Stoops told SoonerScoop -- in response to questions on the topic -- that that's not realistic:
"That's something that's becoming a part of it," said Stoops when asked if he had concerns about fans contacting recruits on Twitter. "We may hire [SoonerScoop] to govern our social media with the fans."

Whoa Stoops! You realize I think all of this is stupid right? Stop messing around.

"I'm not kidding," he said. "I don't see it stopping. Once things get rolling, it's not stopping."

So wait a minute: Stoops is just openly telling fans to contact recruits on Twitter? Something even OU's own compliance department frowns upon?

"I'm pretty sure that's what it means," said Stoops. "You hear that OU fans? We have to get on board."
So Stoops specifically says "I'm not kidding," specifically addresses himself to Oklahoma supporters, and then specifically tells them to "get on board" with the same Internet fanatics elsewhere that pester recruits about the choice of college daily. Even as Stoops is telling us to take him at face value, can we actually take him at face value?
Even if we'd lean to "not entirely," that the question doesn't have a slam-dunk answer suggests that Stoops should have followed his compliance department's party line. Maybe there's a select few recruits who enjoy even the nonstop attention of their finalists' true believers, but it seems just as likely Stoops has enabled -- in some small fashion -- the Sooner equivalent of the fans that drove C.J. Johnson away from Mississippi State or (more disturbingly) Alex Anzalone from Ohio State.
In short: just because there's no good way to keep zealots from harassing recruits on Twitter or people from, say, checking their cell phones during a movie doesn't mean football coaches or theaters should just wave the white flag and say "knock yourselves out, folks." If the sort of obsessiveness put on display by a Kentucky fan here is right, then as many college football people as possible should proudly say they want to be wrong -- and when we're talking about people with the kind of influence as a major college football coach, that goes double.
Show Comments
Hide Comments
From graduate transfer to alcohol in stadiums, here's what's on tap for the SEC spring mee...

A roommate of Josh Smith reportedly suffered a broken nose, broken teeth, and other damage...

Looking for value picks and long shots in the SEC conference title odds
Ranking each of the 14 SEC teams by their 2017 strength of schedule

Ohio State is favored to win the Big Ten, but is it the best bet?

USC enters as the favorite, but are the Trojans the best bet?