Study: Alabama leads all states in offseason college football tweeting
Emory Sports Marketing Analytics used a Twitter analysis of the last six months to determine the states that have been discussing college football in the offseason.
• 1 min read
College football's offseason seems non-existent today. The national title game in January runs into national signing day and spring practice, and after a few offseason transfers and arrests it is time for the next year's watch lists. No matter the month, there is always something to talk about in college football.
Emory Sports Marketing Analytics released on study Monday analyzing offseason college football conversations on Twitter. The chart below details the percentage of all Twitter conversations that relate to college football in the last six months. As you can see in the map below, states like Alabama and Mississippi rank in the top fifteen percentile while California and Alaska fall in the lowest category.
According to the study, the top five states in college football conversation are: 
1) Alabama 
2) Mississippi
3) Tennessee
4) South Carolina
5) West Virginia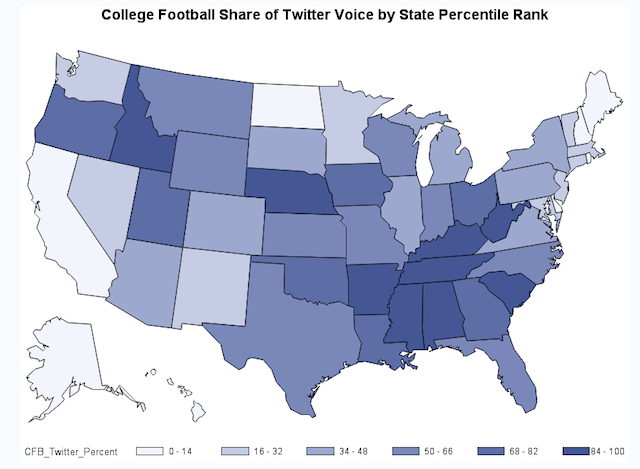 Show Comments
Hide Comments
Twenty-eight of 95 early entry prospects went undrafted

The SEC and Michigan each had great weekends in the 2017 NFL Draft

Rawleigh Williams III left the field on a stretcher after a neck injury
Jim Harbaugh wants more college football programs to embrace the international trip

It seems there's a lot of talent in the SEC

There are all sorts of drafts out there and these are my favorites