Study: How the Big Ten lost recruiting wars against the Power 5 conferences
The Big Ten is coming off an extremely tough time on the recruiting grounds in football, where they had under a 50 percent success rate against every Power 5 conference.
There's a pretty good reason Jim Harbaugh will take Michigan to Florida for spring practice next week. Big Ten schools sorely need help with their recruiting demographics. 
The Big Ten's struggles with declining populations in the Midwest have been well known and discussed for years. But new statistics show just how bad it got for the Big Ten. Between 2007 and 2014, the Big Ten fared the worst against other Power Five conferences in recruiting battles when one of the two leagues won a player.
Those results came from a study filed in an ongoing lawsuit against the NCAA related to an old rule banning multi-year scholarships. The purpose of economist Daniel Rascher's study, filed as part of a larger document in the John Rock case, is to discredit NCAA expert Lauren Stiroh's argument that different regions of the country are distinct recruiting markets.
The reality is football recruiting is national. Otherwise, why would Harbaugh take Michigan to IMG Academy (home of many elite recruits) for a week in Bradenton, Florida? Harbaugh likes to say, "In my America, you're allowed to cross state borders." The Big Ten has been in need of doing something to improve recruiting.
During the eight-year period Rascher studied, the Big Ten and SEC made offers to more than 1,500 of the same players. When a recruit picked one league over the other, the SEC won 62 percent and the Big Ten won 38 percent. (Mutual losses for both conferences were excluded from the data.)
The Big Ten won 45 percent of those competitions vs. the ACC, 48 percent vs. the Pac-12, and 50 percent vs. the Big 12. In other words, for eight years, the Big Ten never had a winning recruiting record against another major conference -- the only Power Five league with that distinction. Other findings the study showed with recruiting battles:
The SEC, not surprisingly, swept every conference head-to-head. The SEC easily won more recruits over the Big 12 (57 percent), ACC (58 percent) and Pac-12 (60 percent).
The ACC split with the other Power Five conferences. It defeated the Big Ten (55 percent) and Big 12 (55 percent), and lost to the SEC (42 percent) and Pac-12 (49 percent). The ACC had the second-most active NFL players this season behind the SEC.
Given its geography, the Pac-12 had by far the least recorded competitions with other Power Five conferences (3,960 instances). Every other Power Five conference had at least 4,700. The Pac-12 edged the ACC (51 percent) and Big Ten (52 percent), and lost to the Big 12 (48 percent) and SEC (40 percent).
The Big 12's talent drain was evident in Rascher's study. The Big 12 lost to the ACC (45 percent) and SEC (43 percent), split with the Big Ten (50 percent) and edged the Pac-12 (52 percent). 
In an expert report for the NCAA, Stiroh wrote that from 2007-14, SEC schools made 15 percent of their offers to in-state recruits and 81 percent of their offers to in-region recruits. Meanwhile, the Big Ten had offers of 9 percent for in-state players and 37 percent to in-region players. The South, of course, produces a larger number of football players with offers.
"This is what national competition looks like," Rascher wrote.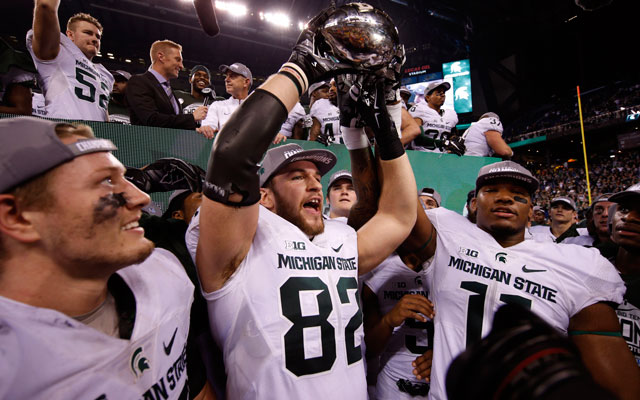 ***
Alabama more than doubles Clemson in media money
Alabama's athletic department reported $35 million in media rights revenue for 2014-15, a new category the NCAA requires schools to identify on their annual financial report. To put that in perspective, Clemson -- the runner-up to Alabama in college football's championship game last season -- received $15.4 million for media rights.
The NCAA's new reporting system provides a better glimpse of how much athletic departments now rely on TV money. Media rights accounted for 23 percent of Alabama's total athletic revenue last year, more than donations (20 percent) and slightly less than ticket sales (25 percent), according to the university's latest financial report to the NCAA.
To put it another way: If Alabama paid for every athletic scholarship from media rights money, it would still have $14.2 million left.
The year before Nick Saban's national championship run started in 2009, Alabama received 30 percent of its revenue from donations and 29 percent from ticket sales. Because of how past NCAA reports were formatted, there's not a way to precisely identify media rights amounts, but the TV money clearly was a smaller percentage of Alabama's revenue than it is today.
In the six years after Saban's first national championship, Alabama reported $825.9 million in total athletic revenue. Alabama listed $441.7 million in revenue from 2004-05 to 2008-09.
The NCAA's new media rights category for financial reporting includes all revenue received for radio, television, Internet, digital and e-commerce rights, including the portion of conference distributions tied to media rights. Last year marked the debuts of the College Football Playoff and the SEC Network.
Alabama attributed $20 million of its media rights revenue to football, $7.4 million to men's basketball and $7.6 million not related to specific teams. Clemson attributed $11.5 million of its media rights revenue to football and $3.8 million to men's basketball.
Throughout college sports, the amount of money going directly to coaches and administrators continues to be much higher than what players receive. (The latest NCAA financial report was the last one before cost of attendance stipends were allowed to be given to players.)
At Alabama, scholarships were 11 percent of Alabama's athletic costs in 2014-15, the same percentage as six years earlier. Medical expenses and insurance accounted for 2.3 percent of athletic costs in 2014-15, up from 1.7 percent in 2008-09. Meanwhile, compensation for coaches, support staff and administrators made up 37 percent of Alabama's athletic costs in 2014-15, up from 34 percent in 2008-09.
Alabama reported a $46.5 million surplus for football and a $16.6 million surplus for the entire athletic department. Clemson listed a $12.5 million surplus for football and a $679,000 surplus for the athletic department.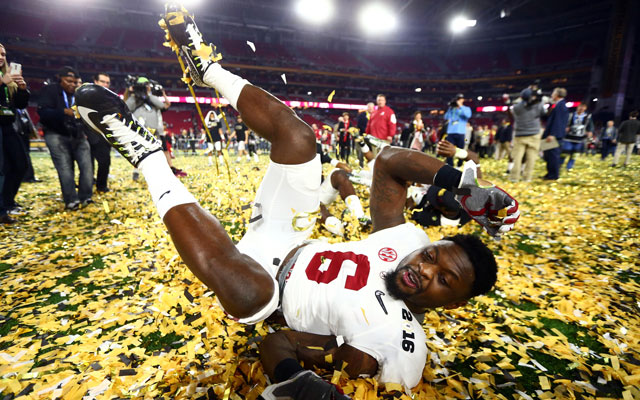 ***
Survey shows NCAA's struggle with time demands
"Time demands" is the new buzzword in college sports. It's being invoked by some commissioners to prevent future road trips for football spring practices. By NCAA rule, athletes are supposed to spend only 20 hours per week on countable athletically related activities (CARA). But everyone knows the 20-hour rule doesn't practically work and gets abused. FBS football players say they spend 42 hours a week in-season on football, up from 39 hours in 2010. 
The NCAA is struggling to get a handle on this issue -- some athletes want to keep practicing on their sport -- in order to show players are students as well. The lack of answers was evident in a survey of athletic directors, senior woman administrators, faculty athletic representatives and compliance coordinators. Excerpts of the survey were recently filed by plaintiffs in their lawsuit against the NCAA and conferences over scholarship compensation. Some of the anonymous comments:
"I think CARA activities could be increased to 25 hours and you eliminate voluntary activities all together."
"Please do not increase CARA hours … we are already moving to a 'semi-pro' model in collegiate athletics, and increasing the hours would (solidify) that and take away from our educational opportunities."
"Coaches (nowadays) have brainwashed their (athletes) into 'Mandatory/Voluntary' and (athletes) are scared to come forward and inform compliance office of violations."
"Student-athletes spend 40-60 hrs/week with their sport, which is confusing to them when we tell them they are limited to 20 hrs/week … and they can't keep track of what counts as CARA and what doesn't. All they know (is) that they are spending HUGE amounts of time with their sport, and they don't have time for school work or anything that integrates them into the normal student college experience."
"If a student-athlete wants to voluntarily spend more time with a coach, this should be allowed. The college experience is too short and the influence a great coach can have on the future of an athlete should never be underestimated."
"In turn, we need to lengthen the periods of time where coaches may NOT be involved in the student-athlete's time on campus, e.g., where they can be NORMAL HUMAN BEINGS. They train as much as they want, but not in any fashion organized by the coaches. We are not a minor league for the pro sports, but that is how we currently run our organization."
***
Survey: ADs plan to keep spending on facilities
A new survey shows half of Division I athletic directors plan to invest more than $25 million in the next five years on athletic facilities. Nearly one in three plans to invest at least $50 million over that same period, an 8-percent increase from last year's survey by AECOM and Ohio University. This year's survey was conducted with 87 athletic directors.
Twenty-five percent of the respondents said they have not implemented cost of attendance stipends to athletes. All of those schools have not invested more than $10 million in facilities over the past year.
In another question, 27 percent of ADs said cost of attendance will affect their ability to invest in facilities. Among those respondents, 56 percent of those ADs come from a Power Five conference and 88 percent of them said practice and training facilities are the ways to attract recruits. 
When ranking the facilities and amenities most important to attract recruits, ADs rated practice/training facilities first, followed by locker rooms and academic space. A recent NCAA survey asked more than 21,000 Division I athletes the biggest factors for their college decision. Athletic facilities ranked fourth behind athletics, academics and proximity to home. 
Here's hoping universities actually stay on budget with their projects. The Daily Boulder Camera reported Colorado's stadium expansion is now $24 million over budget. 
"It really makes me sick," Colorado board member Steve Ludwig said while voting for the additional spending.
***
Read 'Em
Each week this space will highlight some excellent recent work by college sports media on difficult topics to report.
•
Can college athletes be paid and still be students? Kevin Trahan looks at this question for Vice Sports. He found that the American Bar Association did a mock trial retrying the Ed O'Bannon case, and a lawyer in a pending case against the NCAA said
"we do have to change people's perceptions
" about amateurism.
Quote of the week
"I trust Butch Jones implicity."
 — Tennessee athletic director Dave Hart on his football coach. The statement decisively links Hart and Jones together as the university fights a Title IX lawsuit over how it handled sexual assault complaints and with two trials of ex-players scheduled for this summer. 
Follow and read more from Jon Solomon on Facebook and Twitter.
Show Comments
Hide Comments
Our Latest Stories
Nebraska's Michael Rose-Ivey has received criticism for kneeling during the national anthe...

Florida State got right after defeating USF but the Seminoles still expect better from the...

These are the trends to watch as the 2016 season enters its second month
Ranking the best teams in the country based on nothing but their performances in 2016

The SEC is starting to sort itself out after four weeks as the Aggies and Vols creep up on...

News that Oklahoma is changing its mind on Big 12 expansion hurts the Cougars the most