Study says switching conferences leads to academic gains
Two doctoral students at Georgia decided to find out if there's any truth that changing conferences could lead to academic gains and it appears that moving on up isn't all about a more successful football team.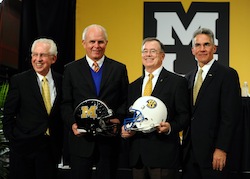 As we wind our way through another summer filled with
conference realignment
drama -- or at least the threat of it (thanks,
Florida State
) -- it's important to keep in mind that packing up and moving is not all about football. It mostly is, of course, but there are other factors that go into decisions like
Texas A&M
going to the
SEC
and
Utah
to the
Pac-12
.
One thing you hear all the time during these conversations is, "It's about the academics." It's not -- it's about money. But there's
some
truth behind every university president citing it during introductory press conferences. To that end, two doctoral students at
Georgia
decided to find out if there's any truth that changing conferences could lead to academic gains.
The
Chronicle of Higher Education
obtained the paper and summarized the results
:
On average, colleges that moved to a new league saw about a 3-percent decrease in their admit rate (meaning they became more selective) and a 5-percent increase in their admission yield rate (more admitted students enrolled) three years after joining the new conference. The ACT scores of incoming students increased by more than .29 points. And the colleges saw a net gain of about 130 applications per year three years after their moves.
The biggest winners of realignment from 2004-2011? It appears the schools that jumped from the
Big East
to the
ACC
such as
Boston College
and
Virginia Tech
.
TCU
, the study noted, also saw gains after leaving
Conference USA
for the
Mountain West
after seeing applications jump 50 percent.
Of course, the Horned Frogs going to BCS games and having success on the field might also have something to do with the jump. Increased media exposure and money, the study notes, may be the driving factor behind most of the changes.
"We hope that the results of this study help to bring athletic and academic administrators together to leverage decisions aimed at increasing overall institutional prestige," one of the authors, Dennis Kramer, said. "The gains in applicants and incoming student quality attributed to athletic conference realignment helps to codify the relationship between athletics and academics."
So the next time a president
talks about making a "100-year decision,"
it appears they really are talking about academics and not just about football.
National powerhouse Alabama joins the throng of schools trying to lure five-star QB Justin...

The shooting took place during an apparent meeting over a cell phone

A decision in either direction would help the NCAA move forward in Sin City
White is the No. 1 running back recruit and No. 6 overall recruit for next year's class

Dennis Dodd goes inside college football to explain why realignment is still an agenda ite...

Shedrick Jackson is a three-star wide receiver