Sumlin, Aggies make new six-year contract official
Texas A&M and Kevin Sumlin have made their new deal official, and it's a pretty unique.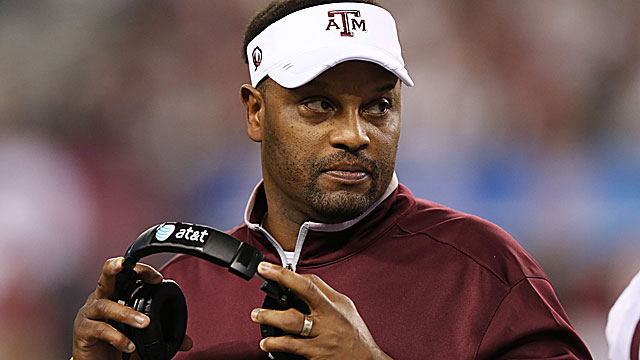 Aggies fans can breathe a sigh of relief. The new deal that was agreed upon back in late November is now official as Texas A&M had approved the contract on Thursday afternoon and head coach Kevin Sumlin signed the deal Thursday night, CBS has learned.

The 49-year-old Sumlin, who in 2012 led Texas A&M to its first top-5 finish in 56 seasons and is 19-6 in his two years with the Aggies, will now make $5 million a year as part of new six-year contract. What is unique about the contract, according to a source, is the $5 million buyout over the first three years of the deal (through the 2016 season), but the buyout goes down to $0 after. Also, if A&M terminates him, the school has to pay him the remaining money in the deal within 60 days.
This new deal essentially keeps Sumlin with the Aggies through the 2016 season at least. The contract offers a ton of security for the coach, but also provides a ton to A&M in the first three years of this deal as well, which has been critical particularly in recruiting.
Reports of interest in Sumlin from NFL has been a concern this winter, especially with the coach turning down opportunities from several teams last winter. There was much speculation that he would be a target for the Houston Texans vacancy given his long relationship with that organization's brass.

Despite that speculation and some negative recruiting, the Aggies still are putting together what is considered the nation's third-ranked recruiting class, according to 247Sports.

In his time at A&M, Sumlin helped groom Johnny Manziel into a Heisman Trophy winner last year and beat No. 1 Alabama in Tuscaloosa. Before Sumlin's arrival in College Station, the Aggies hadn't finished in the top 10 in 18 years.
Combining his time running the University of Houston program, Sumlin is 54-22 in six seasons as a head coach. In 2011, he led the Cougars to a school-record 12 wins. Last winter, Sumlin turned down opportunities for substantially more money from the NFL to remain at A&M.
Sumlin was considered to be the top target for Southern California in the wake of the Trojans firing coach Lane Kiffin earlier in the fall, according to sources.
The shooting took place during an apparent meeting over a cell phone

A decision in either direction would help the NCAA move forward in Sin City

White is the No. 1 running back recruit and No. 6 overall recruit for next year's class
Dennis Dodd goes inside college football to explain why realignment is still an agenda ite...

Shedrick Jackson is a three-star wide receiver

Nigerians are making waves in the U.S. due to their intensity, intelligence and athleticis...