Sunday's Top 25 Today: Preseason edition
In the first 2014 edition of Tomorrow's Top 25 Today, we take a guess how the preseason AP poll will shake out.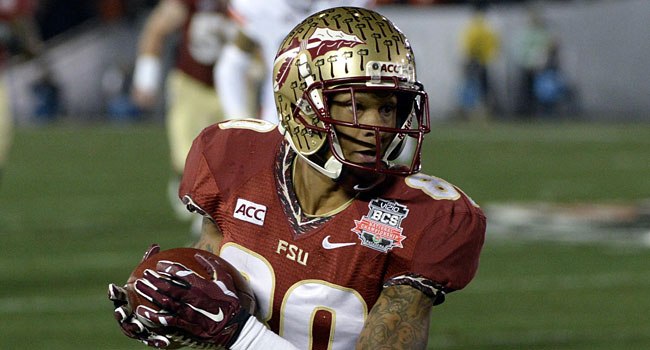 Welcome back to Tomorrow's Top 25 Today, CBSSports.com's weekly Saturday night projection of what the Associated Press poll will look like when it's released Sunday morning. This isn't a Saturday night, of course, and there's no AP poll set for release tomorrow -- the preseason edition will be announced August 17.
But now's nonetheless as good a time as any to take a guess at what that poll will look like. Yes, it's going to bear a strong resemblance to the already-released preseason Coaches Poll and yes, in the age of the College Football Playoff selection committee, the polls do technically have less influence over college football's championship process than ever.
Here's the thing, though: that committee is still made up of human beings. And being human beings, those humans are still going to naturally gravitate towards the prevailing conventional wisdom when it comes to selecting the playoff field. And where, pray tell, is that conventional wisdom generated and codified?
Why, the polls, just as it has been for decades. Maybe the polls won't matter in a "they're a direct part of the BCS formula" sense, but just you watch: they're going to matter all the same. This is college football, after all.
And so, here's one blogger's projection for the AP preseason top 25:
1. Florida State Seminoles Tough call to make here at No. 1, but having the reigning Heisman Trophy winner and the most talented top-to-bottom roster in the country should just push the 'Noles into the AP's top spot, I guess.
2. Alabama Crimson Tide Only in Tuscaloosa -- and, probably, only under Nick Saban -- can a season that (probably) came one missed field goal shy of the BCS title game be treated as a program-threatening catastrophe.
3. Oklahoma Sooners It's tempting to call for our first deviation from the Coaches Poll and slot Oregon here, but the drumbeat for the Sooners as national title contenders has only grown louder and louder as the season has progressed, and the possible addition of Dorial Green-Beckham won't quiet it anytime soon.
4. Oregon Ducks The Ducks looked to have definitively lost a step from their Chip Kelly heyday over their final four regular season games -- losses to Stanford and Arizona and a one-point escape over 23-point underdogs Oregon State -- but getting Marcus Mariota back has had quite the way of overcoming any offseason worries. 
5. Ohio State Buckeyes The Coaches Poll opted for Auburn at No. 5, but only by the narrowest of margins, and as a rule the coaches have put a little more stock in the previous year's results in their preseason balloting than the AP voters. The Buckeyes' status as the Big Ten's de facto playoff candidate should garner them enough support to move into the AP top 5.
6. Auburn Tigers It's hard to see the Tigers making a second consecutive run at a national championship with their now-Carl Lawson-less defense, but it might be even harder to see them sliding much lower than this with their Nick Marshall-led offense.  
7. UCLA Bruins  This is heady stuff for a program that hasn't finished in the top 10 since 1998, but Brett Hundley, Myles Jack and a schedule with Washington and/or Arizona State as its toughest road test mean the hype is 100 percent understandable.
8. South Carolina Gamecocks The Coaches went with Michigan State in this slot, but again, the AP won't likely give the Spartans as much credit for 2013, and it's hard to see the emerging consensus favorite in the SEC East not getting the benefit of the doubt.
9. Michigan State Spartans DID YOU KNOW: the all-defense-all-the-time Spartans actually scored 30 or more points in five of their final seven regular season games, and 29 in one of the others. They're not going anywhere.
10. Baylor Bears It's anyone's guess how the Bears/Bulldogs/Cardinal triumvirate will shake out, but the Bears seem to have just a hair more buzz than Georgia or Stanford, both of whom are viewed as the likely runners-up in their respective divisions. Also: Bryce Petty, you know.
11. Georgia Bulldogs But if the general voting preference for SEC teams over not-SEC teams isn't enough to push the Dawgs past the Bears, it very well could be where the Cardinal are concerned. Also: Todd Gurley.
12. Stanford Cardinal The loss of Trent Murphy, Shayne Skov, Ed Reynolds and more from that defense suggests this would be too high. The presence of David Shaw alone -- not to mention Kevin Hogan, Ty Montgomery and a bevy of offensive line blue-chips -- suggests it's too low.
13. LSU Tigers They're not quite Alabama or on top of the East, they're also clearly not on the Ole Miss/Texas A&M level in the West. The defense and running game will be unadulterated terrors; the passing game is suspect. 13th it is!
14. Wisconsin Badgers Through 11 weeks of the 2013 season, they looked like the FBS's most underrated team. Then they lost to Penn State at home and got drilled by South Carolina in their bowl game. So this ranking seems highly likely to be very wrong one way or the other.
15. Southern California Trojans Let's see, we've had the third-best SEC West team, the third-best Pac-12 team, the third-best Big Ten team, the second-best Big 12 team ... might as well cycle back around and get the fourth-best Pac-12 team ...
16. Clemson Tigers ... and oh, right, need to get another ACC team in there. In case you're wondering: no, it's probably not the best sign for the league's perceived depth that its projected runner-up seems likely to fall outside the preseason top-15. But given the Tigers' losses on offense, it's easy to understand voters' misgivings.
17. Notre Dame Fighting Irish This strikes yours truly as multiple spots too high for a team with the Irish's penchant for playing tight games against a schedule of liquefied murder, but there's a huge gap between the Irish and the rest of the teams in the Coaches Poll, because ... who are the pollsters really going to rank ahead of them?
18. Ole Miss Rebels The Coaches went with Arizona State at No. 18, but again: 1. the AP voters will likely take closer notice of the preseason magazine consensus that the Sun Devils are due for a backslide 2. S-E-C!
19. Kansas State Wildcats The Wildcats aren't even close to Arizona State in the coaches' voting, but they seem to have media support -- the Big 12 folks voted them third in their preseason balloting -- and it's been a while since the Big 12 saw its name called.
20. Arizona State Sun Devils The Sun Devils might slide even further than this -- again, the magazine consensus has them outside the top-25 entirely -- but 2013 ain't exactly that distant a memory (even if the defensive exodus might make it feel that way by the end of 2014), and it's not like the other options here are all that convincing, either.
21. Nebraska Cornhuskers See?
22. Texas Longhorns Your guess at this point is as good as mine. The Coaches Poll vastly preferred the Longhorns' rivals at A&M, but remember that the SEC media day balloting had the Aggies sixth in the SEC West, behind even Mississippi State. And meanwhile, the Longhorns finished in a virtual dead heat with Kansas State for third at the Big 12 version.
23. Washington Huskies Add Chris Petersen, keep Shaq Thompson and Kasen Williams, take away Bishop Sankey, Keith Price and friends, and 23rd seems about right.
24. North Carolina Tar Heels Because apparently someone from the ACC Coastal has to be included.
25.  Mississippi State Bulldogs The Bulldogs didn't even come close to the coaches' top 25 -- they finished "29th" -- but the "not sure who to pick, might as well go with another SEC team" vote that propelled A&M to its No. 20 slot in the Coaches Poll seems likely to go to State here. Call it a hunch.
Also under consideration: Texas A&M, Missouri, Florida, Marshall, UCF, Michigan, Oklahoma State
Show Comments
Hide Comments
Our Latest Stories
Blake Barnett took the first snaps of the season

Tennessee heads to Georgia for a key SEC East matchup this Saturday on the SEC on CBS

The Tigers are elite ... for now ... but they weren't always that way
The coin will be used at all seven Big Ten games this weekend

The SEC ruled Powell eligible for Vanderbilt after getting ejected for throwing a punch

How are coaches across college football doing in their first year at new schools?