Tailback Tyler Gaffney chooses the diamond over his senior season at Stanford
Former four-star recruit leaves with 12 career touchdowns.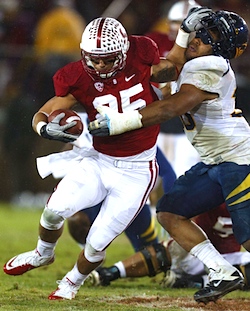 It's not exactly John Elway staring down the Baltimore Colts, and the university's not about to endow a position on the coaching staff in his honor. But Stanford's backfield did get a little thinner Monday, as expected, when backup running back Tyler Gaffney elected to forego his senior season on the Farm for a shot at pro baseball.
Gaffney was drafted by the Pittsburgh Pirates in the 24th round of last month's MLB draft, on the heels of a disappointing season that saw his batting average dip from well above .300 in each of his first two seasons to .245 as a junior. Details of his contract have not been released, but under the MLB's new rules for calculating rookie signing bonuses, Gaffney's bonus is almost certainly less than $100,000. He plans to return to finish his degree in sociology.
A former four-star recruit out of San Diego, Gaffney finished second on the team last year with 449 yards rushing on 6.0 yards per carry, more than 25 percent of that total coming in a 117-yard romp against Washington. (As a team, the Cardinal ran for 446 yards against the Huskies, the highest single-game total of the season for a Pac-12 offense.) He leaves with 12 career touchdowns.
In the big picture, Gaffney's exit is only a ripple on the depth chart behind senior Stepfan "It's Pronounced Steph-ON" Taylor, last seen capping his second consecutive 1,000-yard season with a career-high 177 yards and two touchdowns in a Fiesta Bowl loss to Oklahoma State. Behind him, there's junior Anthony Wilkerson, who's due for an expanded role after rushing for 690 yards and six touchdowns in two years as a third-stringer; there's also incoming freshman Barry Sanders, the well-regarded son of the ankle-breaking NFL legend. Frankly, if the next generation of Cardinal linemen picks up where the last one left off, they could keep the chains moving with Condoleeza Rice taking handoffs. Letting a solid veteran reserve seek his fortune on the diamond is a luxury the Cardinal can afford.
Have fun with this, SEC defenders

Making plays on the over/under for all 12 teams in the Pac-12

Mike Gundy and the Cowboys know there's one monster they have to contend with in their own...
The initiative has been put forth to offset the burden of declining freshman enrollment

How will the Big 12 shape up in 2017? Let's take a team-by-team look

Kush went 176-54-1 in 22 seasons at Arizona State