Tale of two QBs in the Swamp as Seminoles rout Gators
There are a lot of differences between Florida and Florida State this season, but the play under center might be the biggest.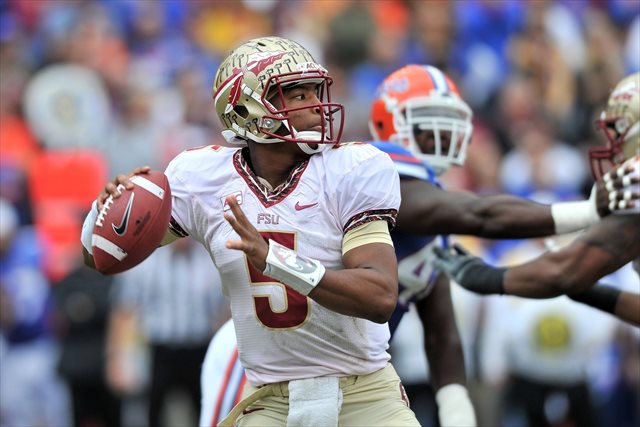 No more than a glance at Florida's and Florida State's final regular season records -- a perfect 12-0 for the Seminoles after their 37-7 win the Swamp Saturday, a miserable 4-8 for the Gators -- can tell you that there's no shortage of differences in their 2013 teams.
Florida State didn't suffer a Biblical plague of injuries. Florida doesn't have any sort of receiving target like Kelvin Benjamin, who caught a mere 9 balls for 212 yards and three touchdowns for the 'Noles. Between injuries and poor play, Florida doesn't have an offensive line like Florida State's, which has a pair of All-American-quality players in ther interior in Bryan Stork and Josue Matias. Florida State even has the better kicker, with Groza finalist Roberto Aguayo going 3-for-3 -- including a 49-yard first-quarter bomb that would have been good from 60-plus -- and the Gators struggling in that department all season long.
But the single biggest difference in why a rivalry that seemed to have swung towards the Gators in 2012 (when Will Muschamp's team dominated late in Tallahassee) has gone 180 degrees in the other direction in the span of one year is under center. That's not all because of anything other than capricious fate, of course; Jeff Driskel was lost for the year with an injury, and then Tyler Murphy went down with a shoulder problem. Comparing Jameis Winston to Skyler Mornhinweg isn't fair.
But that comparison is why Saturday's game was over as soon as the Seminoles went up 17-0 with 25 seconds left in the first half, and maybe even as soon as they went up 10-0 with 4:24 in the same quarter. Mornhinweg tried. He tried hard. But his numbers say everything about his limitations in throwing downfield: 20-of-25, 119 yards, an average of just under 6 yards even on his completions. (Muschamp said that wildcat quarterback Trey Burton had been game-planned for a much-expanded role. This being Florida's 2013 season, of course, he left the game with a shoulder injury after a single 50-yard carry.) 
Meanwhile, with Benjamin's help, Winston averaged 17.2 yards on his completions, and better than 10 yards an attempt. The Seminoles faced 3rd-and-25 in the first half after a sack, and with the Swamp still screaming, and the Gator rushers ignoring the run, Winston merely threw a rope to Kenny Shaw that made the conversion look borderline easy. It's not an exaggeration to say that 20-yard passes looked as simple for Winston as three-yard dump-offs did for Mornhinweg -- and that's intended more as compliment to the Seminole player than a comment on the Gator quarterback. Winston may not have the "counting" statistics of some other Heisman quarterback candidates, but he's not No. 1 in the FBS in passing efficiency by accident. 
We essentially know that Florida's offensive staff will be overhauled. If the Gators don't want to concede Sunshine State superiority for the next few seasons, it may not be necessary to come up with their own Jameis Winston. Those don't exactly grow on trees, and Saturday was yet another reminder. But finding a way for someone to take snaps who can at least keep the QB matchup from being an utter mismatch is the first step for those new assistants, the first step for Muschamp in keeping his job into 2015 and beyond.
Show Comments
Hide Comments
Hurd left Tennessee during the 2016 season

But it worked, and that's what matters

TV viewing and live stream information for the 2017 Alabama spring game
The Dawgs wrap up spring practice with G-Day on Saturday, April 22

The race with his namesake has sold out again, bringing thousands to support his charities

Auston Robertson's charge stems from an alleged incident on April 9