TCU quarterback Casey Pachall suspended following early morning DWI arrest
Pachall reportedly registered a blood-alcohol concentration of greater than .15 -- nearly twice the legal limit in Texas.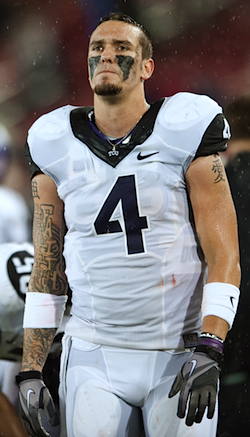 TCU is off to a fast start in its first season in the Big 12, but reports out of Fort Worth suggest the Horned Frogs may have just hit their first speed bump: According to a local television station, starting quarterback Casey Pachall was arrested overnight for driving while intoxicated, possibly costing the Frogs one of the most productive passers in the nation as they hit conference play. Coach Gary Patterson confirmed in a brief statement that Pachall has been suspended indefinitely.
CBSSports.com' Dennis Dodd spoke to Fort Worth police, who told him that Pachall, 21, was pulled over near TCU's campus shortly before 1 a.m. Thursday morning for running a stop sign. Pachall subsequently registered a blood-alcohol concentration of greater than .15 – nearly twice the legal limit in Texas, .08. He was reportedly being held this morning on $1,000 bond.
In February, police arrested Pachall's then-roommate, All-Mountain West linebacker Tanner Brock, as part of a campus-wide drug bust that resulted in the arrests of 17 TCU students and four football players: Brock, center Tyler Horn, defensive back Devin Johnson and defensive lineman D.J. Yendrey. During a bust at the residence he shared with Brock, Pachall reportedly told police on Feb. 15 that he had failed a drug test and had smoked marijuana within the past week or two of that night. According to a police report first obtained by a student-run website, TCU360.com, Pachall also admitted to using cocaine and ecstasy within the past year, but maintained "both were just a one-time thing and [he] hasn't done either since."
"Due to Casey being a student athlete at TCU I asked if they receive any drug test," an officer wrote in the report. "Casey replied they do and that he failed their most recent one which was right after he had smoked marijuana last. Casey stated that he smoked marijuana maybe a day or two prior to the test."
Pachall was not arrested or charged in that incident. As for his teammates: Brock was sentenced to four years' probation, while Yendrey and Horn each received three years. Devin Johnson pleaded guilty in August to three charges of delivery of marijuana and received three years' deferred adjudication probation. All four were dismissed from the team.
Through the first month of the season, Pachall ranks fifth nationally in pass efficiency with 948 yards and 10 touchdown passes to only one interception. In 2011, he was a second-team All-Mountain West pick after accounting for 2,972 yards and 27 touchdowns. The top backup, freshman Trevone Boykin, has completed 9 of 10 passes with one touchdown while also rushing for 122 yards in garbage time, but has not seen any significant action with the final score in doubt.
The Horned Frogs are at home Saturday against Iowa State.
Show Comments
Hide Comments
Moss, a tight end, announced his decision to transfer from NC State this spring

A police report states that the future UGA offensive lineman choked his girlfriend

Clint Lewis, who has Down Syndrome, has been with the program for 22 years
Hurd left Tennessee during the 2016 season

But it worked, and that's what matters

TV viewing and live stream information for the 2017 Alabama spring game