Texas AD: No football beer sales yet, but trend 'positive'
Steve Patterson isn't yet ready to fully commit to beer sales at Texas football games, but said other sports' experiences with such sales have been positive.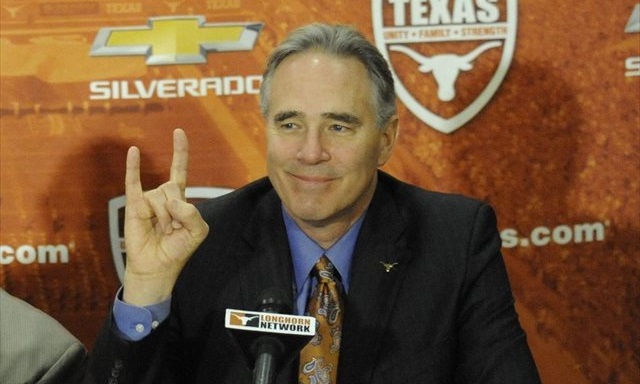 It has been more than a year since then-Texas athletic director DeLoss Dodds said the school would begin selling alcohol at baseball and softball games, and consider beer and wine sales at Darrell K. Royal Stadium during football games.
The retired Dodds has since been replaced by former Arizona State AD Steve Patterson, who told the Dallas Morning News last week that any final decision on football beer sales would be made by the entire administration rather than by him alone. Patterson also declined to specifically endorse the proposal. 
But Longhorn fans hopeful of having a cold one in the DKR bleachers should be encouraged by Patterson's comments all the same, as he said the school's trial runs at other sporting events have gone swimmingly.
"We had great feedback from the patrons. They appreciate it," Patterson said. "We had increased revenues. They were satisfactory. We had no additional incidents than we've had in the past. 
"From a customer service standpoint, from a safety and security standpoint, from a revenue standpoint, it's been positive so far."
Patterson added that many other entertainment options in Austin -- from minor-league baseball games to movie theaters -- likewise offer beer, and that "we should treat adults like adults."
That may not be a direct endorsement, but it comes pretty close. Despite the SEC's prohibition against in-stadium beer sales, LSU athletic director Joe Alleva recently said there "may come a day" when that policy is lifted; for Texas fans, as long as the feedback remains this positive, that day may not be very far in the future at all.
Show Comments
Hide Comments
Baylor is moving to dismiss the lawsuit, filed in January, on a two-year statute of limita...

USF senior Hassan Childs was injured in a shooting on Saturday night

It looks like LSU is moving towards having a beer garden for its home games
HB1249 would allow Arkansans with a certain permit to carry guns almost anywhere in the st...

Mark Dantonio answered questions about the suspensions and ongoing sexual assault investig...

The year 2017 is a critical one for the Aggies' coach, now in his sixth year with the prog...