Texas AD wants to explore Longhorn game in Mexico City
Steve Patterson is interested in neutral-site games, including one potentially in Mexico City.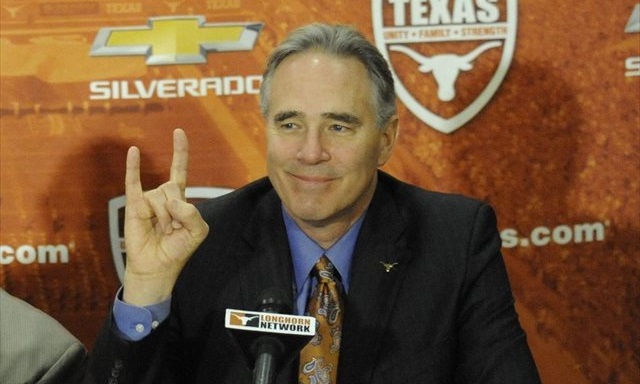 Could Texas become the next major college program to play a game outside the United States?
It's still far more "possibility" than "likelihood," but in a conversation with the Austin American-Statesman outlining his vision for the Longhorn program, athletic director Steve Patterson said he wanted to explore playing Texas football games in neutral venues. And one of the cities he'd be interested in exploring, he said, is Mexico City.
Though rare, college football games played outside the United States are not unheard of, and have become more frequent with Notre Dame opening the 2012 season against Navy in Dublin and Penn State and UCF set to play in the same city to kick off 2014.
The NFL is no stranger to Mexico City, either, with the former "American Bowl" preseason games and a 2005 regular season meeting between Arizona and San Francisco at the legendary Azteca Stadium all ranking among the league's highest-ever attended games. The Dallas Cowboys have played in Mexico City in the preseason and Jerry Jones has said he would like to play a regular season game there as well.
So Patterson's interest isn't necessarily as far outside the box as might be expected. But there remains the not-so-little matter of finding an opponent -- one that's willing to make the trip to Mexico City and play in conditions (familiar to any soccer fans) that include high altitude and smog. But if TV can provide the will, it's a good bet that Patterson could find someone who'd find the way. 
Show Comments
Hide Comments
Caleb Joshua Halley, who was the mascot for four years, was fatally stabbed in 2015

Michigan's trip to Italy has been fantastic, if you enjoy that sort of thing

The ex-Notre Dame quarterback would be eligible to play immediately in 2017
Tuberville has been mulling a decision to run in 2018

Ranking the best draft-eligible college football players in the 2017 draft class

Taking a closer look at what went down during one of the biggest weekends of spring football...