Texas A&M appears to be in turmoil as AD is latest to leave College Station
Are the Aggies imploding? The sudden and unexpected resignation of athletic director Eric Hyman sure makes it seem like Texas A&M is in turmoil.
What you have to believe for any of it to make sense is that Eric Hyman stepped down on his own.
You can't make that assumption, of course. Not with a straight face. Not after Hyman -- Texas A&M's athletic director who resigned on Tuesday -- gave his coach (Kevin Sumlin) a vote of confidence just 24 hours earlier.
The two occurrences don't jibe. You don't have the juice one day to prop up your $5 million-a-year coach then chuck it all in the gutter the next. You can't believe any of it to be just coincidence after two quarterbacks (Kyler Murray and Kyle Allen) transferred. Not after offensive coordinator Jake Spavital left town.
It looks, smells and breathes like Hyman was told something he didn't like and walked instead of having to do it. If you're thinking that duty was to fire coach Kevin Sumlin, you may be on to something ...
... or not.
It could be as simple as Sumlin-Hyman not getting along. It happens between coach and AD. What makes it odd is that, as of Monday, Hyman had his job and was giving his coach a vote of confidence.
I've known Hyman for more than a decade since his days at TCU. He was a forceful visionary in the office. On the field as an All-ACC defender at North Carolina, he spoke humbly of trying to tackle Archie Griffin.
What Hyman didn't do is back down. Tuesday seemed like he resigned on principle.
"I'm so confused with organizational structure," one source close to the situation said. "I don't know who the lead guy in charge is."
Whether that's chancellor John Sharp or system president Michael Young is not clear. One report last month said that Sharp was willing to buy out Sumlin for $20 million.
For a school that wanted to separate itself from Texas, A&M sure is mimicking a typical Orangebloods off-field soap opera.
That all at the same time Sumlin's name has been floated for NFL jobs. If you believe -- like many of us -- that Sumlin is a fantastic coach, the exodus at A&M is not going to resonate well with any NFL franchise.
"Firing Chip Kelly and all the negative attention that we've gotten," that source said. "That's hard to sell an [NFL] fan base."
Kelly wanted more personnel control with the Eagles, but at least he has NFL experience. Sumlin suddenly has a former starting quarterback (Allen) transferring to his former employer (Houston).
The coach's best work remains four years ago with Johnny Manziel. But it cannot be ignored Sumlin has averaged nine wins over his four seasons. That's the best run at A&M since R.C. Slocum won 41 from 1992-95.
The Aggies seems to have forgotten a lot, starting with who they are at the moment. Their program hasn't won much of anything since the last conference title in 1998. That program is -- at best -- the fourth best in the SEC West.
A newly renovated stadium isn't going to win the SEC -- not directly and certainly not for a while. While the assimilation into the SEC has been mostly positive, A&M's impatience is showing. The yearning to get an immediate payoff on new Kyle Field was palpable when I was in College Station this fall.
It's hard to expect an immediate football payoff on a $500 million upgrade, but that may be exactly what's happening.
"The bigger statement is not that it's been built as the biggest and largest [stadium], but that it's full," Sumlin told me during the season. "And to keep it that way."
What Sumlin didn't have to say: "or else."
We don't know what any of this means at the moment. Sumlin may be safe. Hyman may surface next week at some bigger, better job. A&M may win the SEC next year.
Just don't try to get odds on all three of those things panning out. For now, last one out of College Station please turn out the lights.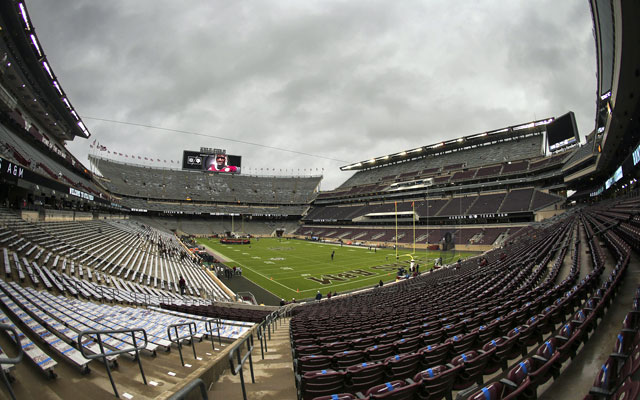 Show Comments
Hide Comments
Our Latest Stories
The Aggies proved against Arkansas that they are the toughest competition the Crimson Tide...

Tennessee finally beat Florida, while Auburn and LSU had one of the craziest finishes of the...

Auburn's win over LSU was cause for celebration at Toomer's Corner, but one of the trees was...
It's just about over for the Mad Hatter in Baton Rouge

The final play of the Stanford-UCLA game resulted in a whole lotta money changing hands

Jackson looked unstoppable carving up the Thundering Herd on Saturday night