Texas A&M cadet to be rewarded for saving Reveille
The Texas A&M cadet who threw a timely block to save the school's mascot, Reveille, is being rewarded for his actions.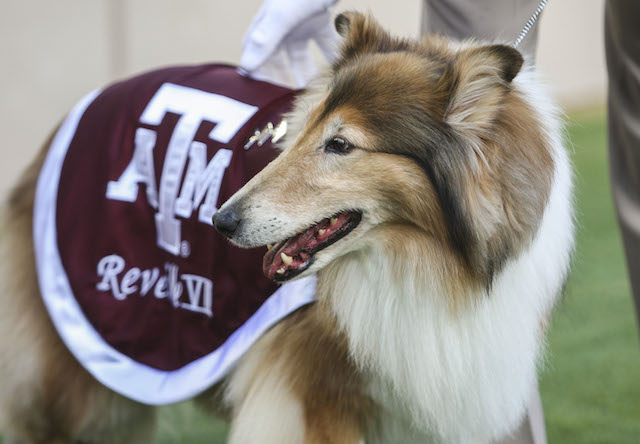 On Saturday, we shared a GIF of a Texas A&M cadet throwing a timely block to make sure that the school's mascot, Reveille, wasn't trampled by SMU receiver Der'rick Thompson. In case you missed it, here is the heroic action one more time.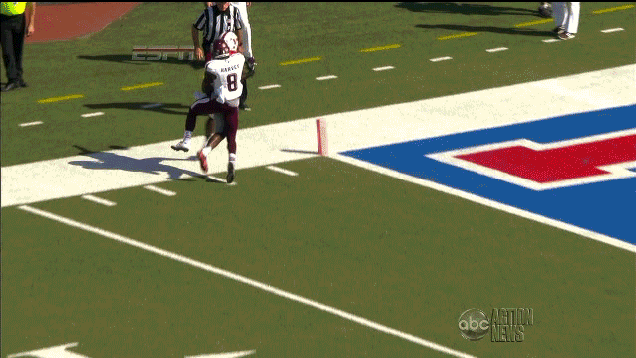 We now know the identity of the cadet who saved the day because he's being rewarded for his mascot heroism. Ryan Kreider will receive a special gift from the Commandant of Texas A&M's Corps of Cadets, Brigadier General Joe E. Ramirez.
"Cadet Ryan Kreider made ALL Aggies VERY proud today! What a selfless way for a cadet to take care of our beloved mascot, Miss Reveille," wrote Ramirez on his Facebook page. "As a result, the Commandant is going to buy Ryan's Senior Boots. Fellow cadets can give him junior/senior privileges as they deem appropriate, but I am so proud of what he did, that I'm willing to do something a little more 'substantial' to show the appreciation of ALL Aggies for his selfless act. Ryan, thanks for being such a superb example of what being a member of the Corps of Cadets and being an Aggie is all about! Your senior boots are now compliments of the Commandant! Well done, Ryan! Aggie nation is VERY proud of you!"
According to Good Bull Hunting, a nice pair of senior boots could cost over $1,000, so it's a pretty nice gesture for the Commandant to make. As for what senior boots are, I don't really know, but you can read about them here.
This is all just another way to show that Texas A&M is one of the weirdest places in the country, and I mean that in the absolute nicest way possible. Keep doing you, A&M, you crazy, trademarking, dog-loving, Midnight-Yell-ing dynamos.
Show Comments
Hide Comments
Ohio State is favored to win the Big Ten, but is it the best bet?

USC enters as the favorite, but are the Trojans the best bet?

Jim Harbaugh's Michigan staff will be at FAU on June 5
These five coaches will be hot names on the market after the 2017 season

The Big 12 could be wide open in 2017 ... we mean it this time

Rhule's stance on sexual violence is much-needed for a program that's been submerged in co...