Texas A&M paid star tackle $50K to stay in school; what could go wrong?
Texas A&M's Cedric Ogbuehi was allowed to collect $50,000-plus from the NCAA to help pay for an insurance premium. A&M and Ogbuehi took advantage of a little-known rule that allows for the cash to be paid to protect a player's draft position.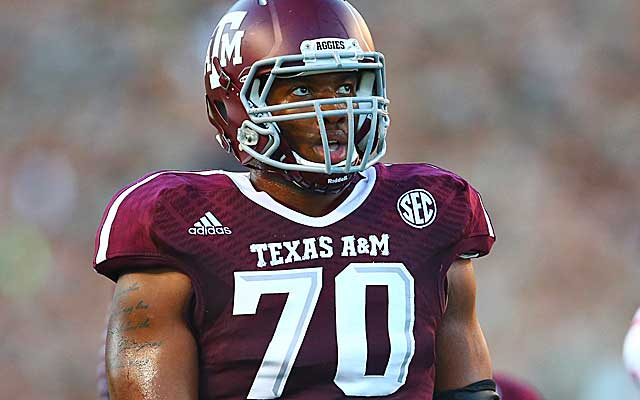 More college football: Dennis Dodd | Jeremy Fowler | Jon Solomon | Latest news
DALLAS -- Texas A&M recently paid its star offensive tackle more than $50,000. No NCAA bylaws were violated. In fact, the money actually came from a Student Assistance Fund set up by the association.
Good for them. Cedric Ogbuehi said he likely would have been off to the NFL if the school didn't come with 50 large to pay for an insurance premium. Ogbuehi can't afford the insurance that would cover a drop in draft position because of injury. Credit Kevin Sumlin and his staff for mining the little-known intricacies of the rule.
An Aggie staffer told Foxsports.com's Bruce Feldman, who broke the story, "I don't think many schools know about [the rule]."
The problem now, for me, is the NCAA getting close to now and forever losing the pay-for-play argument. Ogbuehi was the final straw.
We can argue about the word "paid," but Ogbuehi was awarded that money because he's an athlete. It was given in good faith and ostensibly to keep the kid in school, but it was there because he's a highly skilled player.
Ogbuehi (and his parents) got paid. Sure, other schools can do it but I'm wondering how this tips the scales of recruiting in Texas.
Ogbuehi's windfall was a topic of conversation Monday at Big 12 media days. Texas, Texas Tech, Oklahoma, TCU and Oklahoma State recruit in the state and/or against Texas A&M.
Now and forever, Sumlin can honestly claim to exploit a rule that paid a player five figures. Legally. That's a recruiting advantage.
"That's probably not the original intent of the rule," one administrator here said.
Random Aggie recruiter: "Don't forget kid, when the time comes, if you can't afford that insurance we can get it for you. Ol' Cedric got $50 grand!"
It may be a recruiting advantage available to anyone, but it's advantage that A&M has gained better than anyone at the moment. As Feldman pointed out, a recruit could demand insurance coverage out of that Student Assistance Fund as a condition of signing.
Then it becomes a case of how the school parcels out its recruiting promises. In this case, it would be in cash.
Call it an unintended consequence of a well-intended rule. But the money has gotten so large that the pay-for-play argument is quickly losing traction. The NCAA is in so involved in the business of awarding players money -- because they're players -- it's becoming a matter of how you define "pay."
• Athletes can be pro in one sport (and get paid by, say, Major League Baseball), but lead a double life as an "amateur" when they get back on campus.
• Players can receive bowl gifts worth $550. That annual practice involves approximately 8,500 players.
• Something as simple as a new suit can be purchased out of that Student Assistance Fund.
• The much-discussed cost of attendance will put $1,000-$6,000 per year in the pockets of players.
It's a bit hypocritical that players can be rewarded with these goodies, but can't possibly be trusted to control their own name, image and likeness. (See: O'Bannon trial)
Amateurism is what the NCAA makes it these days.
Just depends on which day.
Show Comments
Hide Comments
Using college stats and math to determine which FBS quarterbacks will be the most successf...

The LSU quarterback has been dealing with back issues for some time

Moss, a tight end, announced his decision to transfer from NC State this spring
A police report states that the future UGA offensive lineman choked his girlfriend

Clint Lewis, who has Down Syndrome, has been with the program for 22 years

Hurd left Tennessee during the 2016 season