Texas A&M's plan for post-Manziel era: Build crazy depth
Texas A&M Aggies surge under Kevin Sumlin despite losing Johnny Manziel. A track record with quarterbacks and improved depth will help in SEC West.
• 5 min read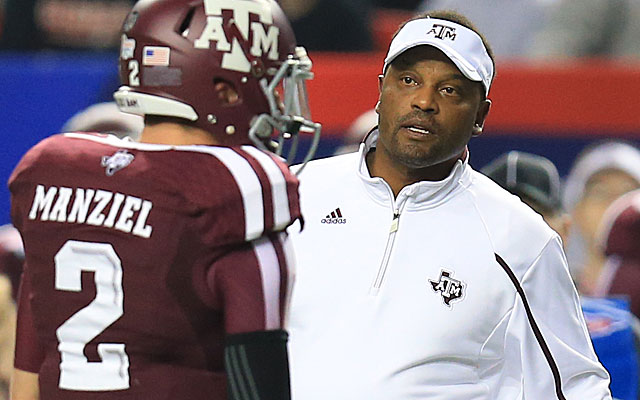 COLLEGE STATION, Texas -- Kevin Sumlin ambles through the athletic department cafeteria overlooking Kyle Field, which was once a lovely football establishment and is now an amalgam of dirt and cranes and trucks and beams.
Sumlin isn't building, at least not that part of A&M football. But he walks a few pen-wielding reporters to the glass to inspect the chaos. The palace will be restored in time for the Sept. 6 opener.
No pictures allowed, the sign on the glass warns. Turns out that Sumlin already has a snapshot of A&M that's high-resolution.
Keep developing quarterbacks, keep getting deeper, churn NFL talent like a Marble Slab.
"How do you move from a team to a program?" asks Sumlin during an interview moments earlier.
The answer is multi-layered but doesn't really involve Johnny Manziel. He's not an Aggie next year, you might have heard, though his presence is felt on the television in offensive coordinator Jake Spavital's office last Thursday as ESPN draft analysts chirped in the background about his pro potential.
The Aggies' post-Manziel era seems complicated, in part because it shouldn't be – A&M is well-established, with nearly 700 wins before Manziel stepped on campus.
Yet the question persists, at least from the outside: So, what now?
That part, Sumiln says, is not so complicated …
Quarterbacks: It's what we do
Before A&M fans hyperventilate about a post-Johnny offense and forecast a seven-win season, consider the track record of Sumiln and Spavital with quarterbacks.
Sumiln's first stint as a co-offensive coordinator, with Oklahoma in 2006-07, helped produce Sam Bradford's debut of 36 scores and eight interceptions.
At Houston, Sumlin had a four-year marriage with Case Keenum, and even when Keenum was hurt, David Piland was a decent fill-in.
Two years at A&M, two years of Manziel.
Spavital, a 28-year-old who has gone from Tulsa's quality control guy to an SEC coordinator in six years, developed Geno Smith as West Virginia's quarterbacks coach.
For a spread offense that relies heavily on quarterback decision-making, Sumiln's quarterbacks are usually poised for that challenge.
"At what point is that not just coincidence, I'll just put it that way," Sumlin said.
To put it another way: Quarterback candidates Kenny Hill or Kyle Allen or vet Matt Joeckel should be, at worst, productive starters in this offense. There's not much to suggest otherwise.
Allen, the 247 Sports top-ranked quarterback of 2014 who enrolled this spring, wouldn't exactly shock if he won the job because of his natural ability. Hill was a highly ranked 2013 recruit who played sparingly last year and has created some buzz in College Station. Joeckel's already graduated, which means more available hours for football immersion.
Asking this group to duplicate Manziel's two-year average of 4,995 yards and 47 touchdowns is ambitious at best.
Maybe start with mirroring Manziel's competitiveness, the rest will happen organically. A&M will tailor their system to the talent at quarterback, not the other way around. Coaches tell the players it's their time, not that of former players.
"I feel like we have the supporting cast that these kids can lean on for now," Spavital said.
SEC depth
Back-to-back top-10 national recruiting classes are nice and all.
Now try building some true SEC West depth.
That takes more than two years. Just ask Sumlin, who remembers falling from fourth to seventh in national rankings on the 2013 Signing Day despite having several of the proverbial four- and five-stars that most coaches covet.
"[The SEC is] the most competitive league on Sunday, Monday, Tuesday, Wednesday, Thursday and Friday because of recruiting -- it's crazy," Sumlin said.
The Aggies signed 32 players that year in anticipation of moments like this spring, when competition fuels performance.
But the Aggies need more time to reach the obnoxious NFL combine numbers of their SEC West peers. Though Manziel, receiver Mike Evans and left tackle Jake Matthews are destined for the first round, they were the only Aggies in Indy last month. That's one less than Vanderbilt and seven less than LSU.
For a guy who reportedly passed on NFL job opportunities to stay in college, Sumiln sure does run an NFL-spirited program.
"The employer is the NFL," said Sumlin on how he gauges talent evaluation of programs.
"We have some talented guys but we need more," he added.
A look around the football facility suggests that talent is on next-day delivery. There are whispers that 2014 receiver Speedy Noil already has channeled his inner Percy Harvin in practices.
Nose tackle Zaycoven Henderson's 320-pound frame inspires a new kind of gap discipline -- take up two gaps before even moving.
This is one of sixteen reasons -- as in, sixteen defensive linemen on scholarship -- why defensive coordinator Mark Snyder is excited and a bit relieved.
Is this defense for real?
When freshman Daeshon Hall was on the field for a first-and-10 against Alabama last year, Snyder thought one thing.
This just isn't fair.
The Aggies defense had 18-year-olds all over the field in 2013, a reality punctuated by Duke's 38-point first half in the Chick-Fil-A Bowl.
A&M got a few late stops to thwart the Blue Devils -- the Aggies had been playing better leading up to the bowl -- but the defense was considered vulnerable for chunks of the season.
This wasn't a revelation to Snyder. He simply didn't have enough practice competition. Unready players had to get snaps.
A few months later and there's no gift-wrapping, only clawing for starting spots.
"Guys are balling right now," Snyder said.
The Aggies plan to play up to four freshmen defensive linemen, including Henderson and frightening edge rusher Myles Garrett.
In 2015, A&M will have lost nobody from a defense that's trying to fuse toughness with experience.
Knowing he'd have more options, Snyder studied a bunch of film in the offseason, including the Seattle Seahawks' versatile Super Bowl performance that utilized speedier or heavier lineups depending on the situation.
Snyder can play his freshmen "when they can use their athleticism and they don't have to think" -- instead of every down.
"Football, to me, is about confidence," Snyder said. "Con-Fi-Dence."
South Carolina would like to test the Aggies' confidence on Aug. 28 in Columbia. 
Show Comments
Hide Comments
The former coach weighed in on the new NCAA recruiting rules

Wiggins has played more than 30 games in the ACC and SEC during his career

Our panel of experts drafted the best sports video games that have ever been created
The players allegedly conspired to steal belongings from another student's dorm room

Harbaugh handed the Pope a Wolverines helmet and special shoes

How Markeeth Taylor has become a last chance for NFL hopefuls like LeBeaux Cooper