Texas DC Bedford clarifies Johnny Manziel criticism
Texas defensive coordinator Vance Bedford shared his opinions regarding Johnny Manziel and the 2014 NFL Draft over the weekend.
• 1 min read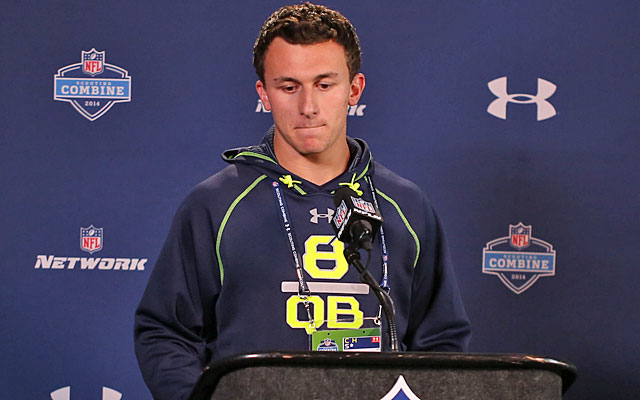 The volume of NFL Draft chatter is deafening as we sit just days away from the first selections inside Radio City Music Hall. Over the weekend, new Texas defensive coordinator Vance Bedford raised some eyebrows with some Johnny Manziel analysis on Twitter. 
Manziel is a top 10 pick by the scouts. I wish him the best. He played backyard ball for 3 years. Now he will have to learn how to be a Qb

— Vance Bedford (@CoachBedfordUT) May 5, 2014
Fans reacted instantly, as one might expect given the current state of Texas-Texas A&M relations, and Bedford quickly began to clarify his stance. 
No one took a@shot at manziel. Get a life people. Spread qbs have struggled in the NFL. The eagles run the spread in the NFL

— Vance Bedford (@CoachBedfordUT) May 5, 2014
It is funny. I wish manziel the best. Spread qbs struggle in pro style offense. Peyton and Brady are in the gun reading defenses

— Vance Bedford (@CoachBedfordUT) May 5, 2014
For more NFL Draft coverage, be sure to check out the latest mock drafts and rumors from our friends at the Eye On Football.
Corral is Florida highest-rated QB commit since Jeff Driskel

The Buckeyes are big favorites to win the Big Ten's East division as well as the conference...

A look at the where the Nittany Lions stand five years later through the eyes of four unique...
Freeze resigned as Ole Miss coach, and the insider team at OMSpirit.com breaks down the im...

Freeze left a fastball over the plate and The Oxford Eagle took advantage of it

Tim Tebow joined the show right after a baseball game to chat about football and more