Texas hires former quarterback Vince Young
Texas has hired former quarterback Vince Young for a job in the school's Division of Diversity and Community Engagement.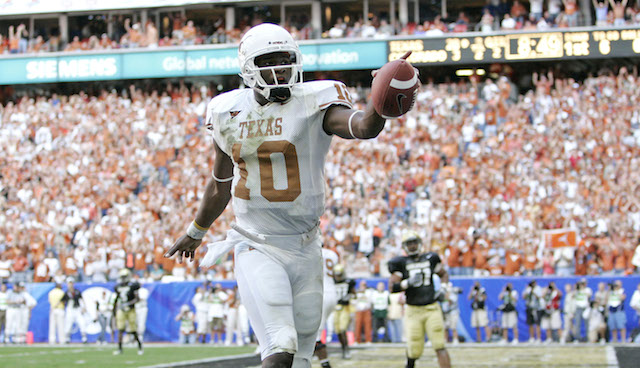 Vince Young is back in Austin.
Texas announced Thursday that the former quarterback is returning to the school, but not to work with the football team. Instead Young has been hired as a part of the school's Division of Diversity and Community Engagement. The report states that Young's role will be working with first-generation college students at Texas.
"The position with DDCE is a great way to stay connected to the university and help make a difference in the lives of underserved kids across the state," said Young.
Young received his degree from Texas in 2013, seven years after leaving school for the NFL, and was the first member of his family to get a college degree, so this is a cause he's more than familiar with. Young could also help with fund-raising -- possibly to help pay his reported "six figures" salary -- and other things that you would want Vince Young doing if you're Texas because he's Vince Young, and he's a freaking legend in Austin.
You tend to become popular after you win a national championship at Texas.
Show Comments
Hide Comments
Kush went 176-54-1 in 22 seasons at Arizona State

That's a lotta rock chalk

How will the AAC shape up in 2017? Let's take a team-by-team look
Doing well at an AAC school can lead to a big job, but it's easier to win at some than oth...

A script Ohio showed up in a Michigan fan's lawn when he needed some help with lawn care

Johnson Jr. was cited for marijuana possession and possession of drug paraphernalia in Jun...