Texas megabooster: 'Mack will decide when he goes'
The man whose name is on the field at Darrell K. Royal Stadium says Mack Brown isn't about to be fired.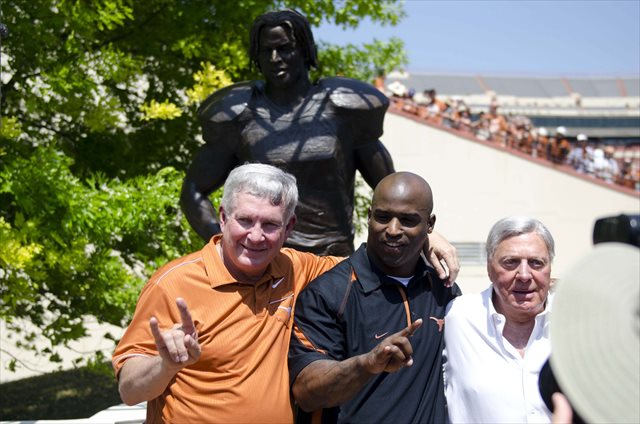 If there's any booster at Texas whose opinion on Mack Brown's job status might be worth listening to, you'd think it would be the man whose name is on the field at Darrell K. Royal Stadium, right?
And the opinion of that megabooster -- Joe Jamail, the billionaire attorney -- is that Brown isn't going anywhere unless that's what Brown himself wants.
"Mack will decide when he goes," Jamail told the Austin American-Statesman. "There are so many rumors spread on the Internet these days, but he is not in any trouble. I would know it. I think he may decide to stay or go, but he hasn't decided yet."
The Statesman's Kirk Bohls writes that Brown and Jamail "talk daily," with the booster saying that Saturday's 38-13 home loss to Oklahoma State had angered Brown but hadn't changed the 62-year-old coach's outlook on his Texas future -- and that he had "no idea" when Brown might make a final decision about that future.
Rumors have swirled about Brown's job status ever since the Longhorns suffered back-to-back nonconference defeats to BYU and Ole Miss early in the 2013 season, rumors that only gained steam when longtime Texas athletic director and staunch Brown supporter DeLoss Dodds announced his upcoming retirement. Though a decisive upset victory over Oklahoma cooled Brown's seat, the ongoing (if largely unfounded) speculation over Nick Saban's potential interest in a Texas vacancy, loss to the Cowboys, and potential season-ending defeat at fourth-ranked Big 12 usurpers Baylor could heat it up again.
In the end, Brown will -- as Jamail claims -- likely have some say in whether he remains Texas's head coach for 2014 and beyond. But there's still enough time left in the season that incoming AD Steve Patterson may wind up needing to have his fair say as well.
Show Comments
Hide Comments
It's time to say goodbye to so many great players

What colleges and conferences had the most first-round picks in the 2017 NFL Draft?

Myles Garrett and Leonard Fournette were top-rated prospects coming out of high school
Ohio State and Washington will play in Seattle in 2024 and Columbus in 2025

Kirk Merritt claims 'jock itch' was the reason he exposed himself to two tutors

The former coach weighed in on the new NCAA recruiting rules