Texas' Mike Davis offers new apology for low block vs. Iowa State
Texas receiver Mike Davis says he is 'sorry for what happened on the field' vs. Iowa State last Thursday night.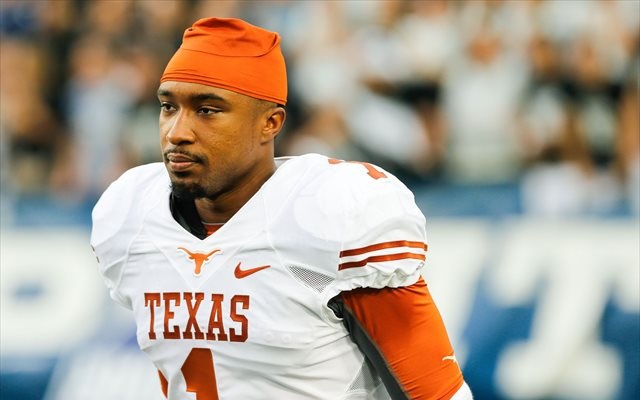 If at first you don't succeed, try, try again.
In his first attempt at "apologizing" for his ugly, late illegal block on Iowa State defensive back Deon Broomfield, Texas receiver Mike Davis made things worse Monday, shrugging off an official Big 12 reprimand to say he would "do the same thing" as long as an opposing defensive back was "loafing."
Tuesday, however, Davis issued a much more traditional, more apologetic apology.
"I would like to issue a full apology for not only the play that occurred with Deon Broomfield of Iowa State, but everything that has surrounded this issue," Davis said in a statement issued by the Longhorn program. "My comments yesterday were not intended to indicate that I would ever do anything illegal or malicious, and I would never have any intent of hurting anyone or doing anything else outside of the rules ...
"Most of all, I would like to apologize to Deon. He's a great player, and I would like to make sure he knows that my intent was never to hurt him, and that I am not that kind of a player. Again, I am sorry for what happened on the field and everything that has happened around that."
Davis also apologized to the Big 12 and issued the apology in video form:
It's anyone's guess how sincere Davis truly is here -- after Monday's comments, he can't complain if the majority of those guesses are "not sincere at all" -- but at least there's some acknowledgment that flinging yourself at an opponent's legs after the play and then saying you'd do the same thing (and draw the same 15-yard flag) all over again isn't the most sportmanlike sequence of behavior. Depending on your perspective, that might not be much, but it's something.
Show Comments
Hide Comments
Harbaugh handed the Pope a Wolverines helmet and special shoes

How Markeeth Taylor has become a last chance for NFL hopefuls like LeBeaux Cooper

Caleb Joshua Halley, who was the mascot for four years, was fatally stabbed in 2015
Michigan's trip to Italy has been fantastic, if you enjoy that sort of thing

The ex-Notre Dame quarterback would be eligible to play immediately in 2017

Tuberville has been mulling a decision to run in 2018