Texas RB/WR Daje Johnson to miss Ole Miss game with injury
A key playmaker for the Longhorn offense will miss their home date with Ole Miss after injuring his left ankle.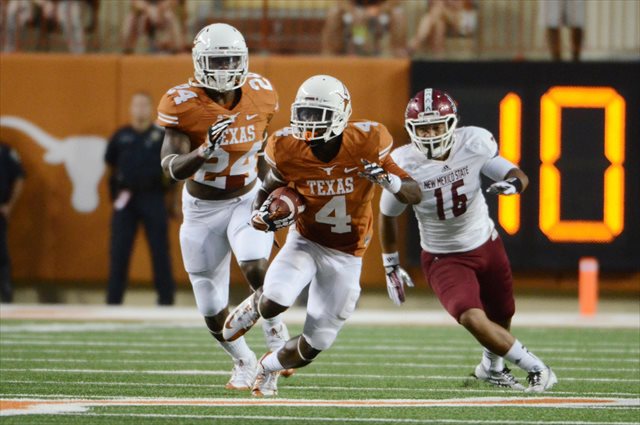 As if reeling Texas didn't have enough problems, one of its star playmakers will miss this week's home game vs. Ole Miss, and its starting quarterback may not be 100 percent.
Sophomore running back-slash-wide receiver Daje Johnson will not play against the Rebels, Mack Brown said Monday, after injuring his left ankle in the Longhorns' 40-21 embarrassment at BYU. Johnson was hurt only three plays into the game when his left leg was pinned by a Cougar defender.
Brown also said that quarterback David Ash is "still being evaluated," per the Associated Press, after suffering injuries to both his head and right shoulder late in the game. Senior Case McCoy would get the start in the event Ash is unable to play.
Johnson's injury will hamper what had been a bright start to the 2013 season. The 5-foot-10 Pflugerville, Texas native scored a pair of long touchdowns vs. New Mexico State in the Horns' 56-7 season-opening victory, and finished with 129 yards from scrimmage (62 rushing, 67 receiving).
The first of those touchdowns comes at the 21-second mark here:
Show Comments
Hide Comments
It seems there's a lot of talent in the SEC

There are all sorts of drafts out there and these are my favorites

It's time to say goodbye to so many great players
What colleges and conferences had the most first-round picks in the 2017 NFL Draft?

Myles Garrett and Leonard Fournette were top-rated prospects coming out of high school

Ohio State and Washington will play in Seattle in 2024 and Columbus in 2025