The Alabama dynasty, by the numbers
Three titles in four years are the biggest numbers. But what other stats has Nick Saban's team put up along the way?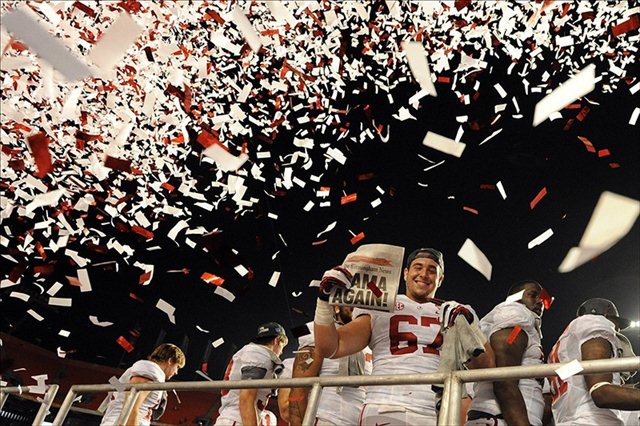 It's all confetti these days for Alabama. (US Presswire)
The biggest numbers about Alabama's current dynasty are these: 3 BCS championships in 4 seasons, making Alabama the first team to claim that many in that short a span since Tom Osborne's Nebraska in the mid-1990s ... and the Huskers' 1997 title was shared.
But there are plenty of other statistics, figures, numbers, etc. that show how and why we arrived at the Crimson Tide's current status at the undisputed king of college football. Here they are:
More on Alabama-Notre Dame
Related links
More college football coverage
1.3: Alabama's average final rank in FBS total defense after allowing Notre Dame 302 yards on Monday night in Miami. The Crimson Tide finished first in 2012, first in 2011 and second to TCU in 2009.
2.1: Average gain per rush by Texas, LSU and Notre Dame in Alabama's three BCS championship victories. The Longhorns, Tigers and Fighting Irish -- three teams that entered the title games with a combined record of 38-0 -- ran a combined 74 times for 152 yards. The Crimson Tide's opponents' passing games were nearly as anemic; they threw 95 times for 518 yards, an average of 5.5 an attempt. (For some context: that 5.5, if stretched over an entire season, would have tied Alabama for third in the FBS this year.) 
4: Number of different 100-yard rushers for Alabama in its three BCS championship victories, even without having one in the win over LSU; Mark Ingram and Trent Richardson each topped that number against Texas, and Eddie Lacy and T.J. Yeldon both managed it vs. Notre Dame. In both cases, the duo represented one junior and one freshman.
6: Total points allowed by Alabama in six first-half quarters in its three BCS championship victories; the Crimson Tide outscored Texas, LSU and Notre Dame by a combined 61-6 in the first and second quarters. All six of those points allowed came in the first quarter against Texas; since then, the Tide have compiled a first-half title game shutout streak reaching 83 minutes and 4 seconds.
9: The number of SEC victories in the BCS Championship Game, against zero defeats. That represents 60 percent of the 15 BCS titles awarded. The next-highest total is the Big 12's 2.
50: Number of wins for Nick Saban over the past four seasons, against five defeats. Three of those losses occurred in 2010. In the other three (championship) seasons, Alabama finished a combined 40-2.
65: Total margin of victory for Alabama in its three BCS championship wins after a combined score of 100-35. The 28-point margin on Monday was the second-highest after USC's (since vacated) 55-19 win over Oklahoma following the 2004 season.
79: Consecutive unanswered points scored by Alabama across nearly eight BCS championship quarters, beginning in the fourth quarter against Texas and concluding in the third quarter against Notre Dame.
529: Alabama's total yardage against Notre Dame; for the season, the Irish gave up an average of 287 per game. Per play, Alabama averaged 7.2; for the season, the Irish gave up only 4.6. No team had totaled more than 379 yards against the 2012 Irish defense (Oklahoma) or averaged more than 5.68 per-play (Navy). 
For more college football news, rumors and analysis, follow @EyeOnCFB on Twitter, subscribe to our RSS Feed, college football newsletter, and get the Eye On College Football Podcast from iTunes. You can follow Jerry Hinnen on Twitter here: @JerryHinnen.
Show Comments
Hide Comments
Ohio State is favored to win the Big Ten, but is it the best bet?

USC enters as the favorite, but are the Trojans the best bet?

Jim Harbaugh's Michigan staff will be at FAU on June 5
These five coaches will be hot names on the market after the 2017 season

The Big 12 could be wide open in 2017 ... we mean it this time

Rhule's stance on sexual violence is much-needed for a program that's been submerged in co...