The QB class that kinda never was
Football recruiting is often quite a crapshoot, but as one Duke staffer realized the quarterback class of 2010 has proven to be quite a mess, especially among the most touted prospects.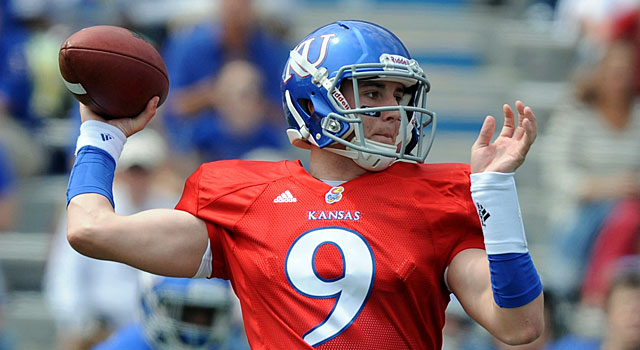 Earlier this spring Kent McLeod and his assistants did a little study on quarterback recruiting. The Duke Blue Devils director of football relations was trying to get a better handle on why many supposed blue-chip QBs don't pan out.
McLeod has always been big on his research projects. The former math major also has been fortunate to have spent a decade around a staff that knows plenty about evaluating and developing quarterbacks. David Cutcliffe and offensive coordinator Kurt Roper have a good chance of having produced four QBs that will be on NFL rosters in 2013: Peyton Manning (Broncos), Trumaine McBride (Giants), Thad Lewis (Browns) and Sean Renfree , who was drafted by the Atlanta Falcons last month.
247Sports 2010 QB Rankings
Pro-style quarterbacks
1. Phillip Sims, Alabama
2. Jesse Scroggins, USC
3. Jake Heaps, BYU
4. Connor Wood, Texas
5. Tyler Bray, Tennessee
Dual-threat quarterbacks
1. Devin Gardner, Michigan
2. Rob Bolden, Penn State
3. Blake Bell, Oklahoma
4. Barry Brunetti, West Virginia
McLeod wondered exactly what happened to the QB Class of 2010.
He found that a staggering number of the guys ranked as four- or five-star recruits (by Rivals and Scout) have had little impact at the schools that signed them. Most of the quarterbacks ended up transferring. Of the 31 QBs ranked as blue-chip prospects, 22 of them bolted to try to play somewhere else. That is 71 percent of those 31 quarterbacks.
Another one of them never even made it to the college he signed with, instead opting to play pro baseball.
Of that 31-man group, only four of them are or were the projected No. 1 QB at the school they signed with: Michigan's Devin Gardner ; Missouri's James Franklin , and Oregon State's Sean Mannion , however the latter is in a battle for the starting job. The fourth QB that was his school's starter was Tennessee's Tyler Bray, who went undrafted despite having a powerful arm and the prototypical size. Teams had concerns about Bray's maturity and focus. [Update: Oklahoma's Blake Bell was expected to win the vacant starting job for the Sooners, but was beaten out by redshirt freshman Trevor Knight.]
"It's kinda like the class that never was," McLeod said. "It's amazing of how many kids in this group aren't even playing anywhere."
McLeod tracked their careers and was reminded how fickle things can be when it comes to the college football recruiting world. Egos get bruised. Patience wears thin. Often times QBs go somewhere they don't fit the system or before too long, the system at their school changes and doesn't fit them.
"Coaching changes have a lot to do with (all the transferring)," he said. "It was also a really weak class. Not all of these guys were bad on tape, though. But you did have a lot of bad evaluations, and then you had guys go to a school and they're seeing that they're not the starter and then all of a sudden, they leave."
The breakdown:
Those who left and are expected to be starting QBs at another FBS programs: Terrance Broadway (left Houston for ULL); Jake Heaps (left BYU for Kansas); Connor Wood (left Texas for Colorado); Chandler Whitmer (left Illinois for UConn);  Scotty Young (Texas Tech for La. Tech) and Taylor Graham (left Ohio State, went to JC and is now at Hawaii).
FWIW: Hawaii's Norm Chow raved about Graham last week, comparing the QB to Carson Palmer, another big, strong-armed quarterback he had coached in college.
Those who left and are QBs at another FBS programs: Pete Thomas (Colorado State for NC State); Barry Brunetti (WVU for Ole Miss); Nick Montana (Washington, went to JC and now at Tulane); Tyler Gabbert (Missouri for UCF); Rob Bolden (Penn State for LSU); Jesse Scroggins (USC, went to JC and now at Arizona) and Phillip Sims (Alabama for Virginia).
Those who stayed but aren't starting QBs at the school they signed with: Andrew Hendrix (Notre Dame); Anthony Gonzalez (playing DB at Pitt) and Dallas Lloyd (Stanford).
Those who transferred down: Bryan Bennett (Oregon to SE Louisiana); Paul Jones (Penn State to Robert Morris); Johnny Deaton (Oklahoma State to Northeastern (Okla.) State); Brion Carnes (Nebraska, switched to WR and just left for Northern Iowa); Joe Boisture (Michigan State to Saginaw Valley St.); Mark Myers (Pitt to John Carroll); Tyler Smith (Maryland to Elon); Jeremy Johnson (WVU to Blinn JC) and Brett Nottingham (Stanford to Columbia).
Those who went the baseball route: Zach Lee (LSU for the Dodgers).
While it's eye-popping to see how few of these 2010 signees ended up as college starters, much less appear to have a shot at making NFL rosters, the 2011 class seems to be the exact opposite. Among the blue-chippers already thriving at the places they signed with: Teddy Bridgewater (Louisville); Brett Hundley (UCLA); Jeff Driskel (Florida); Kevin Hogan (Stanford) and Braxton Miller (Ohio State). Other touted QB recruits expected to break through this fall: Arkansas' Brandon Allen while USC's Max Wittek and Cody Kessler vie for the Trojans starting job. In addition, the 2011 crop has come up very big in its group of unheralded three-star guys: Johnny Manziel (Texas A&M); Marcus Mariota (Oregon); Everett Golson (Notre Dame); David Ash (Texas) and Gary Nova (Rutgers), among others.
Show Comments
Hide Comments
Our Latest Stories
Tre'von Armstead was arrested on charges stemming from 2013

The former Baylor player was convicted in August 2015

HB1249 allows citizens to bring weapons inside public buildings in Arkansas
This is the wrong kind of lit

Mike Leach does not fancy himself a good dancer

Which teams move on to the Final Four in our college football NCAA Tournament bracket?