There's a game on tonight! Your Georgia St.-Abilene Christian FAQ
The 2014 FBS college football season kicks off Wednesday night when Georgia State and Abilene Christian square off in the Georgia Dome. Here's what you need to know.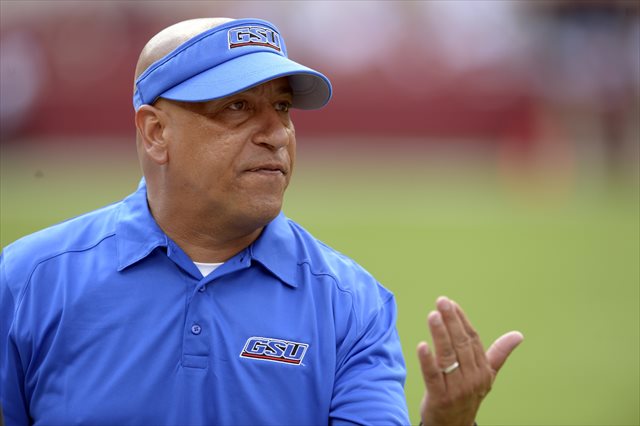 Hey! Did you know the 2014 college football season officially kicks off Wednesday night? It's true! Georgia State hosts Abilene Christian at 7 p.m. ET on ESPNU. I'm sure you have questions, so I'll do our best to answer your WAIT.
Wait?
Wait wait wait. I thought the season started Thursday. South Carolina-Texas A&M, Boise-Ole Miss, all that. Why does this game count as the start of the season?
Because having completed its transition from nonexistence to the FCS to the top division of college football, Georgia State is -- really! -- now a full-fledged Sun Belt member and the first FBS team to take the field in the 2014 season. 
But they're playing a school I've never heard of. And weren't there some FCS teams on TV last weekend?
OK, so, yes, this is not the start of "college football season" in the broadest sense; among various other lower-division games, FCS powers Eastern Washington and Sam Houston State squared off on national TV last Saturday, EWU pulling away on its blood turf for a 56-35 victory. And Abilene Christian, yes, only just now qualifies as an FCS program, 2014 being its first season as a full "I-AA" member after making to move up from Division II.
But lines have to be drawn somewhere, and the biggest, boldest line in the college football world is the one dividing the FBS from the FCS. (Just ask any major-media scoreboard on the Internet.) Georgia State is on the right side of the line. Season starts tonight!
Cool. But why this game? How did these teams get this kind of spotlight all to themselves?
Georgia State asked for a waiver from the NCAA -- when you're Georgia State and your entire football program is four seasons old and you've won one game in two miserable seasons, you understandably tend to get a little desperate for attention -- and got it. The squeaky wheel, as they say, gets the grease.
Though the Panthers did actually have an unusual case for moving the game to Wednesday -- their home venue, the Georgia Dome, is occupied by Chick-Fil-A Kickoff games both Thursday and Saturday -- here's a guess that this won't be the last such waiver requested by teams near the bottom rungs of the FBS ladder.
Gotcha. Is there any other reason to tune in besides it being the first game of the season?
Um ... er ... well. Georgia State went 0-12 in 2013, its first season playing a complete FBS schedule, and frankly even that was an improvement on the 1-11 mark posted under Bill Curry in the Panthers' final year as an FCS program. Abilene Christian went 6-5 last season, but against a schedule including six games against sub-FCS competition.
FBS team involved or no FBS team involved, it's hard to imagine the level of play in the Georgia Dome won't be markedly lower than in the aforementioned Eastern Washington-Sam Houston State game last Saturday.
So you're saying there really isn't a reason to tune in other than it being the first game of the season.
Not quite. There's two, I'd argue. Reason the first: the stakes for the Panthers are actually really, really high. GSU enters this season on a 16-game losing streak, and if second-year coach Trent Miles can't beat either Abilene Christian or second-week opponent New Mexico State -- who, hey, got one of its two 2013 victories over, you guessed it, Abilene Christian -- that streak could extend all the way into 2015.
The good news for the Panthers is that Miles' first season was marked by some legitimate promise. After getting spanked by FCS Chattanooga in Week 2, GSU covered the spread in eight of its next nine games, losing four by a touchdown or less; that "streak" included a 35-33 defeat at Arkansas State in which the Panthers led at halftime and outgained the future GoDaddy.com Bowl champions 432-290. They come into Wednesday's game as a four-point favorites.
The Panthers have some demons to exorcise Wednesday, in other words, and may never have a better opportunity to do so. If they do, your TV is going to bring you some scenes of joy that may very well qualify as "unbridled."
Guess that sounds better than watching "Friends" reruns, sure. What's your other reason?
The last time Abilene Christian played an FBS school was the aforementioned loss to New Mexico State. It ended with a tipped-then-caught-then-lateraled Hail Mary from the Abilene 20-yard line in which the receiver was tackled five yards from the end zone. Watch it here; it was the craziest play of the 2013 season no one (or very few people) remember.
I dunno about you, but I could go for a repeat of that sort of thing.
Hey, me too! 
Great! I mean, it's college football. Sun Belt football. 7 p.m. I'll see you there. 
Show Comments
Hide Comments
Twenty-eight of 95 early entry prospects went undrafted

The SEC and Michigan each had great weekends in the 2017 NFL Draft

Rawleigh Williams III left the field on a stretcher after a neck injury
Jim Harbaugh wants more college football programs to embrace the international trip

It seems there's a lot of talent in the SEC

There are all sorts of drafts out there and these are my favorites