Tomorrow's Top 25 Today: Week 14
Our weekly projection of what you'll see from the AP Top 25 when it's released on Sunday.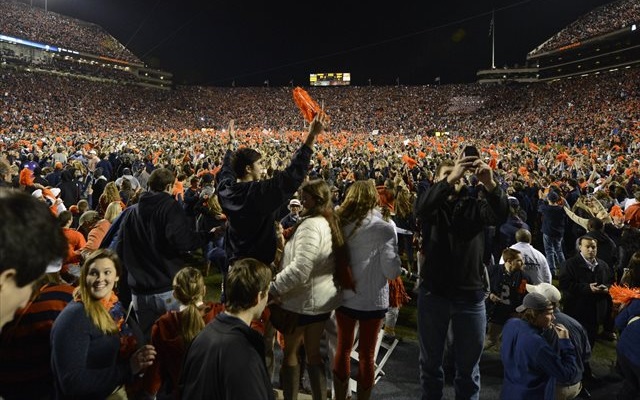 Each Saturday night, the Eye on College Football takes its best guess at what we'll see on Sunday morning from the AP Top 25. Here's where the poll stood entering this week, and here's our Week 14 projection, which will be updated as results are finalized late Saturday.
Teams marked with an asterisk have games ongoing. Projection assumes Vegas favorites win. (Last week's ranking in parentheses):
1. Florida State Seminoles (2): Florida State always loses at least one regular season game that ruins their season. Except for, uh, this season. In which they're a win over Duke -- DUKE!!!! -- away from the national title game.
2. Ohio State Buckeyes (3): The gazillion-dollar question that's going to envelop every aspect of college football for the next week: undefeated Ohio State, or a one-loss SEC champion? Don't be too shocked if AP voters, ever skeptical of the Buckeyes, give Auburn the bump to No. 2 based on the quality of the opponent the Tigers just defeated ... and based on the lack of quality of the opponent that came within a two-point conversion of beating the Buckeyes.
In the end, what the AP voters think won't make any difference where the BCS is concerned. But the guess here, for what it's worth, is that Ohio State will remain No. 2 by the skin of its proverbial teeth. A 12-0 season in the Big Ten still counts for something.
3. Auburn Tigers (4): The most unlikely 11-1, No. 3 team in AP history? Only if they're not the most unlikely 11-1, No. 2 team in AP history. 
4. Alabama Crimson Tide (1): Even after a loss, even with Missouri's incredible season, it's hard to imagine pollsters voting a one-loss team that was 5-7 a year ago over a one-loss team that is Alabama.
5. Missouri Tigers  (5): Just as an awful lot of people expected, the SEC Championship Game will match up two top 5 teams and could be a play-in game for the BCS title game. Just as no one at all expected, anywhere, that game will be between Auburn and Missouri.
6. Oklahoma State Cowboys (7): Cowboys had a bye week in which to savor their beatdown of Baylor and prepare for Bedlam.
7. Stanford Cardinal (8): Cardinal polished off Notre Dame for their customary 10-win season, and will play for another Pac-12 title next week. (This comment filed under "things that never would have made any sense at all six years ago.")
8. South Carolina Gamecocks  (10): Death, taxes, Steve Spurrier's ownership of Dabo Swinney, apparently.
9. Baylor Bears (9): Bears won't be happy about being leapfrogged, but the Gamecocks beat a top-10 team by multiple touchdowns. Baylor beat a team not going to a bowl game by a field goal. And the margin between the teams in the polls last week was only 16 points to begin with.
10. Michigan State Spartans (11): The SEC's new favorite team, the Spartans downed Minnesota in its usual boa constrictor fashion. But does Sparty have enough offensive firepower to hang with the Buckeyes?
11. Arizona State Sun Devils  (13): Remember that Arizona team that crushed Oregon? Yeah, the Sun Devils are buried them by 37. That comparison (and the Beavers' serious scare of the Ducks) could vault ASU up a couple of spots.
12. Oregon Ducks (12): The Ducks look like a shell of the team that rattled off eight straight wins by no less than 21 points to start the season, but after surviving Oregon State they still have just the two losses, and they still have the name "Oregon" on their uniforms. Should be enough to hold this spot, at least.
13. Clemson Tigers (6): The Tigers are undefeated the last two seasons against anyone other than Florida State or South Carolina. Against the 'Noles and Gamecocks, Clemson is 0-4 with an average margin of defeat of 18.3 points. Oof.
14. LSU Tigers (15): The Tigers looked like a team that knew it could go through the motions and somehow still pull out a win over Arkansas, and that's exactly what they did.
15. Northern Illinois Huskies (18): A three-spot jump is more than you might expect for beating one-win Western Michigan, but the next team on this list played a two-win team and looked far less impressive. 
16. UCF Knights (17): The Knights needed a pair of late defensive stands and a big fourth-quarter touchdown to beat USF at home. But it wasn't anything new for the Knights. 
17. Oklahoma Sooners (20): Like their Bedlam brethren, the Sooners had the week off.
18. Louisville Cardinals (21): Hey, the Cardinals look due to move up a couple spots, finally ... even after having the week off. Cincinnati plays host to the Cards this Thursday. 
19. UCLA Bruins (22): Maybe it didn't have the drama of some other rivalry games across the nation, but pounding the Trojans (and the building hype around the Ed Orgeron candidacy) by 21 full points had to have been just as satisfying.
20. Duke Blue Devils (24): 20th seems a little low for a 10-2 outright ACC Coastal champion, right? Even when it's Duke? The pollsters have been slow where Duke's concerned, but maybe the Blue Devils' unstoppable charge towards the ACC Championship (wait, what?) will get them a little more love than this. (But maybe not; Duke was 127 points behind No. 23 USC last week.)
21.  Wisconsin Badgers (14): This space has called Wisconsin the nation's most underrated team for the past few weeks. Yeah, nevermind about that.
22. Georgia Bulldogs (NR): Look who's back! The first team among the "Also Receiving Votes" last week, the Dawgs' comeback from 20 points down at Georgia Tech -- the best game no one seemed to see outside the Peach State -- will get them into the poll. The only question is how high they'll land.
23.  Texas Longhorns (NR): Some credit to Mack Brown: his last few Texas teams (not to mention the one that got bombed by BYU and Ole Miss earlier this season) would not have crushed Texas Tech the way the 'Horns did on Thanksgiving night.
24. Fresno State Bulldogs (16): Big, big drop for the Bulldogs after their first loss, but for all of David Fales' wizardry, San Jose State hasn't exactly been a juggernaut this season ... and neither has any of the 10 teams Fresno's defeated.
25. Texas A&M Aggies (19): Not sure the 8-4 Aggies -- now 0-4 against ranked teams this season -- are a better choice than 9-2 Cincinnati. But they are the SEC choice, and that seems to matter.
Dropped out of projected rankings: USC, Notre Dame
Also under consideration: Cincinnati 
Talking season continues with the Big Ten, and Dennis Dodd sets your expectations

Corral is Florida highest-rated QB commit since Jeff Driskel

The Buckeyes are big favorites to win the Big Ten's East division as well as the conference...
A look at the where the Nittany Lions stand five years later through the eyes of four unique...

Freeze resigned as Ole Miss coach, and the insider team at OMSpirit.com breaks down the im...

Freeze left a fastball over the plate and The Oxford Eagle took advantage of it