Tomorrow's Top 25 Today: Week 7
Our weekly projection of what you'll see from the AP Top 25 when it's released on Sunday.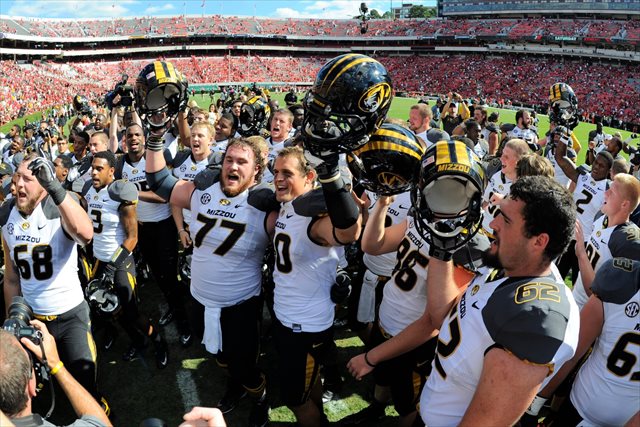 Each Saturday night, the Eye on College Football takes its best guess at what we'll see on Sunday morning from the AP Top 25. Here's where the poll stood entering this week, and here's our Week 7 projection, which will be updated as results are finalized late Saturday (last week's ranking in parentheses):
1. Alabama Crimson Tide  (1): The Tide had some first quarter hiccups at Kentucky, but there's no case of hiccups yet strong enough to overcome a 372-62 advantage in halftime yardage.
2. Oregon Ducks (2): Ducks for No. 1? Mark Helfrich's team will get a few more first-place nods (and deserve them) after spanking Washington in Seattle, but nowhere near enough to think about actually overtaking the Tide.
3. Clemson Tigers (3): The Tigers didn't merely look past Boston College to next week's showdown with Florida State, they took three quarters to even notice they had a game today. It's not unthinkable the Buckeyes could leapfrog them after a performance like that ... if Ohio State hadn't taken the week off.
4. Ohio State Buckeyes (4): At least the Buckeyes (which, you'll remember, are undefeated and began the season at No. 2) won't be in danger of slipping again after Stanford's defeat.
5.  Florida State Seminoles (6): Seminoles actually had a bye before their trip to Clemson, as opposed to the Tigers' belief that a lower-rung ACC team amounted to a bye.
6. Louisville Cardinals (8): The Cards dominated Rutgers in the box score in a manner befitting an undefeated top-10 team ... but when the scoreboard reads 24-10, gaining any traction in the polls is going to be hard to come by.
7. Texas A&M Aggies  (9): Despite trailing by a touchdown twice in the fourth quarter, the Aggies railled for the 41-38 win behind another 300-yards-passing-100-yards-rushing outing from Johnny Manziel, his fourth in his (still-brief) career and the most in FBS history.  
8. LSU Tigers (10): Have defensive concerns? Play Florida at home, have concerns resolved.
9. UCLA Bruins  (11): Bruins not perfect, but got the job done against Cal in late-night action. Trip to Stanford looms next week, and then the trip to Oregon the week after that. So maybe "not perfect" can be forgiven. 
10. Miami (Fla.) Hurricanes (12): Hurricanes had the week off before traveling to North Carolina next week.
11. South Carolina Gamecocks (14): Gamecocks turned in their best performance of the season by a fairly wide margin in winning at Arkansas ... and lo and behold, their remaining SEC schedule -- at Tennessee, at a James Franklin-less Missouri, vs. Mississippi St., vs. Florida -- looks to set them up nicely. Georgia would best be advised not to lose again if they want their head-to-head tiebreaker over the Gamecocks to matter.
12. Stanford Cardinal (5): Cardinal were less than impressive even in victory over Washington, having been outgained by 200-plus yards. There's only so many times you can play a subtantially worse game than your opponent and rely on Ty Montgomery to bail you out with kick returns -- particularly when you're going on the road in conference. 
13. Baylor Bears (15): The Bears' previously unstoppable offense looked highly mortal at Kansas State, and a defense that had previously looked much-improved was gashed time and again on the ground; if not for Bill Snyder's decision to attempt a (missed) 41-yard fourth-quarter field goal rather than go for it with that rushing attack on 4th-and-2, the Bears might have left Manhattan losers. And yet, this was Baylor's first Big 12 victory on the road over someone other than Kansas since 2010, and the first Big 12 road victory of Art Briles' entire tenure by a double-digit margin. Is the glass half-empty or half-full?
14. Missouri Tigers (25): An 11-point jump is quite the move at this stage of the season, but a 6-0 SEC team fresh off a 15-point win at Georgia really shouldn't be ranked any lower than this. And Franklin or no Franklin, given that they have two losses fewer than the Bulldogs and just beat them head-to-head, anyone voting them lower than Georgia needs a public reprimand.  
15. Georgia Bulldogs (7): No, a two-loss team ravaged by injuries and licking its wounds from a double-digit home loss maybe shouldn't still rank in the top 15, even if it does have wins over South Carolina and LSU. But none of the teams following the Dawgs here had that much support in the polls last week, and voters have been generous to SEC losers ... 
16. Texas Tech Red Raiders (20): And, honestly, after needing a dropped onsides kick to finally escape Iowa State at home in Lubbock, the Red Raiders can't complain too much about a four-spot jump of their own.
17. Oklahoma Sooners (12): Not sure how you go from moving the ball consistently on the road against Notre Dame to the miserable showing we saw from Blake Bell and Co. Saturday in Dallas -- and in the span of only two weeks at that. But the Sooners managed it.
18. Fresno State Bulldogs (21): Bulldogs had the week off. Could have used a little better showing from Rutgers to bolster the ol' resume.
19. Oklahoma State Cowboys (22): Cowboys also had a bye before hosting TCU next week. 
20. Northern Illinois Huskies (23): Huskies clearly bored at this point by their MAC brethren, this week beating Akron 27-20 at home. That one goes in the "trophy cabinet" alongside beating Idaho by 10 and Eastern Illinois by 4. Beating Iowa and pounding Purdue is fine and all, but if NIU does mount another charge at the BCS, it seems it will be on the strength of last year's success as much as this year's.
21. Virginia Tech Hokies (24): The Hokies failed to score 20 points. Again. They won anyway. Again. Why has Bud Foster not become someone's head coach by now, again?
22. Wisconsin Badgers (NR): The Badgers' two losses include the officials' meltdown at Arizona State and the seven-point loss at Ohio State, while their wins now include an absolute pounding of previously ranked Northwestern. Won't be a surprise at all if they're top two-loss team, non-Georgia division.
23. Auburn Tigers (NR): From this point on, consider this projection little more than an educated guess. But Auburn was the top team in the "also receiving votes" category last week, and Florida's and Northwestern's losses should open enough room for them to move into the poll after this week's FCS breather.
24. Washington Huskies (16): The Huskies got fairly generous treatment from voters after their loss at Stanford, a deserved nod after they dominated that game in the stat sheet. But will they get the same benefit-of-the-doubt after losing at home to the Ducks?
25. Nebraska Cornhuskers (NR): Don't be surprised if Texas's big nationally-televised victory over the Sooners carries them into the polls. But the Horns' losses to BYU and Ole Miss still don't compare favorably to the Huskers' lone defeat to UCLA, and the Huskers have been able to navigate the absence of Taylor Martinez without missing a beat. 
Also under consideration: Texas, Notre Dame, Florida, Michigan State, Michigan, Oregon State
Dropped out of projected rankings: Florida, Northwestern, Michigan
Teams marked with an asterisk have games ongoing as of this update. Projection assumes favorites win.
Show Comments
Hide Comments
Welcome to the world, Flynt Anderson-Foster Pruitt

Baylor should value faith over football and do what's right in the wake of seven Title IX...

The conference will adopt two divisions when it becomes a 10-team league in 2018
Like his brother, Lanard Fournette will be running the ball for the Tigers

Ranking the strength of schedule for each of the 12 teams in the Pac-12 entering the seaso...

Thomas Tyner will reportedly re-start his college football career at Oregon's biggest riva...