Top 10: Biggest games of the second half of the season -- showdowns with national-title implications
This week's Top 10: biggest games of the second half of the season -- showdowns with national-title implications.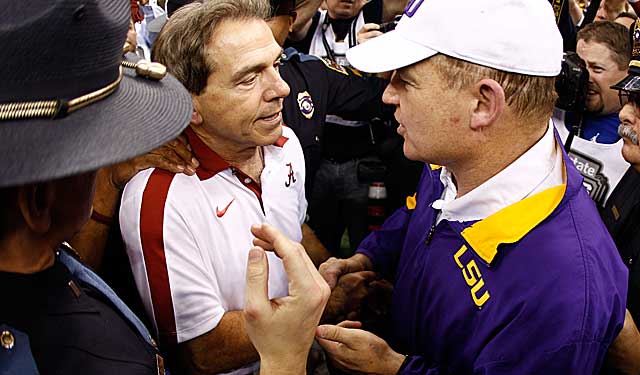 The last time these two met, Les Miles was congratulating Nick Saban on a national title. (Getty Images)
We knew going into 2012 that the second half of the season was more stacked with games than the first month and a half. Those big showdowns that were pointed to months ago, still figure to carry a ton of drama and national-title implications, but a few more intriguing matchups have emerged. This week's Top 10: biggest games of the second half of the season.
1. Alabama at LSU, Nov. 3: Yeah, I understand that the rest of the country's college fans cringe when these two get together because we seem to end up with about three times more punts than TDs. Last year's regular-season meeting of the two SEC West powers was touted by some of the coaches as the most physical game they've ever been involved with. Expect another slugfest, as the host Tigers look to get revenge from the last time the Tide came to Louisiana and whipped LSU and won the BCS title. Les Miles' team already has a loss, but if it wins here, the Tigers' BCS hopes will be very, very good.
2. Oregon at USC, Nov. 3: Lane Kiffin's squad went to Eugene and snapped the Ducks' 21-game home winning streak as Matt Barkley lit up Oregon last winter. That win, more than anything, created a ton of buzz surrounding the Trojans' return to prominence. Still, for all of the off-season hype surrounding USC, Oregon is the Pac-12's top dog. As big as this game is, it's probably just the first of two meetings in about a month.
3. Notre Dame at Oklahoma, Oct. 27: ND's defense has stepped up and been dominant, but the Irish still haven't faced a talented, seasoned passer yet. They will get the first of two true tests in Norman against Landry Jones and a Sooners team that has been very impressive the past two weeks. OU's receiving corps has been bolstered by a couple of key transfers who should be up to speed later this month. But can the Sooners' O-line hold up against a talented ND front seven?
4. Kansas State at West Virginia, Oct. 20: The Wildcats are still in the BCS title race and this one also has significant Heisman implications, featuring the two frontrunners for the stiff-arm trophy in Collin Klein and Geno Smith. In addition, you have two of the more different personalities in coaching in Bill Snyder and Dana Holgorsen -- two guys who spent a lot of time in Iowa, but are hardly cut from the same cloth.
5. Mississippi State at Alabama, Oct. 27: Dan Mullen's team has emerged as a top-half of the division power in the mighty SEC West. Still, despite an unblemished record, few view them as a legit BCS title contender. The Bulldogs, likely to be 7-0 when they visit Tuscaloosa, can prove a lot of people wrong if they stun the Tide, a team they've lost four in a row against. Keep in mind this is the game before the LSU showdown for the Tide. Trap game? Do those even exist in Nick Saban's world?
6. Oregon at Oregon State, Nov. 24: The Beavers have been one of the best stories of the 2012 season. No one expected them to be this good. They hadn't started 5-0 in more than 70 years, but it's the final three games of the season that provide the biggest tests, and the last one, against the archrival Ducks, a team that beaten them four in a row, looms largest.
7. South Carolina at Florida, Oct. 20: A little luster came off this one after the Gamecocks lost in Baton Rouge last weekend, but BCS dreams remain on both sides on the line when Steve Spurrier visits his old school.
8. Notre Dame at USC, Nov. 24: The Irish need to hope their archrivals do them a big favor by knocking off the Ducks on Nov. 3. That would get Oregon out of the BCS picture while elevating USC's stock. The Trojans have dominated this series for the past decade and went to South Bend and pushed the Irish around last season. Then again, the last time ND came to LA, the Irish left smiling.
9. Florida vs. Georgia, Oct. 27: Obviously, if the Gators lose to South Carolina, this one loses steam since Steve Spurrier's program would have beaten both of them, but Florida still holds that big win over LSU. If the Gators can win back-to-back over the other two top programs in the SEC East in the next two weeks, Will Muschamp's program provides more evidence that indeed has regained powerhouse status.
10. Michigan at Ohio State, Nov. 24: It's been a nightmare year for the Big Ten. The Buckeyes are the closest thing the conference has to an elite team. If only OSU had self-sanctioned a bowl last season instead of taking the hit from the NCAA this year, this game might really have big national implications. Braxton Miller has blossomed under Urban Meyer and despite a shaky defense, the Buckeyes are undefeated. If they can get past two decent road tests (at Penn State, Wisconsin), Ohio State could come into this game 11-0. Can the Wolverines ruin the Buckeyes' imperfect perfect season and make it two in a row after being dominated for so many years?
Will Sunderland allegedly stole and tried to sell video game systems

National powerhouse Alabama joins the throng of schools trying to lure five-star QB Justin...

The shooting took place during an apparent meeting over a cell phone
A decision in either direction would help the NCAA move forward in Sin City

White is the No. 1 running back recruit and No. 6 overall recruit for next year's class

Dennis Dodd goes inside college football to explain why realignment is still an agenda ite...