Top 10: Scariest players in college football
UCLA's Anthony Barr, Texas A&M QB Johnny Manziel , Buffalo's Khalil Mack and South Carolina's Jadeveon Clowney top this year's scariest players list in college football.
Since Thursday's Halloween, we're playing off that spirit in the weekly Top 10 list. This week's topic: Scariest players in college football.
1. Anthony Barr , UCLA Bruins , LB: The 6-foot-5, 250-pounder has been terrorizing offenses ever since he flipped to defense in 2012. This fall, Barr -- a guy some NFL draft analysts project as a top-five pick -- has 13 TFLs, six sacks and four forced fumbles in seven games.
2. Johnny Manziel , Texas A&M, QB: When you can put a scare into Nick Saban, you're a pretty frightening dude, and the Aggies quarterback certainly is. No one extends plays like Manziel. All off-season we heard how Saban and Kirby Smart were going to bottle up Manziel since they had months to find answers for him, and all the 6-foot, 203-pound Texan did was account for 562 yards as his team piled up 628 and six TDs. To provide context, in Alabama's seven other games combined, the Tide has surrendered three TDs and only 1,619 yards. After the surviving this season's encounter with Manziel and the Aggies, Saban told A&M coach Kevin Sumlin, "You took 10 years off my life." It's no stretch to think that Manziel was a big reason why the 61-year-old coach felt like that.
3. Khalil Mack , Buffalo Bulls , LB: An unheralded recruit from Florida who has blossomed into a projected first-rounder, the 250-pound Mack gave Ohio State fits earlier in the season, producing nine tackles and 2.5 sacks and taking an INT 45 yards for a TD. (He also had another sack/forced fumble that was overturned by a penalty.) Baylor Bears coach Art Briles later compared the explosive Bulls standout to All-Pro LB Von Miller. On the season Mack has 11 TFLs, seven sacks and three INTs. He's also third in NCAA history with 67 TFLs.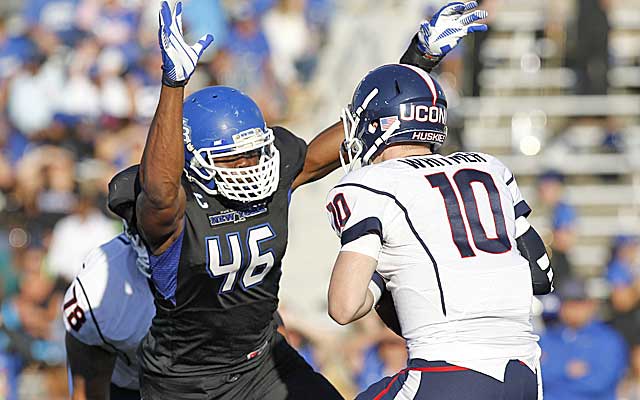 4. Jadeveon Clowney , South Carolina Gamecocks , DL: The 6-6, 278-pound junior is not putting up numbers like he did last season as he's battled through some nagging injuries, but Clowney's still be a major headache who must be accounted for in opponents' game plans. Clowney still has 6.5 TFLs, a forced fumble and seven QB hurries and looks like he's ready to crank up the heat the last month of the season.
5. Michael Sam , Mizzou, DE: Another former unheralded recruit who has emerged as a star. "He is bigger than you think and quicker and he has a great motor," says one SEC O-line coach. The 6-3, 255-pound Sam leads the SEC with 16 TFLs and 10 sacks.
6. Deone Bucannon , Washington State Cougars , safety: A vicious hitter, who kicked off the season with a brutal hit in the Auburn game and has been making big plays and forcing turnovers all fall. The muscled-up 215-pound DB leads WSU in tackles by a wide margin with 73 but he's also accounted for seven turnovers with three forced fumbles and four INTs.
7. Tevin Reese , Baylor, WR: If you're the fastest of the fast Bears team, you're blazing fast and the 170-pound Reese is. The senior, who arrived in Waco weighing 148 pounds, has a 45-inch vertical and broad jumps 11-5. That explosiveness helps explain why he leads the country in receptions of 40 yards (eight).
8. Ra'Shede Hageman , Minnesota Golden Gophers , DT: The biggest Freak in the Big Ten, Hageman is a 6-6, 312-pound converted tight end who can still do 360 dunks and vertical jump 36 inches. That athleticism causes all sorts of problems for offenses. This season, Hageman has 8.5 TFLs, blocked two blocked kicks and even picked off a pass.
9. Jameis Winston , FSU, QB: The 6-4, 225-pound redshirt freshman has been, perhaps, even better than his hype, and that is scary. He's completing 70 percent of his passes, has a 23-4 TD-INT ratio and has broken the spirits of more than a few D-linemen (and defensive coaches) this fall.
10. Melvin Gordon , Wisconsin Badgers , RB: The Badgers have had more than their share of star running backs over the past decade, but the 6-1, 207-pound Gordon, an Academic All-Big Ten pick in 2012, may be the biggest gamebreaker of the bunch. The guy is averaging almost a first down every time he takes a handoff (9.5) and leads the nation in rushes of 60 yards or more with four.
Show Comments
Hide Comments
Ranking the best draft-eligible college football players in the 2017 draft class

Taking a closer look at what went down during one of the biggest weekends of spring football...

The Wolverines will get a unique education in Italy, and maybe that's all that matters
Fitzerald is already the program's leader with 77 wins

Darryl Rudolph was just 55 years old

The Michigan coach nearly caused an international incident throwing a football