Traditions: The 12th Man
CBSSports.com's college football traditions series continues with Texas A&M and The 12th Man.
Johnny Manziel's jersey is among the most popular in college football, and there is little doubt that the reigning Heisman Trophy winner is already a legend in College Station, Texas.
But his jersey No. 2 is not the most famous number in Aggieland, where this weekend Texas A&M plays host to Auburn in a CBS-televised game between nationally ranked Southeastern Conference opponents.
At Texas A&M, it'll always be about the 12th Man.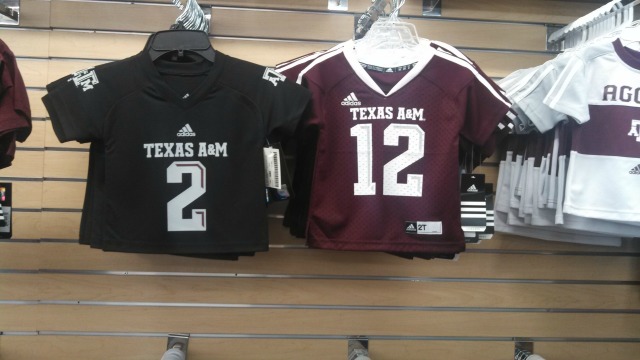 This week our season-long look at some of college football's top traditions focuses on one of the tightest connections between a football team and the student body it represents. Some schools have great fan bases. Others have great uniforms or memorable mascots or fight songs. Some have great legacies of winning. But only Texas A&M has the 12th Man.
It began on Jan. 2, 1922, when the Aggies coach at the time, Dana X. Bible, recruited a student out of the stands to suit up for an undermanned Aggies squad in a bowl game against Centre College. The student, E. King Gill, actually was a former football player for the Aggies, and he didn't even get into the game. But the Aggies won 22-14 and a tradition was born.
The 12th Man really took off in the 1980s when Jackie Sherrill was the Aggies' coach. He conducted open tryouts to fill an entire 12th Man Kickoff Team of walk-ons who prided themselves on being one of the best kickoff coverage units in the Southwest Conference. R.C. Slocum later reduced that to one 12th Man representative during his tenure as coach, but the tradition is no less a vital part of the Aggies' identity.
Now that Texas A&M is a national contender in the SEC, the 12th Man legacy gets even more exposure. Of course, it doesn't hurt to have that guy in the No. 2 uniform, either.
New odds to make the College Football Playoff have been released by Bovada.LV

The former Penn State kicker served as the Nittany Lions' kickoff specialist

Delany will reportedly receive $20 million in 'future bonus payments' from the Big Ten
Tom Allen welled up when speaking about Hugh Freeze and his resignation at Ole Miss

Oatis is a very large child prodigy

Chip and Barton break down the scandal leading to Hugh Freeze's resignation