Tuesday Tweetbag: Oklahoma issues, Ohio running the table & Heisman challengers
Was it not great to have a full week of college football? Add in the Labor Day game and it was a jam-packed couple of days of action. Now that the games are over, it's time to fire up the Tuesday Tweetbag and tackle the burning topics that are being talked about in the college football universe.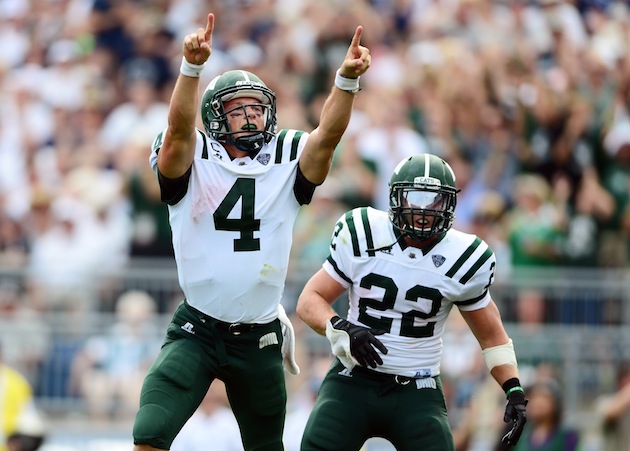 Can Tyler Tettleton lead Ohio to an undefeated season? The schedule sets up for it. (US Presswire)
Was it not great to have a full week of college football? Add in the Labor Day game and it was a jam-packed couple of days of action. Now that the games are over, it's time to fire up the Tuesday Tweetbag and tackle the burning topics that are being talked about in the college football universe. I'm here to answer questions tweeted to me so make sure you follow me on Twitter at @BryanDFischer. Without further ado, let the smorgasbord of questions commence.
How much should

Oklahoma Sooners

fans be panicking after a close win over UTEP? -- John (@SchlenTastic)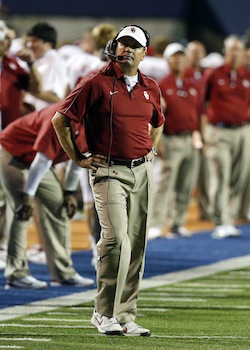 Just a tad. There was a lot to like about Oklahoma but coming into the season they were one of those teams that you just wondered about not living up to their ranking. Quarterback Landry Jones was back after a prolific season but he trailed off significantly once Ryan Broyles got hurt and it didn't seem like he meshed with his new wide receiving corps against a UTEP defense that was 104th in the country last season. The running game was iffy and, most concerning, there were issues present in all three phases -- the early blocked punt for a touchdown being a notable example.
"We had flashes of greatness all over the board," Jones said. "One play I'd be great. One play I'd (stink)."
The final score certainly was not representative of how close the Texas-El Paso Miners were most of the game after missing three makable field goals and having running back Nathan Jeffrey rush for 177 yards on 21 carries. Perhaps the final few scoring plays give reason for optimism but there should be plenty of film work by the Stoops brain trust this week in order to correct issues before the teams start to get much better.
How did Saban & Kirby Smart crank out a "D" like that despite losing 6 NFL draft picks. 3 in the 1st round? -- Steve Tannen (@SportsTalk953)
I touch a bit on this in my Surveying the Field column here but bottom line is this year, they didn't just have to plug in fresh guys for some of those picks, players like Nico Johnson and Dee Milliner have plenty of game experience and a spring under their belt to get even more comfortable with the system.
Can

Ohio Bobcats

run the table? -- Rob (@RobEffinBrown)
It's certainly a possibility after getting past their only BCS opponent on the schedule in Penn State Nittany Lions on Saturday. The Texas State Bobcats are a good football team with a head coach who put together some great seasons before in Frank Solich, whose contract was smartly extended two days before the big win. Keep in mind this is a 10-win team from a year ago that returns 15 starters and has a really solid quarterback in Tyler Tettleton , who was 31-of-41 for 324 yards and two touchdowns against the Nittany Lions. Most impressive to me was how their defense and special teams played a big role in the upset in Happy Valley, blocking a punt that later led to a score and, with the offense finding its groove, helping Ohio out gain PSU by 258 yards after the 1st quarter.
The schedule is no doubt set up for a nice run, with the toughest game left likely being a trip to Marshall Thundering Herd -- which just got steamrolled by West Virginia Mountaineers and was the worst defense in the country last season. If they do it, I very much could see Ohio being treated like Tulane Green Wave was when they ran the table in 1998. This isn't a flashy team, and there's definitely no boost for the schedule, so I have a hard time seeing the Bobcats being looked as in the same way a Boise State Broncos or TCU Horned Frogs was in terms of being a "BCS-buster."
Also, let's keep in mind that they play in the MAC and haven't won a league title since 1968. Weird things happen in the MAC -- there's a reason we have #MACtion - and a late season trip-up isn't out of the question. The team likely will be favored the rest of the way but going undefeated is hard for any team regardless of the league and will be for Solich's squad this season.
Most likely to emerge as West Coast Heisman challenger to

Matt Barkley

:

Marcus Mariota

,

De'Anthony Thomas

, or

Marqise Lee

? -- Dan Greenspan (@DanGreenspan)
I still find it hard to believe, even if he loses a game, that somebody will be able to move ahead of the Southern California Trojans golden boy in the Heisman race. Sure, he could stumble, get hurt or lose more than one game but it will be tough. Heck, as we've seen the past two years with Andrew Luck, being anointed "the guy" early in the race doesn't mean you'll win the thing. Of the guys you listed, I think Thomas might have a shot to wind up in New York. He plays in a dynamic offense with plenty of opportunities to get him on the outside to showcase his jets and he returns kicks and punts. Thomas fits most of the 10 "Heismandments" that resident expert Chris Huston has established and if he continues to rack up numbers. In fact, "DAT" averages 16 yards a touch and scores every seven times he has the ball in his hand.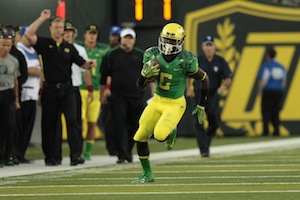 I'm not sure it's Mariota's time yet despite looking very sharp in his first start for the Ducks. He'll have good numbers but not sure the spotlight is on him in terms of Heisman quite yet. I often wonder about Marqise Lee or Robert Woods taking votes away from Barkley if each has games like against Hawaii Rainbow Warriors but I could also see them enhancing his voting totals because for every Woods/Lee vote, there's bound to be Barkley right there on the ballot as well.
I asked Huston this question and here's what he had to say: "De'Anthony Thomas is the most likely challenger to Matt Barkley for the Heisman on the West Coast. He's had a year under his belt to establish his credentials and name recognition. He is the best player on the team that is best-positioned to challenge USC for league supremacy and he is, quite simply, among the two or three more exciting players in college football. His teammate, Marcus Mariota, is still in the development mode and it will be a while before he's well known by the Heisman electorate. Barkley's teammate, Marqise Lee, could get some Heisman attention but is far more likely to win the Biletnikoff than the Heisman."
Neutral site games between "name" schools vs. on-campus match ups of said same? Wouldn't the latter be preferable? -- Craig Barker (@cdbarker)
For the most part, yes. There's nothing cooler than seeing big time programs schedule home-and-homes and see the fever it kicks up among fan bases. Things like Oklahoma- Notre Dame Fighting Irish or USC- Ohio State Buckeyes , Texas Longhorns -Ohio State from a few years ago are series that are just plain cool. There's no doubt in my mind that AD's should be looking to have at least one of these big time match ups on the schedule every season at the very minimum. As we move forward with the four-team playoff system, I'm guessing we'll see a move to more of these games from teams that haven't already scheduled them.
However, I'm still a big fan of games like we saw this past weekend in Dallas and Atlanta. I've been to a few of the games run by those folks and they do a great job with everybody from the players to the media to the fans. Playing at the Georgia Dome or Cowboys Stadium is quite the experience and easy destinations like those two make it easier for some fans to get to then smaller, out of the way towns. I'm kind of hoping that a West Coast version pops up soon and the New Meadowlands Stadium gets something juicer than USC- Syracuse Orange going forward. It's tough to put these things together given how far out schools schedule now but I'm in favor of some one-off, neutral site games if schools can't find the room -- or just plain don't want to -- for a big time game between two traditional powers.
How much is Jeff Tedford selling his house to Pete Carroll for? -- @moose_bigelow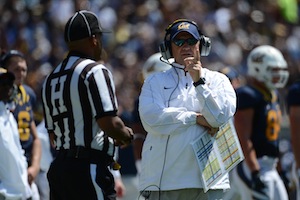 Ha! There's some underlying truth to that question because Tedford is indeed selling his estate -- it's an estate, not just a house -- in Danville, California for a reported $5.35 million. Not bad if you've got the scratch, though if you're a Stanford Cardinal fan you're probably ripping out all the California Golden Bears logos.
No doubt Tedford is on the hot seat, not only after a mediocre record the past several seasons but because of the loss to Nevada Wolf Pack on Saturday that was supposed to a celebration bash as the renovated Memorial Stadium was opened. No doubt the Wolf Pack is a solid football team that will give plenty of teams fits with Cody Fajardo at quarterback and the dangerous Pistol offense. Still, this is a win the Baylor Bears needed and they simply didn't come through -- again. Recruiting hasn't been a huge problem and having been to practice a few weeks ago, I can say there's no talent deficiency compared to most of the teams on the West Coast not named Oregon Ducks or USC. They missed a few guys with injuries but that's not the reason they lost, with play-caller Tedford opting to rush running back Isi Sofele just five times in the loss. Add in the fact that Zach Maynard was just 17-of-30 with no touchdowns and there are a host of issues. The defense, expected to be a strength, allowed 450 yards and Nevada converted over half of their 3rd downs. Those are not good signs.
With uneven quarterback play plaguing Cal ever since Aaron Rodgers left for the NFL, I can't help but wonder if Jeff Tedford, by keeping frosh Zach Kline under wraps, didn't learn from what happened to Rick Neuheisel, who didn't play Brett Hundley . Either way, something needs to get fixed before the team starts hitting the heart of their Pac-12 schedule.
As for Carroll, his name jokingly came up from a colleague at the Alabama Crimson Tide - Michigan Wolverines game this past weekend and he's obviously not the first to think it. Carroll, on uneven ground with the Seattle Seahawks if he doesn't win this season, is from the Bay Area and it wouldn't be surprising if he wants to get back into the college game at some point. Having covered him for several years, he's never lacking for energy and certainly enjoys recruiting. I'm not sure he would find Cal an attractive place to go if there was an opening because of the issues with the administration but there might be some place out there he'd find attractive. If he were to be booted from the NFL, I wouldn't be surprised if he jumps right into television and his Win Forever foundation.
Latest question for Husker Nation: Thoughts if Rex B can't play against

UCLA Bruins

? -- Dennis Dodd (@dennisdoddcbs)
Ok, not directed at me but I'll answer anyway considering this is the game I'm covering on Saturday. I actually think Nebraska Cornhuskers will be fine if Rex Burkhead isn't able to go but the game is no doubt more interesting based on his injury and how UCLA looked to open the season with Brett Hundley at quarterback. I'm not totally sold on UCLA's defense -- as the 2nd quarter run by the Florida Atlantic Owls showed -- but they should be able to contain the Cornhuskers offense for a bit. Taylor Martinez had an impressive passing performance in the opener and it will be an interesting dimension the Bruins staff will no doubt have to prepare for. I think it will keep it a close game for a half or three quarters before Nebraska pulls away. Ameer Abdullah and Imani Cross are two talented backs who, though young, should be capable fill-ins.
Show Comments
Hide Comments
Kush went 176-54-1 in 22 seasons at Arizona State

That's a lotta rock chalk

How will the AAC shape up in 2017? Let's take a team-by-team look
Doing well at an AAC school can lead to a big job, but it's easier to win at some than oth...

A script Ohio showed up in a Michigan fan's lawn when he needed some help with lawn care

Johnson Jr. was cited for marijuana possession and possession of drug paraphernalia in Jun...