Twenty buzz-worthy players college coaches are talking about
Key players from the Ohio State Buckeyes, Auburn Tigers and Florida State Seminoles top college football's list of players coaches are talking about.
• 6 min read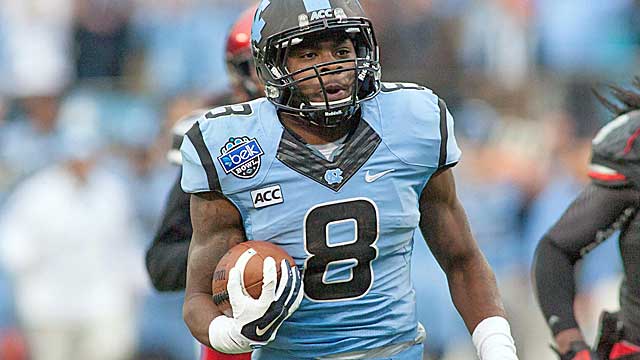 More college football: Bruce Feldman | Dennis Dodd | Jeremy Fowler | Latest news
When talking to coaches about general impressions of other teams in their league, I'm always intrigued by which players they bring up first.
Often, they don't mention the most recognizable stars. The nuances of the game point them to different players -- players you need to know about.
Conversations with nearly 20 head or assistant FBS coaches resulted in this list of college football's 20 sleepers, the 20 players being talked about by those who know the game best.
These players varied from underrated players, unheralded veterans, potential breakout stars, surefire breakout stars or simply young players who have created a buzz.
No Jameis Winstons on this list. All-conference second team is the threshold. Can't be a first-teamer. For example, one Big Ten head coach couldn't stop talking about Iowa Hawkeyes left tackle Brandon Scherff. Well, Scherff is a potential All-American tackle and first-round pick. Too easy.
Incoming freshmen also don't count. No frame of reference for their performance.
Many from this list are notable to the ardent college football fans but haven't done enough to reach cornerstone status. These players stuck out to coaches on tape or in live action.
T.J. Logan, North Carolina Tar Heels running back
Year: Sophomore
Ht/Wt: 5-10, 180
Stats: 533 rushing yards and four touchdowns on 93 attempts
Coach's take: "I think they have a potential great one in T.J. Logan, the running back. He didn't get a lot of touches last year but you can tell the talent's there."
Jaylon Smith, Notre Dame Fighting Irish linebacker
Year: Sophomore
Ht/Wt: 6-2 ½, 230
Stats: 66 tackles (6.5 for loss), one interception
Coach's take: "He'll be a really good player. He's one of the top ones coming back for them. Instincts and athleticism are there."
Montravius Adams, Auburn Tigers defensive tackle
Year: Sophomore
Ht/Wt: 6-4, 305
Stats: Twenty tackles, one sack
Coach's take: "He's gonna be the next Glenn Dorsey."
Tony Conner, Ole Miss Rebels safety
Year: Sophomore
Ht/Wt: 6-0, 217
Stats: 66 tackles (5 for loss), one sack, one interception, seven passes defended
Coach's take: "Tony Carter is great. He's an absolute stud. He can run up front, on the defensive back end. Great instincts, physical player, everything you'd want, he's got it."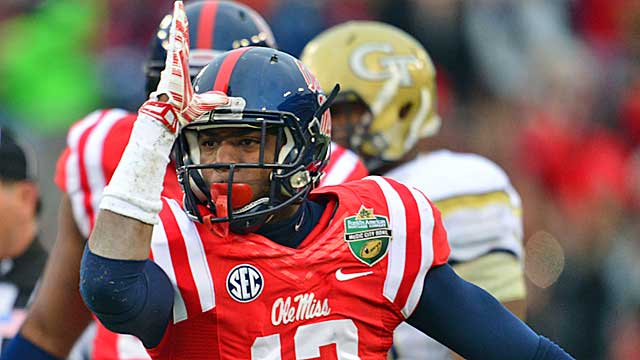 Henry Coley, Virginia Cavaliers linebacker
Year: Senior
Ht/Wt: 6-2, 230
Stats: 91 tackles (8.5 for loss), one sack
Coach's take: "We thought he was the best linebacker in the entire league. Tough, solid, physical player."
Zack Sanchez, Oklahoma Sooners cornerback
Year: Sophomore
Ht/Wt: 5-11, 164
Stats: 46 tackles, two interceptions, 13 pass breakups
Coach's take: "The Zack Sanchez kid probably played as good as any freshman could have played last year in that position. He'll be a little better…Every time he made a mistake, he always came back and made a big play."
Kendall Sanders, Texas Longhorns wide receiver
Year: Junior
Ht/Wt: 6-0, 187
Stats: 37 catches, 361 yards, one touchdown
Coach's take: "They have a young receiver, #2, that I think has a chance to be really good. He should give them a boost this year. He's athletic and looks smooth out there."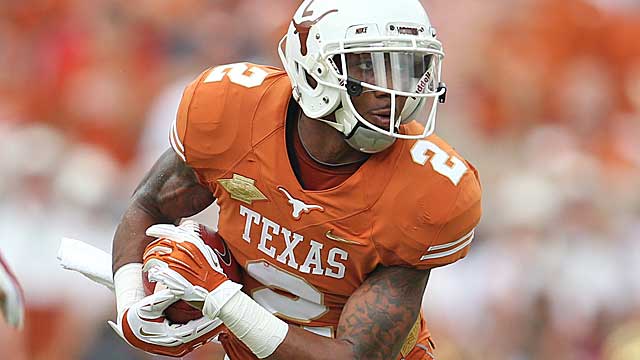 Darious Cummings, Florida Gators defensive tackle
Year: Senior
Ht/Wt: 6-1, 305
Stats: 15 tackles (three for loss), one sack, one interception
Coach's take: "#55, an inside guy, he's a pretty powerful guy in there. Tough to handle. They've done a good job recruiting defensive linemen."
Nick O'Leary, FSU tight end
Year: Senior
Ht/Wt: 6-3, 250
Stats: 33 catches, 557 yards, seven touchdowns
Coach's take: "O'Leary is a really good player. Good ball skills, runs really good routes, tries to block -- not a great blocker but tries hard, gives good effort."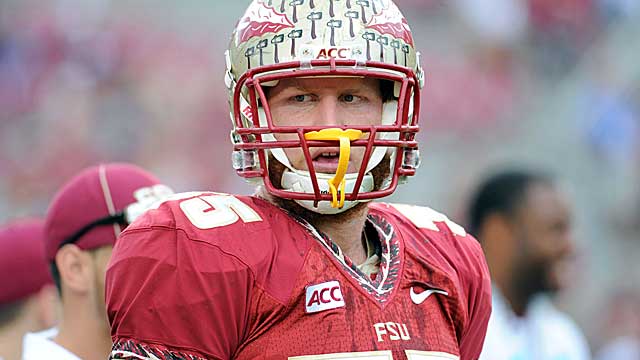 Joey Bosa, Ohio State Buckeyes State" data-canon="Ohio Bobcats" data-type="SPORTS_OBJECT_TEAM" id="shortcode0"> defensive end
Year: Sophomore
Ht/Wt: 6-5, 270
Stats: 44 tackles, 7.5 sacks
Coach's take: "Defensively, I loved the freshman defensive end. I love the way he played, pad level, intensity. Really everything."
Corey Clement, Wisconsin Badgers running back
Year: Sophomore
Ht/Wt: 5-11, 210
Stats: 547 yards and seven touchdowns on 67 carries
Coach's take: "They recruited a really good player from New Jersey, running back Corey Clement -- he's got a chance to be really good but he was playing behind Melvin Gordon, who's also great. He's ready to make an impact now."
Marcus Rush, Michigan State Spartans defensive end
Year: Senior
Ht/Wt: 6-2, 245
Stats: 30 tackles, five sacks
Coach's take: "He'll be an impact guy for them coming back. He's just really solid. He's a Michigan State Spartans -type defender."
Leonte Carroo, Rutgers Scarlet Knights wide receiver
Year: Sophomore
Ht/Wt: 6-1, 200
Stats: 28 catches for 478 yards and nine touchdowns
Coach's take: "Carroo will be their best player by far. But it's hard to say how good he can be since their quarterback play has been so bad."
Thomas Tyner, Oregon Ducks running back
Year: Sophomore
Ht/Wt: 5-11, 201
Stats: 711 yards and nine touchdowns on 115 carries
Coach's take: "He's a lot faster than you think. I didn't realize how fast he was until he's on the field. He's a powerful back. He's really good. I don't know if people realize how good he really is yet."
Marcus Peters, Washington Huskies cornerback
Year: Redshirt junior
Ht/Wt: 6-0, 198
Stats: 54 tackles, five interceptions, one sack, eight pass breakups
Coach's take: He's one of the top corners around, certainly in the Pac-12. I think you can isolate him in man. He is long, athletic, seems to have good ball skills."
Travis Wilson, Utah Utes quarterback
Year: Junior
Ht/Wt: 6-6, 240
Stats: 133-of-237 passing for 1,827 yards, 16 touchdowns and 16 interceptions; 386 rushing yards and five touchdowns
Coach's take: "When Wilson was the quarterback, they were able to do some things in those games because of the throws he could make. He's athletic and throws better than average but maybe they didn't use him to their advantage as a dual-threat quarterback – they tried to make him a playaction guy and he's just OK at that."
William Stanback, UCF Knights running back
Year: Sophomore
Ht/Wt: 5-11, 221
Stats: 443 yards and six touchdowns on 105 attempts
Coach's take: "I think he's better than Storm Johnson pound for pound – not as dynamic a playmaker, but he's just a solid all-around player."
Terrance Broadway, Louisiana-Lafayette quarterback
Year: Senior
Ht/Wt: 6-2, 211
Stats: 166-of-266 passing for 2,419 yards, 19 touchdowns and 12 interceptions; 442 rushing yards for eight touchdowns
Coach's take: "He could be one of the top dual-threat quarterbacks in the country this year."
Dadi Nicolas, Virginia Tech Hokies defensive end
Year: Junior
Ht/Wt: 6-3, 218
Stats: 32 tackles (7 for loss), four sacks and 13 hurries
Coach's take: "He's a playmaker. He's a handful to handle. He didn't start but played a lot. Really talented."
Davis Webb, Texas Tech Red Raiders quarterback
Year: Sophomore
Ht/Wt: 6-4, 195
Stats: 226-of-361 passing for 2,718 yards, 20 touchdowns and nine interceptions
Coach's take: "I think he's really good. He's got good savvy. Kliff does a good job teaching confidence. He runs better than you'd think."
Show Comments
Hide Comments
It seems there's a lot of talent in the SEC

There are all sorts of drafts out there and these are my favorites

It's time to say goodbye to so many great players
What colleges and conferences had the most first-round picks in the 2017 NFL Draft?

Myles Garrett and Leonard Fournette were top-rated prospects coming out of high school

Ohio State and Washington will play in Seattle in 2024 and Columbus in 2025