Two arrests made in shooting death of EMU's Demarius Reed
Two Detroit men have reportedly been charged with murder in the shooting death of Eastern Michigan wideout Demarius Reed.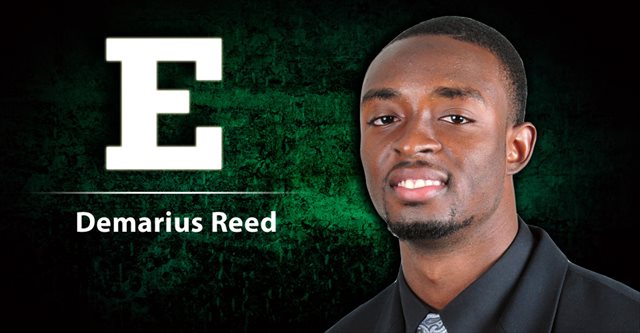 Police have made two arrests in the shooting death of Demarius Reed, the Eastern Michigan wide receiver found dead of multiple gunshot wounds in an apartment complex hallway Oct. 18.
EMU announced Monday that the arrests had been made, with one suspect arraigned Sunday and the other Monday. Neither the school nor the Ypsilanti (Mich.) Police Department have identified the suspects, but court records obtained by mlive.com and cited by the Associated Press name the suspects as Ed J. Thomas and Kristopher K. Pratt, both 20 and both of Detroit.
According to the records, both men have been charged with open murder, armed robbery, and other offenses. mlive.com reported that Pratt is also currently facing charges in Wayne County, Mich., for robbing a man of a pair of Air Jordans, then firing a single gunshot at him.
Ypsilanti PD is expected to release more information following the second arraignment.
Reed, 20, was a starting wideout for the Eagles who had totaled 185 receiving yards and a touchdown though six games of the 2013 season. A Chicago native and graduate of Simeon Career Academy, Reed was majoring in communications.
Show Comments
Hide Comments
Our Latest Stories
The two schools will face off in 2019 and 2023

Honoring some top-notch performances from the 2016-17 college football season with Oscars

The Rebels are likely headed for some tough times, as much as they may want to deny it
The Ole Miss coach finds himself in a no-win situation

The Rebels have been hit with eight new allegations in football of which they agree with t...

New Washington receivers coach Matt Lubick has been well-traveled lately.