UCF's George O'Leary addresses retirement report, succession plan
O'Leary does not plan to retire right now but says he probably will at some point in the next 4-5 years and would like to see assistant Brent Key get a shot.
• 2 min read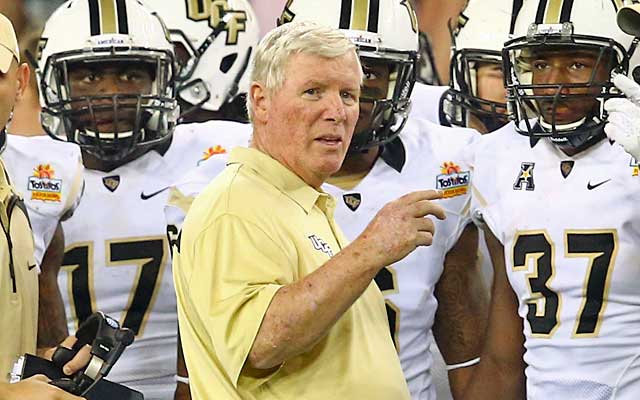 More college football: Jon Solomon | Dennis Dodd | Latest news
George O'Leary has no immediate plans to retire but says he'd like to see assistant coach Brent Key get a chance to replace him one day, the UCF coach told CBSSports.com on Sunday.
Fox Sports reported O'Leary is strongly considering retiring as early as after the season opener in Ireland against Penn State. Key, the team's assistant head coach of offense and offensive line coach, would be in line to replace him, according to the report.
Pressed about a timetable for retirement and whether this year is his last, O'Leary said he has no such timetable but admits five more years might be too long.
"I'm not going to be 72 coaching, but I'm not going to start a season and not finish what I do," said O'Leary, who turns 68 on Aug. 17. "I preach to the kids I don't quit."
O'Leary said he has spoken to Key about a potential handoff but that would be athletic director Todd Stansbury's decision. A UCF spokesman said Saturday night that Stansbury has had no discussions about O'Leary's timetable or alternative coaching candidates.
CBS reported in May that O'Leary and UCF reworked his contract to pay him $2-plus million annually, and O'Leary intimated he'd like to see at least a healthy portion of that contract through. The deal goes to 2017.
Key has been with UCF for 10 seasons and has garnered interest from Florida, Alabama and USC for past assistant coaching positions.
"Whenever I do go, I'd like to see (Key) being shown consideration," O'Leary said. "But we haven't done anything that way. I haven't spoken to the AD on that stuff. My recommendation would be to not fix what's not broken. If it's broken, that's different. So you've got to win. It's not my decision. It's the AD's decision."
O'Leary is overseeing a four-man race to replace Blake Bortles, who quarterbacked the Knights to a Fiesta Bowl win and a 12-win season.
Last year's backup Justin Holman and Boise transfer Nick Patti are among the competitors. O'Leary says he's in no rush to pick.
My take: Moving on from UCF after one Ireland game seems unlikely, but the fact O'Leary acknowledges he wants Key considered and doesn't want to coach past 72 means he's given post-coaching plans some serious thought.
And what else was he going to say, 'I'm leaving in one month or four months!' Rules No. 1, 2, 3, 4 and 5 in coaching: Always preserve recruiting.
The internal politics will be fascinating to track because while O'Leary might want his guy to take over, UCF has mushroomed into a considerable job. The AD might be thinking he can find the next Charlie Strong on the market. Keeping Key, however, would be a smooth handoff and would keep a good formula intact.
The Knights will have difficult decisions to make in the next few years.
Show Comments
Hide Comments
Have fun with this, SEC defenders

Making plays on the over/under for all 12 teams in the Pac-12

Mike Gundy and the Cowboys know there's one monster they have to contend with in their own...
The initiative has been put forth to offset the burden of declining freshman enrollment

How will the Big 12 shape up in 2017? Let's take a team-by-team look

Kush went 176-54-1 in 22 seasons at Arizona State