UCLA DC Lou Spanos returns to NFL as Titans LB coach
After two seasons on Jim Mora's staff, NFL coaching veteran Lou Spanos is returning to the NFL as the Tennessee Titans linebackers coach.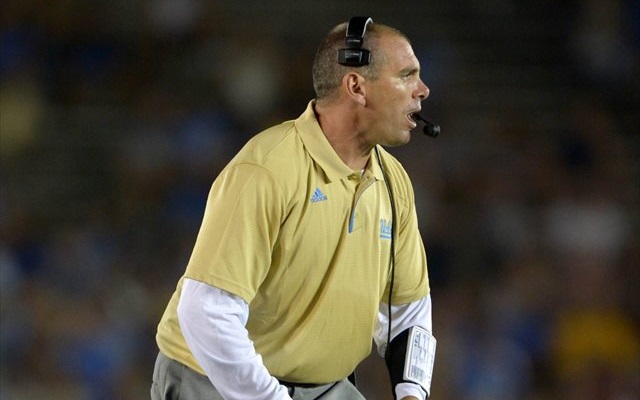 After two years under Jim Mora, UCLA has become one of the hottest up-and-coming programs in the country. But the Bruins nonetheless have a major staffing question to answer after defensive coordinator Lou Spanos was named the Tennessee Titans' linebackers coach Saturday.
The Titans announced the hire on their official Twitter feed.
An NFL coaching veteran who spent 16 seasons with the Pittsburgh Steelers and Washington Redskins, Spanos signed on with the Bruins shortly after Mora's hire in late 2011. Under Spanos, UCLA improved from 87th in FBS yards-per-play allowed to 66th in 2012, then leapt all the way to 25th in 2013.
Many of UCLA's individual talents thrived under Spanos, most notably All-American linebacker Anthony Barr. 
Given Mora's defensive background, hiring acumen, and on-hand talent -- see freshman All-American Myles Jack -- even the loss of a now-proven coordinating success like Spanos shouldn't derail the Bruins' rise up the defensive ranks. But after his decision, the pressure is nonetheless on Mora to show that that is indeed the case.
Show Comments
Hide Comments
Kirk Merritt claims 'jock itch' was the reason he exposed himself to two tutors

The former coach weighed in on the new NCAA recruiting rules

Wiggins has played more than 30 games in the ACC and SEC during his career
Our panel of experts drafted the best sports video games that have ever been created

The players allegedly conspired to steal belongings from another student's dorm room

Harbaugh handed the Pope a Wolverines helmet and special shoes