UCLA's Hundley ready for stardom
With Johnathan Franklin gone, UCLA fans don't have to look far to find the team's new leader: Brett Hundley. Despite the sophomore's youth, it's pretty obvious that Hundley is ready for his new expanded role.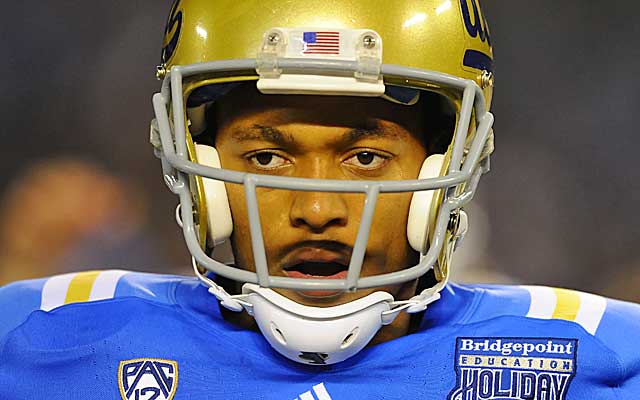 PASADENA, Calif. -- Saturday night in the Rose Bowl, Brett Hundley probably ended up spending more time signing autographs than he did playing quarterback during the Bruins' ersatz spring game.
With all-time leading rusher Johnathan Franklin, aka "The Mayor," headed off to the Green Bay Packers, UCLA fans didn't have to look far to find the team's new leader. And despite the redshirt sophomore's youth, it's pretty obvious Hundley is ready for his new expanded role.
"He's just a totally different kid than he was a year ago," said UCLA head coach Jim Mora, a few moments after an announced crowd of 20,000 watched a postgame fireworks show. "Brett's more mature. He's more confident. He's a much better decision-maker. He knows the job is his, and he knows his ceiling is high, and he's working his tail off to try to get there.
"He never has a bad day. He never has a bad meeting. If he has a bad throw or a bad series, he wants to get right back in there and do it again. I think he is a great leader and a great role model for our players. Even though he's a young guy, everybody looks up to him."
A former blue-chip recruit from the old Rick Neuheisel regime who was immediately tagged "The Savior," Hundley blossomed in new offensive coordinator Noel Mazzone's uptempo spread scheme in 2012 for a team that had a surprising 9-5 season even though it ended on a sour note with a three-game losing skid. Hundley set a school record for total offense with 4,095 yards while completing 67 percent of his passes with a sterling 29-11 TD-INT ratio despite playing behind a very green O-line that often started three freshmen. Of course it helped that he -- and the offense -- could lean on Franklin.
With Franklin moving on, Hundley has become more assertive. The QB's old childhood pal, UCLA RB Paul Perkins, said he's noticed Hundley becoming much more of a presence. "He's definitely more confident and taken over the leadership [of the team]."
Hundley is excited how the Bruins have come together, he said.
"As I do what I have to do to try and make everyone better -- and not just on the field, but off the field as well, you have to be a man and be accountable on and off the ball," Hundley said.
He's also become more visible in other arenas off the field as well. He's been interning with the National College Players Association since January by doing research. He was quoted in a recent study by the advocacy group seeking greater protections for college athletes along with an increase in the caps on scholarship money. The study found that the average football player at an FBS program had a fair market value of $456,612 above and beyond the value of their scholarship. (For BCS school athletes, the figure was at $714,000.) In a news release touting the study, the economics/African-American studies double major was quoted as describing the NCAA as a "cartel."
In retrospect, Hundley said his point didn't get out there as clearly as he intended it to.
"My point wasn't about markets and cartels but rather about athletes not even having enough money to get a meal or taking care of parking or things like that," he explained. "The amount of money we get (for scholarships) doesn't really cover what people think it covers. Not everybody has the opportunity to get money from your parents, so sometimes you're stuck on campus broke. You can't even go to Chipotle to buy a burrito or something like that.
"I think a lot of people don't understand how much work and how many hours we put into the game. They see us on the field practicing and out at games, but they don't see us getting up at 5 AM to go work out or go into the film room, going to meetings and practice. Then we go to classes and study. It's a long day and a lot of time management."
One thing Hundley removed from his plate -- at least for the month of UCLA's spring practice -- was social media. He opted to steer clear of Twitter, etc. to help minimize distractions.
On the field, the 6-foot-3 Hundley credits his physical growth for his development. He said he's now up to 230 pounds (from the 210 he played at last season) and has just 8 percent body fat. "I feel so much stronger now and have such a better foundation for what I'm doing."
Since the Bruins were low on O-linemen Saturday night (they have seven scholarship linemen coming in this summer), the spring game was quite limited -- even by spring game standards. Hundley's stats: 16-for-23 for 179 yards and two TDs were solid, although it's never easy to get much of a read from this kind of a setting. Still, everyone at UCLA is excited by what they've seen this spring.
"Brett's come light years from this time last year," Mazzone said. "He really didn't know how to act. He's been a lot more consistent, and he's also become a lot more accurate. His growth has really been amazing, both on and off the field."
It's not great, but it isn't necessarily bad, either

From bio pics to comedies and documentaries, here are the college football movies you can't...

Suspended junior Grant Perry pleaded guilty to resisting arrest
Pepsi will limit its usage of blue -- outside of its logo -- on Utah's campus for Holy War...

Will Sunderland allegedly stole and tried to sell video game systems

National powerhouse Alabama joins the throng of schools trying to lure five-star QB Justin...