Unlikely pairing of Kiffin, Saban has Alabama on verge of another title
Nick Saban threw out a life preserver to Lane Kiffin. The twice-fired coach grabbing it and making the most of his last two seasons may have forever changed their future and Alabama's title chances.
PHOENIX -- One of the best current sources on Nick Saban arrived late to the College Football Playoff National Championship media day. Who knows why? Saban drives his assistants hard.
Maybe it's too much to ask for Lane Kiffin to get up at the crack of mid-morning. No matter: When it's Kiffin, it's an event. Alabama's chatty offensive coordinator made an entrance, showing up 15 minutes into Saturday's availability sporting a day-old growth of beard. His official CFP hoodie hung loosely on his body.
Then he blew away everyone with a tape recorder.
"I don't think anyone would say 'fun' is a term used around our program very much," he said. "You're not here to have fun; you're here to win."
That was the kickoff to answering the biggest question of championship week. What's the big picture significance if Saban wins a fifth national championship Monday night? He will have done it at two different schools and six years sooner than the great Bear Bryant.
Saban will have locked down college game as much as his mentor, Bill Belichick, has the NFL. He will have earned a well-deserved walk into the sunset whether that means jumping back to the NFL or retirement.
He will have done it with the help of a sometimes flippant, sometimes outrageous yet always quotable assistant, who is one half of the least likely coaching partnership in the sport.
"What he's done is -- not taking away from the greatest coaches of all time -- it's probably more remarkable than anybody's done," Kiffin said of his boss.
Anybody? That's really the debate, perhaps the entire run-up to the CFP National Championship. If Saban wins Monday night, there will be two folks who walked the planet who won five national championships. One of them will be alive.
The other's shadow extends from here to Tuscaloosa.
"I don't really think it means anything else," former Texas coach Mack Brown said. It was against the Longhorns at the 2010 BCS title game in Pasadena that Saban kicked off this current run of three titles in the last six years.
"I think Nick will go back and try to win another one," Brown added. "Alabama's been the most dominating team the last seven years in college football. How do you compare what he's done to Bear Bryant. How do you compare Derek Jeter to Babe Ruth?"
Phil Savage and Saban were together with the Cleveland Browns from 1991-94. The former Browns defensive assistant was amazed this week to watched the same defensive backs drills for the Tide as Saban ran with Cleveland.
"For him it will be, 'This is what we do,' said Savage, now the Senior Bowl executive director and Alabama's color analyst. "For everyone else, it chisels his face on the Mount Rushmore of college coaches. He's put himself already among the greatest names that have ever walked a sideline.
"I don't think he realizes that. He's so intent on what his job is."
Excuse, then, the perspective from a 40-year-old man who many perceive having reached this point via a silver spoon planted firmly in his mouth.
At 22, Kiffin was a Fresno State assistant. At 26, he was USC's tight ends coach. At 30, he was the Trojans' offensive coordinator. At 32, he was the Oakland Raiders head coach. If nothing else, his daddy -- legendary defensive mind Monte Kiffin -- had connections.
"Coach Saban said it before," Lane Kiffin continued. "'You win the trophy, you hold it up, you take a picture, and you hand it away and you get ready to win the next one.' That's how he is.
"I'm sure if we're fortunate to win this game, we'll have a staff meeting the next morning.
"I don't see him anywhere but here. He's so entrenched and Miss Terry [Saban's wife] in the community and the state.
And so there are the answers before the game is even played. Saban is coming back. Business as usual. But it's a legitimate question to ask: Would the Tide be here without this improbable pairing?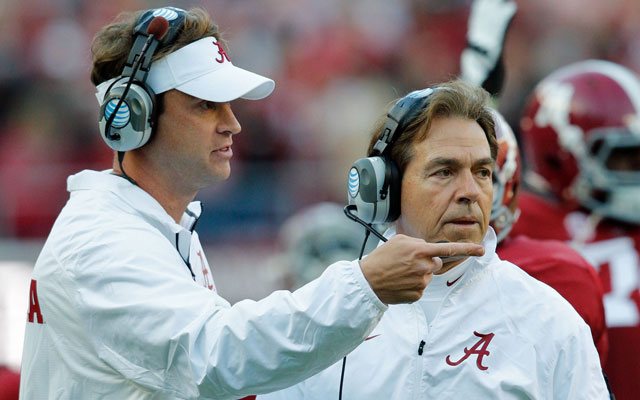 Kiffin came to Alabama two years ago as a three-time head coach with a .526 career winning percentage and his reputation in tatters. He'd been fired from his third head coaching job (USC). The second he left abruptly after the 2009 season (Tennessee). The first ended in a 5-15 flameout with the Raiders.
"It's only been two years [at Alabama]," Kiffin said. "To me, it feels like 10 years because you learn so much and work so much all the time.
"If you would have told me when I was 24 years old -- right before I went with Coach [Pete] Carroll at USC -- 'You're going to be the offensive coordinator for Pete Carroll and offensive coordinator for Nick Saban … by the time you're 40 years old,' I would have said, 'Where do I sign up?'"
That's one way of looking at it. The other is that Saban threw Kiffin a lifeline. Saban first approached Kiffin in 2007 before taking over at Alabama. Kiffin was too hot and things were too good at USC for the Trojans' offensive coordinator to consider a move.
"He must have liked what he'd seen in the game," Kiffin said, having noticed Saban and his agent Jimmy Sexton on the sideline of USC's BCS title game defeat of Oklahoma (55-19) in 2005.
After the USC firing, Kiffin gathered his thoughts and his family moving to T-town. That move set tongues wagging from coast-to-coast. Discipline is not the first thing you think of with Lane Kiffin.
"There's a certain way that we do things," Saban said, "and it really doesn't matter how you've done them before."
Example: Each new Saban assistant is given a file on every recruit in his territory. It contains everything -- parents and the type of work they do, right down to the names of family pets.
Needless to say, recruiters must be on time for these visits. Saban has been known to call five minutes before the visit and quiz his assistants about the information in that file. If the recruiter fails, he may be called back to the office. The visit is cancelled.
"He's meticulous," defensive coordinator Kirby Smart said of Saban.
Kiffin added: "I think it took a little bit of an adjustment for me."
But in those two seasons, Kiffin has rehabbed his image and rep while helping keep Alabama at that top level. No longer are videos of Kiffin being screamed at by Saban on the sideline de facto viral fodder.
Blake Sims set several school records as a fifth-year senior quarterback taking over for the first time. This season, Jake Coker went from question mark to reliable.
In 2014, Alabama set a team total offense record (484.5 yards per game). In 2015, Derrick Henry won the Heisman Trophy. Against Michigan State in the CFP semifinal, Kiffin helped put together a game plan for the ages. While Henry was basically used as a decoy, Coker was asked to carry the load. He threw for a career-high 286 yards.
"It's the first quarter and we're not doing well," Kiffin said, "Nick says on the headset, 'You need to go after the safeties.'"
On the next series, Coker hit Calvin Ridley with a 50-yard pass to set up the game's first touchdown.
That's not gossip or viral. That's collaboration. This past week Chip Kelly dropped by Alabama's practice leading to speculation he was scoping out Kiffin to be his next offensive coordinator in the NFL.
It's not quite leverage that Kiffin has these days but firm footing.
Asked the first time he told Saban "no" on an issue, Kiffin replied, "That hasn't happened yet."
"The nightmare stories that you hear … it's a great example of don't believe all the stuff that you read," he continued. "I saw that first-hand with him."
His boss chasing history is the biggest story here. But Kiffin having grown up -- even if it's a little bit -- is a close second.
"When you become a head coach so early, so young, so fast, you don't really know why you're doing things," Kiffin said. "Now, situations come up: 'This is what Pete Carroll would do. This is what Coach Saban would do.'"
What the heck is a rebooted, re-established Lane Kiffin going to do … next?
Show Comments
Hide Comments
Our Latest Stories
Del Rio started six games for the Gators in 2016

Before officially joining Penn State, Robinson had to deal with a weather problem

You will not see Mike VII on the sidelines inside Tiger Stadium next fall
Ploetz, who never played in the NFL, was diagnosed with Stage 4 CTE after his death

The Tigers have a ton of QBs set to fight it out in an effort to step in for a two-time Heisman...

One of every 16 players in the conference championship games played at Stanford or Alabama