UNLV's bowl ban exposes hypocrisy of APR as deterrent for big schools
UNLV lands the first bowl ban for not meeting Academic Progress Rate standards. Is it possible (likely) the NCAA found a convenient scapegoat to prove a flawed program works?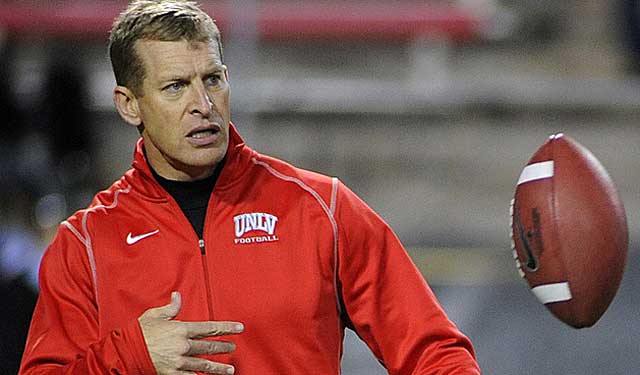 More college football: Offseason reports | Latest news, notes
Bobby Hauck fell on the grenade at UNLV.
It may have been more out of a sense of selflessness than reality that the Rebels' football coach blamed himself earlier this month. UNLV became the highest-profile FBS program to suffer a bowl ban for falling below the NCAA's Mendoza Line.
In fact, UNLV is the only FBS program to be penalized in the 10-year history of the mysterious Academic Progress Rate.
That APR number -- schools must attain a minimum 930 score out of 1,000 -- roughly equates to a 50 percent graduation rate. It is calculated over a four-year rolling average. The standard was raised in 2011 from 925, where UNLV said it fell.
That doesn't help the present, as the Rebels become the first major college program to bear the NCAA's academic scarlet letter. UNLV is banned from a bowl in 2014 after making the postseason for the first time in 14 years.
"I take it as a personal failure," Hauck told reporters.
Whoever is to blame, UNLV has shown contrition and pledged an academic makeover. The school is putting a quarter million into academic support and an in-house APR committee.
UNLV also appealed unsuccessfully.
Somewhere deep in the halls of the NCAA, they are likely raising a muted toast.
The system "worked."
The APR was instituted a decade ago as a deterrent. The language says it was started to reward schools that show a commitment to "academic progress, retention and graduation," and to penalize those who "fail to demonstrate such commitment."
Teams were going to stop majoring in eligibility. The bar was set so ridiculously low that it was totally on the school if it didn't reach that initial 925 benchmark.
Except that I'm having a hard time believing UNLV is the only FBS program in the past decade failing to demonstrate the proper academic commitment. We're talking roughly 120 schools being scrutinized each year. UNLV is the outlier?
I believe the school lost 700 faculty and staff during an economic downturn, which coincided with the latest APR reporting period (2009-10 to 2012-13). In fact, that was part of UNLV's appeal. Despite those losses due to external forces, the school admitted its advising was inconsistent.
I do believe that the school's claim that it actually attained the old number (925) and came within five points of the new standard. When UNLV appealed it essentially asked for a break.
The NCAA heard none of it.
This is hardly the picture of a football factory. Hauck started at UNLV with three straight two-win seasons before a 7-6 season in 2013 that included a trip to the Heart of Dallas Bowl. The program now is denied a shot at its first back-to-back bowl season before a ball is even kicked.
But is UNLV a scofflaw or a convenient victim? Remember, we're decades and a different sport away from Jerry Tarkanian's renegade Rebels. The school had a heck of an appeal. Rebels football is fifth in the Mountain West in graduation rate (64 percent). Right in the middle. The school contended 96 percent of current roster didn't affect that APR score. The athletic department's overall grad rate has increased 25 percentage points since 2005.
In other words, the problem had been fixed.
Meanwhile, an academic fraud scandal rages at North Carolina. Whistleblower Mary Willingham resigned this week citing to CBSSports.com "workplace hostility." It's hard to reconcile the school's sterling 86 percent graduation rate with this paper that received an A-minus.
The conclusion is critics like Willingham have been screaming for years: There's sometimes a difference between getting a degree and getting an education.
What has the APR really achieved? So far it has mostly smacked down historically black colleges and universities (HBCUs) that don't have the budget to build towers of tutoring for their athletes.
It nicked Connecticut basketball which -- since the APR began -- has gone on probation and dropped from the BCS ranks. So much for the APR being deterrent. The Hungry Huskies won it all earlier this month.
What it hasn't done is take down one of the 65 football schools in the Pac-12, Big Ten, Big 12, ACC and SEC. Those schools for the most part can afford the lawyers and tutors and facilities that keep it out of NCAA jail.
"I think the 930 benchmark will catch someone out that high up [BCS] eventually. ...," said John Infante, who writes the Bylaw Blog for athleticscholarships.net.
"It won't be often, but it will happen every once in a while. And it will be much more likely in basketball than football."
I'm having trouble finding a lesson learned here. Those HBCUs weren't a casualty of bad academics, so much as sub-standard fund-raising. Those schools face difficulty in properly funding tutoring programs.
As mentioned, a season after it was banned from the NCAA Tournament, UConn won the whole thing. Shabazz Napier literally grabbed the mic and transformed the moment.
Embarrassment over lax academics morphed into an introduction of the Hungry Huskies.
NCAA legislation doing its job turned into sympathy for a program on probation.
Pundits and fans jumped on board.
UNLV football carries a much lower profile than UConn basketball. UNLV is now supposed to be shown up as an example. The specter of the APR has risen all the way to the level of a Mountain West school.
Hauck should be an admired figure at the moment. He's taken more responsibility in less than 24 hours than pretty much anyone at North Carolina has in years. Again, I have no idea if Hauck is to blame, but his nameplate says he is the head coach.
He's owning the current situation.
It may be a case where the school simply did not invest enough in academic support. It may be that Hauck brought in the football version of Tark's renegades. He certainly didn't win with them.
I do know this -- not many lessons have been learned from the APR threat. At those HBCUs, it's been proved it's easy to beat up on the disenfranchised and underfunded. At UConn, it's proven you can win a national championship a year after being banned from the tournament.
UNLV doesn't reside at either end of those extremes. The school's current plight certainly isn't much of a lesson for those who would fall short academically.
It plays outside the BCS.
Show Comments
Hide Comments
There are all sorts of drafts out there and these are my favorites

It's time to say goodbye to so many great players

What colleges and conferences had the most first-round picks in the 2017 NFL Draft?
Myles Garrett and Leonard Fournette were top-rated prospects coming out of high school

Ohio State and Washington will play in Seattle in 2024 and Columbus in 2025

Kirk Merritt claims 'jock itch' was the reason he exposed himself to two tutors