Upset Alerts Week 11: Can Hokie defense turn tide vs. 'Canes?
The Eye on CFB gang make their upset calls for Week 11, with Baylor, Miami, Penn State and Notre Dame on alert.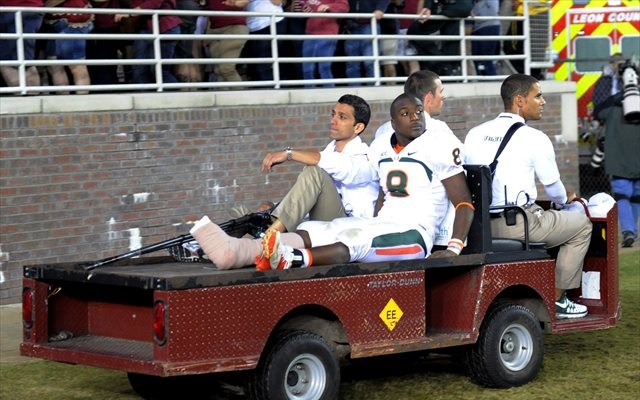 Welcome to a special Thursday edition of Upset Alerts, where each week our three intrepid Eye on College Football writers and special guest BCS/bowl projections expert Jerry Palm each pick an upset they believe will shock (or at least mildly amuse) the college football world.
This week's lines are here. The picks:
JERRY HINNEN: Virginia Tech (+6.5) over Miami :  It's not often that two teams can meet with a combined 13-4 record and both still be as deeply flawed as the Hokies and 'Canes. Tech's issues are glaring and fairly well-documented; Logan Thomas has suddenly become a nonstop all-night turnover party, making the 102nd-ranked Hokie offense an anchor so great even Bud Foster's incredible defense (second in the nation in yards-per-play allowed) couldn't get them past the likes of Duke and Boston College. Miami's own turnover-fueled woes were obscured by their late salvage-jobs against North Carolina and Wake Forest, but that the Hurricanes played about as well as they could for a half and still lost to the Seminoles by 27 speaks to their lack of raw strength as well. Jeff Sagarin's predictor rating doesn't see either team among the top 30 in the country, with Miami checking in at No. 33 and the Hokies not too far behind at No. 39.

But that rating doesn't take into account that Duke Johnson is out, that the Hurricanes may be suffering a wicked hangover from the Florida State game, or that at some point Thomas has to take better care of the ball. This game is going to be a low-scoring slugfest, and at some point -- this point -- the 'Canes are going to lose one of those. 
Last week: Missed on Tulane over FAU. Season-to-date: 1-for-9. As expected.
TOM FORNELLI: Penn State (+2.5) over Minnesota : Truth be known, both of the Jerrys (see below) picked the two games I'd have been choosing between this week, but since I am so kind and wonderful, I'm not going to hold it against them. I'll gladly go for my third choice, which this week is Penn State over Minnesota.

Now, I know Minnesota is 7-2 on the season and is quite the surprise, but I feel like a lot of it has been catching teams at the right time. This week the Gophers get a Penn State team that needed a late comeback and overtime to beat Illinois last week, but I just feel like this is a matchup that sways in Penn State's favor.

Minnesota's pass defense this season hasn't been great, as the Gophers rank 77th nationally in defensive pass efficiency, and I just see Penn State's Allen Robinson having a strong day against this unit. Meanwhile, on the other side of the ball, Minnesota's strength -- the run game -- typically plays to Penn State's strength on defense. The best way to beat Penn State's defense is through the air, and I'm just not sure Minnesota is capable of doing that. So while I think this will be a close game reflecting that narrow spread, I just feel Penn State has the overall advantage and will win on Saturday.
Last week: Missed on N.C. State over North Carolina. Season-to-date: 4-for-9
CHIP PATTERSON: Pitt (+4.5) over Notre Dame : Notre Dame is still a little banged up and coming off two physical games against Air Force and Navy, and could be ripe for an upset on the road in a rematch of last season's triple-overtime thriller. The Panthers have not played their best football recently, giving up an early lead against Navy and falling short of a comeback against Georgia Tech. While Tom Savage, Devin Street and Tyler Boyd put up big numbers early in the season, struggles on the offensive line have resulted in sacks and frequent check downs on passing plays instead of stretching the field. 

I have faith in the Panthers defense, led by All-American candidate Aaron Donald, but the Irish are deep at the running back position and could keep fresh legs rotating in and out of the game. The pressure here is on the Pitt offense to sustain drives or at least hit those home run plays down that have become so elusive in recent weeks. With an announced sellout, the environment should be one of the best Heinz Field has seen on Saturday (or Sunday) this fall. I know I picked Notre Dame to win, and cover, in the Expert Picks, but this the Upset Alerts -- the real DANGER ZONE picks live here.
Last week: HIT on Minnesota over Indiana. Season-to-date: 3-for-9
JERRY PALM: Oklahoma (+16) over Baylor : Here's what we know about Baylor: nothing. The Bears have put up video game score so far. The statistics are gaudy. They've put up 64 points a game, more than a touchdown more than No. 2 Oregon. They have rolled up a ridiculous 718 yards per game. But they have done that against the 81st ranked schedule. It's November 7th, and they haven't been tested yet. The Bears needed almost all 60 minutes to beat the best team they have played so far, Kansas State.

Well, now we find out about Baylor. Oklahoma comes in with the top defense in the Big 12 and will get physical with the Bears on both sides of the ball. The Sooners aren't perfect, especially on offense, but this is a team that has won in South Bend and knocked off a previously undefeated team its last time out. This isn't just the biggest game of the year thus far for Baylor, it's one of the biggest games in the history of the program. It's big for the Sooners too, and while "Big Game Bob" Stoops hasn't lived up to that name as much lately, I like Oklahoma's experience in games like this.
Last week: Missed on Michigan over Michigan State. Season-to-date: 3-for-8
Show Comments
Hide Comments
Have fun with this, SEC defenders

Making plays on the over/under for all 12 teams in the Pac-12

Mike Gundy and the Cowboys know there's one monster they have to contend with in their own...
The initiative has been put forth to offset the burden of declining freshman enrollment

How will the Big 12 shape up in 2017? Let's take a team-by-team look

Kush went 176-54-1 in 22 seasons at Arizona State