Upset Alerts, Week 13: Cowboys to end Baylor's dream season?
The Eye on CFB gang make their upset calls for Week 13, with Baylor, Iowa State, LSU and Arizona State on alert.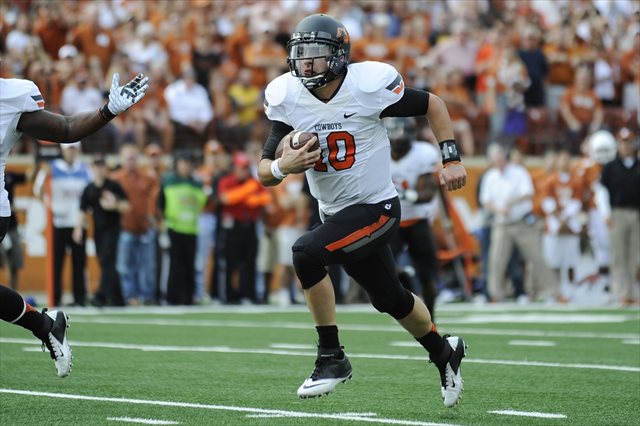 Welcome to Upset Alerts, where each week our three intrepid Eye on College Football writers and special guest BCS/bowl projections expert Jerry Palm each pick an upset they believe will shock (or at least mildly amuse) the college football world.
The week 13 lines are here. The picks:
JERRY PALM: Oklahoma State (+9.5) over Baylor : At the risk of making the same mistake twice, I'm picking Baylor to suffer its first loss of the season. Unlike last time, when I picked the Bears to lose at home to Oklahoma, this game is on the road and Baylor is dinged up. Not having its top two backs and a top receiver, who is out of the season, didn't hurt them too much last week against Texas Tech. Baylor started slowly, spotting the Red Raiders 14 points, before turning it on and cruising to a 63-34 win.

Oklahoma State is a different challenge though. The Cowboys took a while this season to figure out how to get the offense cranked up, but now it is. They beat Texas Tech on the road 52-34, with the difference being that OSU jumped on Tech early and didn't look back. Cowboys QB Clint Chelf has settled into the role now and the offense is starting to sizzle. Defensively, the Cowboys lead the nation in interceptions, so Bryce Petty better be careful. This is the first time all season -- all season -- that Baylor plays in a hostile environment. Yes, they played road games at Kansas and Kansas State, but those aren't the most fearsome places, especially Lawrence, and the Bears struggled to beat the Wildcats. Playing their best opponent so far in their first true road test will be too much for the Bears.
Last week: Missed (barely) on Georgia over Auburn. Season-to-date: 3-for-10
CHIP PATTERSON: Kansas (+5) over Iowa State : The Jayhawks have finally snapped the losing streak in Big 12 play, and have an opportunity to start moving things in the other direction against the lowly Cyclones. Kansas running back James Sims has been the focal point (and only real highlight) in the offense, and on Saturday night he will get to continue his current tear against the Big 12's worst defense. Iowa State is giving up 5.39 yards per carry on the ground -- a number that ranks dead last in the conference and No. 116 nationally.

It's true that Kansas' defense has not been much better -- and will have its hands full with Sam Richardson and Aaron Wimberly -- but that Jayhawks unit did hold West Virginia to just one touchdown before the Mountaineers snuck in two garbage time scores in the 31-19 win. I know West Virginia's offense has sputtered significantly down the stretch, but that kind of unexpected performance is enough to give me confidence in a second-straight Charlie Weis ice bath.
Last week: Missed on Texas over Oklahoma State. Season-to-date: 4-for-11
JERRY HINNEN: Texas A&M (+4.5) over LSU : If you buy the old adage that home field is worth three points, the 4.5-point spread here would indicate that the bookmakers have the Tigers as a slightly better -- as in, 1.5 points better -- team straight-up than the Aggies. Is that actually the case? Both teams have played six SEC games. A&M has posted an average scoring margin of +7.6 and average net per-play margin of +.77; LSU is at +3.5 and +.59 in those metrics, respectively. More simply, A&M has two losses, to teams who have lost a total of one game. LSU has three, to teams who have lost seven.
Yes, A&M's schedule has been a shade easier thanks to LSU's trip to Georgia, and yes, "who's better?" may not be the only factor with the game in Baton Rouge. But the Aggies have been a better road team than home team in the Manziel/Sumlin era anyway -- and the guess here is that they're good enough to come away with a win Saturday as well.
Last week: HIT on USC over Stanford. Season-to-date: 3-for-11
TOM FORNELLI: UCLA (+2.5) over Arizona State: This is a line that I was all over for Upset Alerts the moment I saw it put on the board Monday -- simply because it didn't make a whole lot of sense to me.
Arizona State is a good team. I'm not even going to attempt to dispute that. However, is Arizona State a good enough team to be favored on the road against UCLA? That seems like an insult to a Bruins team that took some lumps against Stanford and Oregon, but otherwise has been perfect in the Pac-12.

There are also other trends I can't just ignore -- like the fact that Arizona State simply hasn't been that good on the road this season. The Sun Devils have left the state of Arizona four times this season, losing to Stanford, losing to Notre Dame, narrowly escaping Utah and beating Washington State rather soundly. And UCLA is a lot closer in quality to the Cardinal, Irish and Utes than the Cougars.

The Sun Devils may yet win the Pac-12 South, but they won't be doing so on Saturday.
Last week: Missed on Hawaii over San Diego St. (in overtime). Season-to-date: 4-for-11
Show Comments
Hide Comments
Ohio State and Washington will play in Seattle in 2024 and Columbus in 2025

Kirk Merritt claims 'jock itch' was the reason he exposed himself to two tutors

The former coach weighed in on the new NCAA recruiting rules
Wiggins has played more than 30 games in the ACC and SEC during his career

Our panel of experts drafted the best sports video games that have ever been created

The players allegedly conspired to steal belongings from another student's dorm room