Upset Alerts, Week 8: Commodores to stun the Bulldogs?
The Eye on CFB gang make their upset calls for Week 8, with Georgia, Stanford, Texas Tech and Utah State on alert.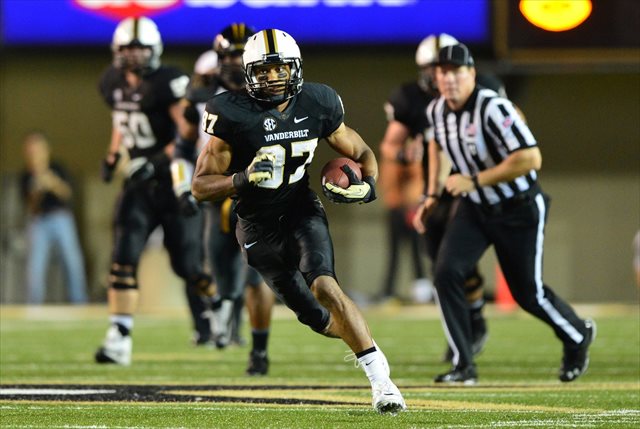 Welcome to Upset Alerts, where each week our three intrepid Eye on College Football writers and special guest BCS/bowl projections expert Jerry Palm each pick an upset they believe will shock (or at least mildly amuse) the college football world.
This week's lines are here. The picks:
JERRY PALM: Vanderbilt (+7) over Georgia : If Georgia was healthy, this wouldn't even be a consideration. The line would also likely be twice as big. It looks like the Bulldogs will be without Todd Gurley again this week, which means that they are still down three receivers and two backs. Pretty soon, they'll be recruiting replacements from the band. Since the injury bug bit, Georgia barely escaped at Tennessee and lost at home to Missouri.

Vandy hasn't been setting the world on fire, but they are coming off a bye, which is a good chance to not only rest up and get healthy, but put in some new wrinkles Georgia might not have seen. Somewhat lost in the injury news with Georgia is the fact that the Bulldog D is giving up points in droves. Granted, the competition has been tough, but they've only had one comfortable win, that one over North Texas. With the offense depleted, it's getting tougher for the Bulldogs to outscore their own defense. It says here they can't do it this week.
Last week: Missed on Georgia Tech over BYU. Seaon-to-date: 2-for-5
TOM FORNELLI: UCLA (+4.5) over Stanford : When it comes to talking about how strong the Pac-12 has been this season, the talk generally focuses on the conference's North Division. And for good reason, as Oregon, Stanford and Washington all got off to very strong starts to the season. But you know what? UCLA is pretty damn good as well. This is a team that's started out 5-0 and winning each of its games by an average of 27.6 points per game.

Now, Stanford will represent the toughest test that the Bruins have seen this season. However, even before Stanford lost to Utah last week, there were some signs of trouble against Washington the week before. I just don't have the same kind of feeling while watching this Stanford team that I've had in years past, and I'm just not convinced the Cardinal are the best team in this matchup. I think that honor just might be UCLA's. 
Last week: Hit on South Florida over UConn. Season-to-date: 3-for-6.
CHIP PATTERSON: West Virginia (+5) over Texas Tech : It's been nearly two weeks since Baylor hung a one-over 73 on West Virginia's defense, so I think enough time has passed to suggest that the Mountaineers defense has shown glimpses of real improvement after a couple of staff shakeups in these first years of the Dana Holgorsen era. The defense was most consistent unit on the field against Oklahoma and Oklahoma State, though it could be argued that's not saying much with the current state of West Virginia's quarterback play.

Holgorsen said this week that the Mountaineers know what Texas Tech is going to do offensively. He acknowledged, however, that stopping the Red Raiders attack is an entirely different challenge. Kingsbury also knows what his mentor wants to do offensively. Unfortunately for West Virginia, the Texas Tech defense has been quite stout statistically; though that has been aided by offensive struggles at Kansas and TCU.

So what happens here? I think it's an ugly stalemate, like when George Sr. and Oscar Bluth came to blows at the church in "Arrested Development." With Oklahoma a week away and West Virginia coming off a bye, look for the undefeated Red Raiders to fall in this low-scoring trap game.
Last week: Missed on Arkansas over South Carolina. Season-to-date: 2-for-6
JERRY HINNEN: New Mexico (+11) over Utah State : Oh, Chuckie Keeton. We miss you, buddy. College football was more fun with you around.

But here's a guess that we don't miss you half as much as the Aggies do. USU played two quarterbacks in their home loss to Boise State last week, with starter Craig Harrison and backup Darell Garretson combining to go 16-of-31 for 7.1 yards an attempt, one touchdown, two interceptions and -- most notably -- a 34-10 deficit before two late cosmetic touchdowns (one of those an Aggie pick-six). The Lobos have their own quarterbacking issues to worry about, but they won't hurt as much given that Bob Davie's team will be at home and boasts one of the nation's best rushing attacks; led by senior Kasey Carrier's 789 yards, the Lobos rank second in FBS rushing and third in yards-per-carry.
The USU defense is nothing to sneeze at, ranking 17th in the country in yards-per-carry allowed. But with Keeton gone, the Lobos' potency on the ground may still be enough to carry them past the Aggies all the same.  
Last week: Missed on Pitt over Virginia Tech. Season-to-date: 1-for-6.
Show Comments
Hide Comments
The former coach weighed in on the new NCAA recruiting rules

Wiggins has played more than 30 games in the ACC and SEC during his career

Our panel of experts drafted the best sports video games that have ever been created
The players allegedly conspired to steal belongings from another student's dorm room

Harbaugh handed the Pope a Wolverines helmet and special shoes

How Markeeth Taylor has become a last chance for NFL hopefuls like LeBeaux Cooper