Upset Bait: A Badger three-peat, more love for Championship Week underdogs
The Eye on College Football crew scans the weekly lines for a straight-up shocker or two -- for entertainment purposes only, of course.
The Eye on College Football crew scans the weekly lines for a straight-up shocker or two -- for entertainment purposes only, of course. For more weekend predictions, check out our expert picks.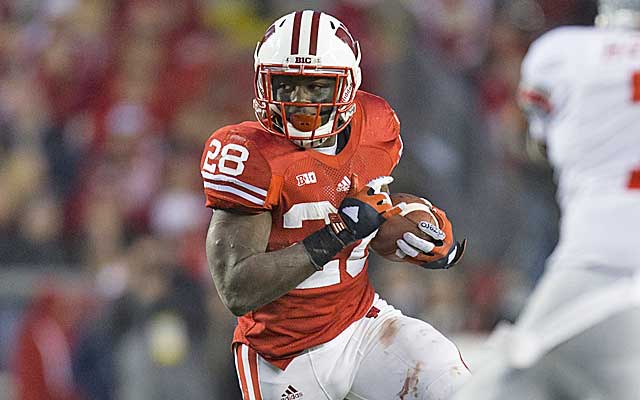 Montee Ball can help lift Wisconsin to its third consecutive Rose Bowl. (US Presswire)
CHRIS HUSTON: UCLA (+8.5) over Stanford.


It's hard to beat any team twice in a row and this game will prove it. UCLA has a week to get the kinks out following last week's 35-17 loss in the Rose Bowl and come up with a completely new game plan against Stanford, while the Cardinal will come out uninspired and complacent before their placid home crowd. Quarterback Brett Hundley and running back Johnathan Franklin will have big games and lead the Bruins to the upset and UCLA's first Rose Bowl bid since 1998, proving that the real Pac-12 coach of the year should've been Jim Mora, not David Shaw.
- - -
Last Week: Missed on USC (+5.5) over Notre Dame. Season: 6-for-13.
TOM FORNELLI: Georgia (+7.5) over Alabama.


This is an odd choice for me to make, as I've felt Georgia has been overrated for quite a while. Not that I think Georgia is a bad team, or anything even just an above average team. I just don't think the Bulldogs are the third-best team in the nation because I'm not convinced they're the third best team in their own conference.
So of course I'd be taking the Dawgs to take down Nick Saban's Death Star. UGA quarterback Aaron Murray has had some difficulty with top SEC defenses this season, but Alabama's defense has also had problems with well-rounded offenses. This Georgia offense has averaged more yards per play than Texas A&M this season, and it also has a higher pass efficiency. In other words, it's pretty damn good, and Alabama has shown at times that its defense this season isn't quite up to that unbeatable standard we've seen in recent years.
And I think Georgia will remind us of that Saturday night in Atlanta. The Dawgs are heading to Miami.
- - -
Last Week: Missed on Michigan (+3.5) over Ohio State. Season: 5-for-13.
JERRY HINNEN: Wisconsin (+3) over Nebraska.


The Badgers don't have much in the way of an impressive record -- 7-5 is a far cry from the 11-win squads that rolled to back-to-back Rose Bowls the past two seasons -- but one thing they have been able to do is punish poor defenses: 31 points vs. Illinois, 38 vs. Purdue, 38 vs. Minnesota, 62 vs. Indiana. And away from the friendly confines of Memorial Stadium, rest assured that the Huskers have been a poor defense, yielding 36 points to UCLA, 63 to Ohio State, 28 to Northwestern, and 24 to Michigan State. (Giving up 24 points to Michigan State is like giving up 48 to most teams, mind.) And even in Lincoln, the Huskers gave up 27 to a Badger offense that came into their Week 5 meeting as one of the worst offenses in the country.
You get the idea: Wisconsin is poised to put up a healthy number of points. And in the pressure-cooker situation of a league championship game, Taylor Martinez and Co. might not be ready to put up quite so many.
- - -
Last Week: Hit on South Carolina (+4) over Clemson. Season: 4-for-13.
CHIP PATTERSON: Kent State (+7) over Northern Illinois.


The Golden Flashes just wrapped their best regular season in school history, and are already set to attend their first bowl game since 1972. But I doubt you will see any complacency with a MAC title -- and possibly a BCS bowl bid -- on the line. That is a much different mindset than Northern Illinois, making its third straight appearance in the MAC title game. The Huskies do have prolific quarterback Jordan Lynch, arguably the best dual-threat player in the country. But Kent State will balance that with their on dual threats out of the backfield: Dri Archer (1,373 yards rushing, 1,027 more as a receiver and return man) and Trayion Durham (1,199 yards rushing).
But while Northern Illinois might have the advantage on paper, Friday's title game will be the Huskies' first game against a ranked opponent. That's not to say that Toledo or Ball State are not quality wins, but that Kent State's win against a very tough Rutgers team in October -- the first win over a ranked team in school history -- gave the Flashes the experience and confidence to face any challenge. I say that big-game experience gives them the edge in a surprisingly low scoring battle (thinking 28-24 or 35-31), and Kent State celebrates in the Motor City.
- - -
Last Week: Missed on Duke (+6.5) over Miami. Season: 4-for-13.
MATT HINTON: Middle Tennessee State (+10) over Arkansas State.


The Sun Belt championship is on the line in Jonesboro, between the two hottest teams in the league: MTSU has won five straight SBC games and four in a row overall, while Arkansas State has taken six straight. What makes Middle Tennessee's run particularly impressive is that it's come without the Blue Raiders' best player, tailback Benny Cunningham, who went down with a midseason knee injury just as he was beginning to emerge as one of the stars of the conference.
In the meantime, the Raiders have won with a healthy dose of opportunism, by which I mean straight-up theft: The defense has forced 15 turnovers in the last four games alone, compared to just two giveaways by the offense, good for the second-best turnover margin in the nation in the month of November. Of the Raiders' five takeaways last week against Troy, three were forced by safety Kevin Byard, who took a fourth-quarter interception 77 yards for the decisive touchdown in a 24-21 win. As expected, head coach Gus Malzahn has wasted no time turning Arkansas State's offense into the highest-scoring attack in the conference in his first year, but ASU has also been cursed by atrocious special teams -- the Red Wolves rank dead last nationally in net punting, and near the bottom in both kickoff and punt returns -- and will be left with little margin of error if the offense coughs the ball up on Saturday.
- - -
Last Week: Missed on Southern Miss (+4.5) over Memphis. Season: 2-for-13.
The shooting took place during an apparent meeting over a cell phone

A decision in either direction would help the NCAA move forward in Sin City

White is the No. 1 running back recruit and No. 6 overall recruit for next year's class
Dennis Dodd goes inside college football to explain why realignment is still an agenda ite...

Shedrick Jackson is a three-star wide receiver

Nigerians are making waves in the U.S. due to their intensity, intelligence and athleticis...