Upset Bait: Grown-up Gators hit their stride, and more love for Week 6 underdogs
The Eye on College Football crew scans the weekly lines for a straight-up shocker or two -- for entertainment purposes only, of course.
The Eye on College Football crew scans the weekly lines for a straight-up shocker or two – for entertainment only, of course.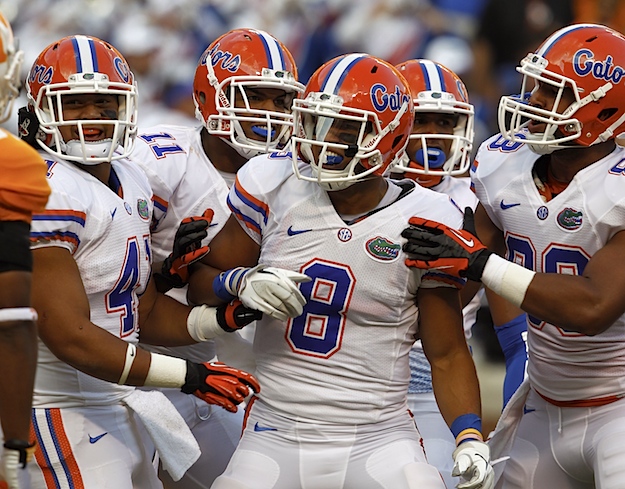 CHRIS HUSTON: Southern Mississippi Golden Eagles (+10) over Boise State Broncos .


At this point, it's official: Boise State isn't reloading, it's rebuilding. The Bronco offense has fallen to just 22.8 points per game, while the defense is having trouble holding off the likes of New Mexico. Meanwhile, Southern Miss gave Louisville a battle last weekend, albeit in a thunderstorm of epic proportions. Now Boise must travel 2,000 miles to play the Golden Eagles and the time might be just ripe for the upset.
- - -
Last Week: Hit on Washington Huskies (+6.5) over Stanford Cardinal . Season: 4-for-5.
CHIP PATTERSON: Purdue Boilermakers (+3) over Michigan Wolverines .


 I have to say, Tom Fornelli opened my eyes to this one in a podcast this week, and since he's picked Florida Gators over LSU Tigers (see below) I'll grab his leftovers.  Danny Hope wanted the Boilermakers to go undefeated at home this year, and so far they are 3-0 at home with just Penn State Nittany Lions and Indiana Hoosiers left after this game.  The Wolverines have had an extra week to put the pieces back together after the turnover-fest at Notre Dame Fighting Irish , but they are on the road against a Purdue team that's leading the Big Ten in interceptions. If the Boilermakers can force a couple of turnovers to give their proven offense (averaging over 40 points per game on the season) enough chances against a good Michigan defense, Purdue could get a much-needed win in that wide-open chase for a Leaders Division berth in the Big Ten title game.  Thanks Tom, the leftovers are delicious.
- - -
Last Week: Hit on Missouri Tigers (+3) over UCF Knights . Season: 4-for-5.
BRYAN FISCHER: West Virginia Mountaineers (+7) over Texas Longhorns .


This will be Geno Matias-Smith and West Virginia's biggest test of the season as they actually face a decent defense. While the Longhorns have athletes on that side of the ball, I'm not sure they're equipped to handle what Dana Holgorsen is going to throw at them -- especially considering the fact that they're 100th in the country in yards per play allowed. Texas' offense isn't close to Baylor Bears so even the maligned Mountaineers defense will keep the score lower than expected. This game seems like more of a pick'em and I'll take the team with the Heisman Trophy frontrunner.
- - -
Last Week: Missed on Texas-El Paso Miners (+4.5) over East Carolina Pirates . Season: 3-for-5.
TOM FORNELLI: Florida Gators (+2.5) over LSU Tigers .


The LSU that we've seen the last two weeks just hasn't been the same impressive LSU team we saw last year. The Tigers just managed to eke by Auburn Tigers two weeks ago and actually was out-rushed by Towson – TOWSON! – in an underwhelming victory last week.  Then there's Florida, which has beaten Texas A&M Aggies , Tennessee Volunteers and Kentucky Wildcats by convincing margins in its last three games.
This Florida team is just better than the Florida teams we've seen the last two seasons. The Gators also had last week off, giving them an extra week to prepare for this game. The last time LSU went to the Swamp, the Tigers needed a fake field goal and a last-minute touchdown to pull off the win against an inferior team. This year they won't be as fortunate.
- - -
Last Week: Hit on Ohio State Buckeyes (+2.5) over Michigan State Spartans . Season: 3-for-5.
JERRY HINNEN: Florida Gators (+2.5) over LSU Tigers .


So which is the real LSU? The one that swept through the 2011 regular season and blasted a quality Washington Huskies team 41-3  in Week 2? Or the one that narrowly defeated spiraling Auburn and went all four quarters with FCS Towson? And which is the real Florida: The Gators that wheezed through 2011 and flailed in Week 1 against Bowling Green Falcons , or the one that's since defeated an increasingly impressive Texas A&M team and rival Tennessee, both on the road?
The guess here is that it's the latter in both cases. In LSU's case, fooling around with a team like Towson for a half is one thing, but the kind of struggle the Tigers went through is something elite teams usually avoid. In Florida's case, A&M's utter dominance of teams like Southern Methodist Mustangs and Arkansas Razorbacks suggest going into Kyle Field is no mean feat -- and now the Gators are at home for the biggest game of Will Muschamp's young Florida tenure. In a match-up of teams riding the escalators in different directions to right about the same spot, I'll take the one on its own field.
- - -
Last Week: Missed on NC State Wolfpack (+2.5) over Miami (Fla.) Hurricanes . Season: 1-for-5.
MATT HINTON: Virginia Tech Hokies (+6) over North Carolina Tar Heels .


Virginia Tech is 0-2 against the Big East after upset losses at the hands of Pittsburgh Panthers and Cincinnati Bearcats , and didn't wow anyone in its lone ACC win, an overtime escape against Georgia Tech Yellow Jackets on opening night. In the wide-open Coastal Division, though, the Hokies remain the default pick to wind up in Charlotte in December, if for no other reason than their track record – they've taken the Coastal crown in five of seven years since the ACC adopted the divisional format in 2005, including the last two – and the absence of a compelling alternative to the status quo.
Certainly no one is vouching for the Tar Heels in the latter category after back-to-back September losses to Wake Forest Demon Deacons and Louisville Cardinals . I'm not quite as confident in Tech as its head coach seems to be, but Frank Beamer's teams never have had any trouble winning in Chapel Hill, and despite the Hokies' early struggles, North Carolina hasn't done anything in its first five games to suggest Saturday will go any differently.
- - -
Last Week: Missed on Oklahoma State Cowboys (+2.5) over Texas Longhorns . Season: 0-for-5.
Show Comments
Hide Comments
Ohio State and Washington will play in Seattle in 2024 and Columbus in 2025

Kirk Merritt claims 'jock itch' was the reason he exposed himself to two tutors

The former coach weighed in on the new NCAA recruiting rules
Wiggins has played more than 30 games in the ACC and SEC during his career

Our panel of experts drafted the best sports video games that have ever been created

The players allegedly conspired to steal belongings from another student's dorm room