Upset Bait: Stanford shoots for the Matt Barkley sweep, and more love for Week 3 underdogs
The Eye on College Football blog crew scans the weekly odds for a straight-up shocker or two -- for entertainment only, of course.
The Eye on College Football blog crew scans the weekly odds for a straight-up shocker or two – for entertainment only, of course.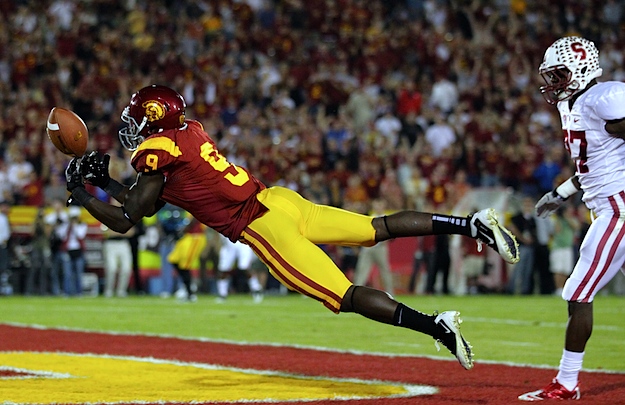 CHIP PATTERSON: Virginia Cavaliers (+10) over Georgia Tech Yellow Jackets .


When the Cavaliers knocked off Georgia Tech in Charlottesville last season, the Yellow Jackets were ranked No. 12 in the country and had one of the nation's most prolific offenses. Virginia found that the best way to avoid Tevin Washington and the bruising flexbone option attack was to limit the Jackets' offensive opportunities. Led by Perry Jones and Virginia Cavaliers , the Cavaliers rushed for 272 yards and dictated the pace in the second half. Jones and Parks are both looking to bounce back from uncharacteristically poor performances against Penn State Nittany Lions , and I think it happens against the same 3-4 defense they gashed a year ago.
- - -
Last week: Hit on UCLA Bruins (+5) over Nebraska Cornhuskers . Season: 2-for-2.
BRYAN FISCHER: Utah Utes over Brigham Young Cougars .


It's a rivalry game – nicknamed the Holy War, for goodness sake – so anything can happen. Last year, it was a huge Ute victory and that's likely not forgotten by the Cougars. Utah looked terrible last week on offense against Utah State Aggies but still managed to make it a game despite starting quarterback Jordan Wynn leaving with yet another shoulder injury. BYU looked good in the season opener, but it seems the Washington State team it pounded in that game wasn't as good as we once thought. With a stifling defense and strong running game to go with QBs that have taken first-team reps in practice, I think the Utes can pull it off.
- - -
Last week: Missed on Illinois Fighting Illini (+3) over Arizona State Sun Devils . Season: 1-for-2.
TOM FORNELLI: Stanford Cardinal (+9) over Southern California Trojans .


While I'm not sure it really feels like an upset given the recent history in the series (Stanford has taken four of the last five from the Trojans since 2007), I wouldn't be surprised if Stanford knocked off USC one more time on Saturday. The USC defense allowed Syracuse Orange to gain 455 yards of total offense last week, and now it will be hitting the road to take on a Stanford offense that looked much better against Duke Blue Devils last week after a shaky opener against San Jose State Spartans . USC's title hopes could take a serious hit on Saturday in Palo Alto.
- - -
Last week: Hit on Arizona Wildcats (+10.5) over Oklahoma State Cowboys . Season: 1-for-2.
JERRY HINNEN: Utah State Aggies (+13) over Wisconsin Badgers .


You're Bret Bielema. Your previously unstoppable juggernaut of an offense gained all of 206 yards last week against Oregon State Beavers , averaged 1.5 yards per carry, and came within 60 seconds of being shut out ... again, against Oregon State. You've fired your offensive line coach and replaced him with a "second-year quality control graduate assistant." A season that seemed destined to end in a third straight Rose Bowl trip already seems to be slipping away. What kind of team do you not want to see coming to Camp Randall Stadium?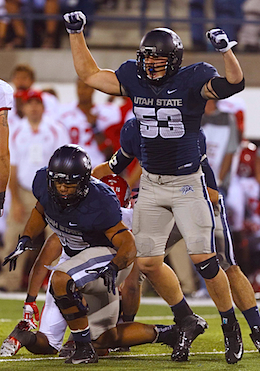 How about a team that's 11-2 against the spread as a road underdog under their current coach? That comprehensively outplayed Auburn a year ago only to miss out on the upset due to special teams gaffes? That scared the pants off BYU in Provo last season and played Oklahoma to a dead heat two years ago? That is now its coach's best team yet, his best defense yet, a team that comes to Madison brimming with confidence and with nothing in the world to lose after upsetting rival Utah?
Even so, an outright Aggie win remains something of a long shot – Wisconsin is still something resembling Wisconsin, and Utah State is Utah State. But after the past two years, USU coach Gary Andersen is due for a headline-making upset. And after seeing the way the Badgers flailed against Northern Iowa and OSU in their first two games, his opponent this this week seems ripe for the fall. It's a long shot we're taking.
- - -
Last week: Hit on Maryland Terrapins (+10) over Temple Owls . Season: 1-for-2.
CHRIS HUSTON: Stanford Cardinal (+9) over Southern California Trojans .


If any team knows how to beat USC, it's Stanford, which has taken four of five from the Trojans since 2007. Sure, the last couple games have come down to the last play despite the presence of Andrew Luck at quarterback for the Cardinal, but the psychological edge remains. If USC's offensive performance against Syracuse is any indication, the Trojans are not yet firing on all cylinders. The USC defense is set up to stop spread teams like Oregon, leaving it vulnerable to Stanford's smash-mouth, ball-control style.
If you see Stanford's front seven getting pressure on Matt Barkley and Cardinal QB Josh Nunes hitting wide open targets, look out. While the smart money is on USC blowing Stanford away, the Trojans could be ripe for the upset.
- - -
Last week: Hit on Oregon State Beavers (+8) over Wisconsin Badgers . Season: 1-for-2.
MATT HINTON: Arizona State Sun Devils (+6.5) over Missouri Tigers .


It's not hard to see why oddsmakers remain high on Mizzou after watching the Tigers hang tooth-and-nail with Georgia for three quarters last week in their SEC debut, or why they're a bit skeptical of Arizona State's 45-14 rout over Illinois: The Devils were at home, against a mediocre Illini outfit missing its starting quarterback in its first road game under a new head coach. The ASU defense also had a hard time stopping Illinois on the ground, to the tune of 231 yards rushing on 4.6 per carry. On the road, with a new head coach and a pair of fledgling quarterbacks of its own, Arizona State is still very much an unknown commodity.
That said, the Devils did have their way with a healthy Illinois defense via ground and air, at one point scoring touchdowns on four consecutive possessions in the first half en route to 510 yards of total offense. On defense, ASU collected three interceptions and sacked the Illini's young quarterbacks six times. Missouri quarterback James Franklin has played a lot more football than either of Illinois' backups, but Georgia eventually proved last week that he can be pressured into the same kind of errors.
- - -
Last week: Missed on Miami (Fla.) Hurricanes (+7) over Kansas State Wildcats . Season: 0-for-2.
Show Comments
Hide Comments
Ohio State and Washington will play in Seattle in 2024 and Columbus in 2025

Kirk Merritt claims 'jock itch' was the reason he exposed himself to two tutors

The former coach weighed in on the new NCAA recruiting rules
Wiggins has played more than 30 games in the ACC and SEC during his career

Our panel of experts drafted the best sports video games that have ever been created

The players allegedly conspired to steal belongings from another student's dorm room