US Open Flashbacks: 1990s
Since the Open era began in 1968, the US Open has provided many great memories, including the 1990s with Andre Agassi, Pete Sampras and Jimmy Connors' magical run.
by

Eye on Sports staff

• 1 min read
Since the Open era began in 1968, the US Open has provided many great memories from Arthur Ashe to Serena Williams.
As we count down the days to the start of the tournament on Aug. 25, CBS Sports provides US Open flashbacks by decade.
Here is a look at the great moments from the 1990s:
1990: Pete Sampras wins the first of his five US Open titles, easily defeating Andre Agassi.
1991: In one of the greatest matches at the US Open, a 39-year old Jimmy Connors defeated Aaron Krickstein in the fourth round as part of a memorable run to the semifinals.
1991: In the semifinals, Monica Seles defeated 15-year old Jennifer Capriati. She would go on to win her first US open title.
1992: In the semifinals, Stefan Edberg defeated Michael Chang after five hours and 26 minutes, the longest match in US Open history.
1994: Unseeded Andre Agassi captures his first US Open title.
1995: Pete Sampras captures his third US Open crown by beating Andre Agassi, in a match that featured one of the most memorable points.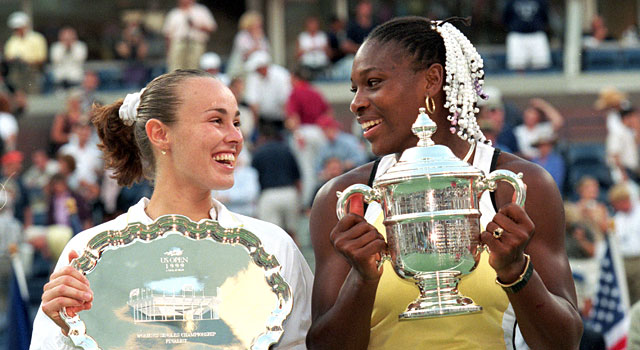 1997: In the semifinals, a 17-year-old Venus Williams and Irina Spirlea is remembered for the "bump" when the two changed sides.
1999: Serena Williams earns her first Grand Slam title with a victory over Martina Hingis.
CBS Sports Network will begin coverage of US Open qualifying from Aug 19-22. CBS and CBSSports.com will broadcast and stream the US Open live on Saturday, Aug. 30, while also showing the men's and women's semifinals and finals from Sept. 5-8.
Show Comments
Hide Comments
Twenty-eight of 95 early entry prospects went undrafted

The SEC and Michigan each had great weekends in the 2017 NFL Draft

Rawleigh Williams III left the field on a stretcher after a neck injury
Jim Harbaugh wants more college football programs to embrace the international trip

It seems there's a lot of talent in the SEC

There are all sorts of drafts out there and these are my favorites