Vanderbilt moves home game vs. Ole Miss to LP Field
The Commodores will play the Rebels at the Tennessee Titans' home stadium on Sept. 6.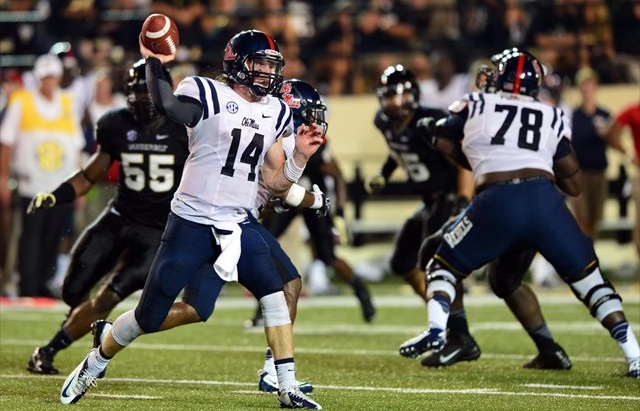 Vanderbilt -Ole Miss isn't often discussed when the topic is the SEC's best rivalries -- and, OK, it might be more accurate to say it's never discussed, at least outside of Oxford and Nashville -- but the Rebels and Commodores nonetheless have a good thing going, having met every season since 1970 and played two of the SEC's most exciting games of the season in 2012 and 2013. 
So it makes sense that when Vanderbilt went looking for a home game to move to Nashville's LP Field, it was the Ole Miss date they decided to lift onto the larger platform. The Commodores and Rebels announced Thursday that their Sept. 6 meeting will be played at the home of the Tennessee Titans, the first off-campus game between the teams since 1966.
"This is a special opportunity for Commodore Nation to enjoy a great football game and have a great time downtown," Vandy athletic director David Williams said. "We have typically had outstanding games with Ole Miss, and with eight home games we thought moving this one off-campus will further create an electric, bowl-like atmosphere. We are expecting a very good football game in a very good environment."
Commodore season-ticket holders will receive tickets to the game at no extra cost. Student tickets will be free, and the school plans to offer shuttles from campus to the stadium, per the Tennesseean's report.
The downside to moving the game from the 40,000-seat Vanderbilt Stadium to the 70,000-seat LP Field is that the Commodores may give up a measure of home-field advantage, particularly if the substantial number of Ole Miss alumni living in Nashville makes their presence felt. 
But the increase in capacity -- and accompanying increase in ticket sales -- could alsio provide the Commodores with a financial windfall, and it's a decision Derek Mason applauded.
"We have our home field, but this opportunity for our kids, to grow our fan base, I truly believe this is one that is welcomed," he told the Tennessean. "This puts us on a national stage considering we're the only SEC game that week, so it gives us an opportunity to step out front and be the big dog and let's see what we do."
Show Comments
Hide Comments
What colleges and conferences had the most first-round picks in the 2017 NFL Draft?

Myles Garrett and Leonard Fournette were top-rated prospects coming out of high school

Ohio State and Washington will play in Seattle in 2024 and Columbus in 2025
Kirk Merritt claims 'jock itch' was the reason he exposed himself to two tutors

The former coach weighed in on the new NCAA recruiting rules

Wiggins has played more than 30 games in the ACC and SEC during his career