Vegas expert: Buckeyes TD swung $100 million toward bettors
In maybe the most high-profile college football gambling moment ever, Ohio State's last-play touchdown swung the result against the spread.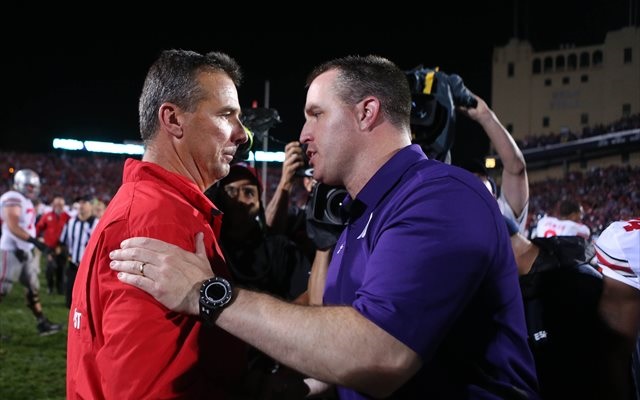 If you're an engaged college football fan, you probably know by now that Northwestern 's failed desperation lateral sequence on the final play of its 40-30 loss to Ohio State -- one that ended in the Buckeyes recovering a loose ball in the end zone for six "meaningless" points --may not have changed the outcome of the game, but did change the outcome of thousands of wagers nationwide.
The Buckeyes were anywhere from 5.5- to 6.5-point favorites, meaning that touchdown suddenly swung the against-the-spread result from a Northwestern cover to an Ohio State victory. And with the Buckeyes one of the most popular wagers on the board for last Saturday, that touchdown wound up being very bad news for oddsmakers. 
How bad? Noted Las Vegas sports gambling expert R.J. Bell explained to CBSSports.com's Bruce Feldman:
That last-second #OhioSt TD vs #Northwestern, prompted an estimated swing from bookies to bettors of $100 million worldwide, per @RJinVegas

— Bruce Feldman (@BFeldmanCBS) October 7, 2013
That is quite the bad beat for the house, to use the gambling parlance. But even that $100 million figure obscures the true fallout from the Buckeyes' fortunate cover: that Man has finally reclaimed the standings lead over Woman in Tom Fornelli's weekly Man vs. Woman vs. Machine pick-off.
Show Comments
Hide Comments
Ousted by a school despite not being charged with a crime, Faulk is clawing his way to the...

Sometimes spring practice is about avoiding the negatives as much as it is building moment...

Baylor is moving to dismiss the lawsuit, filed in January, on a two-year statute of limita...
USF senior Hassan Childs was injured in a shooting on Saturday night

It looks like LSU is moving towards having a beer garden for its home games

HB1249 would allow Arkansans with a certain permit to carry guns almost anywhere in the st...