VIDEO: 7-year-old cancer patient scores TD in Nebraska spring game
Jack Hoffman, a 7-year-old brain cancer patient and diehard Nebraska football fan, scored a touchdown in Nebraska's spring game.
• 1 min read
On Saturday, Nebraska's spring game was highlighted by a 69-yard touchdown run. The fourth-and-1 scoring play was not credited to Taylor Martinez or a Cornhuskers' running back, but instead to 7-year-old Jack Hoffman.
Hoffman, a brain cancer patient from Atkinson, Neb., broke into the end zone and was mobbed by players on both the Red and White squads in front of 60,174 fans in Memorial Stadium.
Former Nebraska running back Rex Burkhead befriended Hoffman last season, taking on a leadership role in the boy's support network, "Team Jack." When Jack took the field on Saturday, he wore No. 22 -- the same number Burkhead wore during his career in Lincoln.
"It was a lot of emotions right at once," said Jack's father, Andy. "Very emotional to see that. Husker fans have been so incredible to Jack and our family and especially to this cause."
Football operations director Jeff Jamrog and current fullback C.J. Zimmer hatched the idea to get Jack involved in the annual Red-White game. Burkhead is currently preparing for the 2013 NFL Draft, but was in attendance on Saturday to see Jack's big moment.
"Jack is a fighter, a strong kid," Burkhead said. "To see him run around and enjoy the Husker experience, it's a dream come true, especially for kids in the state of Nebraska. For Jack to get down here and do it, i know it made his day."
Check out Rex and Jack below, photo courtesy of FightPLGA.org. Head on over to their site to learn more about their efforts supporting children with brain cancer.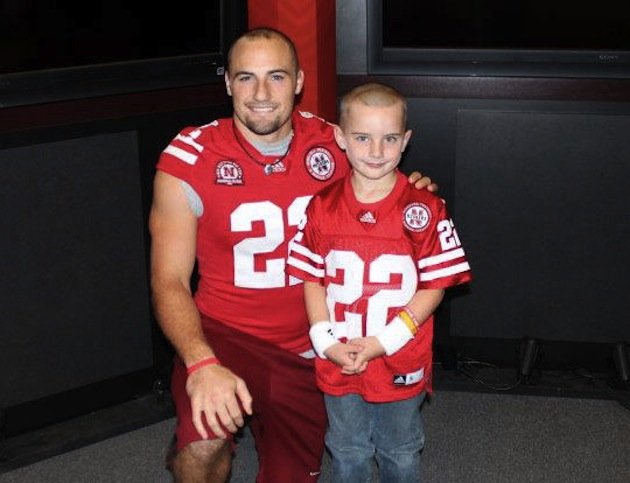 Information from the Associated Press contributed to this post.
Show Comments
Hide Comments
USC enters as the favorite, but are the Trojans the best bet?

Jim Harbaugh's Michigan staff will be at FAU on June 5

These five coaches will be hot names on the market after the 2017 season
The Big 12 could be wide open in 2017 ... we mean it this time

Rhule's stance on sexual violence is much-needed for a program that's been submerged in co...

The former Oregon coach was most recently the coach of the San Francisco 49ers