Virginia's quarterback race extending beyond spring practice
Mike London announced that the quarterback competition between David Watford, Greyson Lambert, and Phillip Sims will continue.
• 2 min read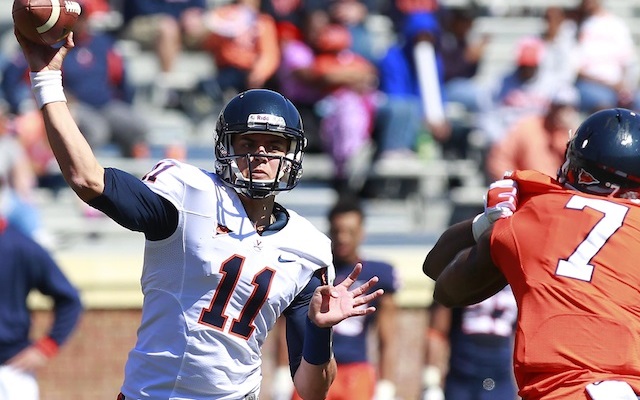 Virginia wrapped up spring practice with its annual Orange-Blue spring scrimmage over the weekend, but one of the spring's biggest questions remains unanswered as the Cavaliers prepare for summer workouts.
According to head coach Mike London, none of the three players competing for starters' reps at quarterback -- redshirt sophomore David Watford, redshirt freshman Greyson Lambert and redshirt junior Phillip Sims -- succeeded in separating themselves this spring.
 "I see promise in all three of them," London said after the scrimmage, referring to the quarterbacks. "We'll continue to keep finding that thing or those things that will separate them."
London placed some of the explanation on the format of spring practice, acknowledging that the process is more difficult "because you don't want [the quarterbacks] to get hit, but you want to evaluate them when you have a live rush coming at them."
All three quarterbacks have shared first-team reps during spring practice and did so again during the Orange-Blue game at Scott Stadium. Lambert, a former four-star prospect from Jesup, Ga., had the most impressive stat line of the day, completing 21 of 36 passes for 248 yards and two touchdowns. Lambert chose Virginia over Alabama, Clemson, and Georgia, enrolling early as one of the top prospects of London's 2012 recruiting class.
Watford played quarterback as a true freshman in 2011, but opted to redshirt last season while Michael Rocco and Phillip Sims alternated quarterbacking duties. Watford, technically the No. 1 quarterback on the depth chart, completed 5 of his 10 passes for 55 yards in the scrimmage and was "sacked" seven times. While the rules of the scrimmage were slanted toward the defense, Watford gave credit to the efforts of his opposition.
"The defense, they did a good job today," Watford said. "I'm proud of them. They really held it down over there on their side of the ball. They stopped us. They slowed us down. We just have to pick up our momentum."
Sims, a Chesapeake, Va., native who transferred from Alabama last offseason, completed 8 of his 18 pass attempts for 89 yards. Sims appeared in all 12 games for the Cavaliers in 2012, earning a starting nod in four contests. Despite entering the spring game at the bottom of the depth chart, the former Crimson Tide quarterback believes there is still plenty of time to earn the starting job.
"The depth chart says what the depth chart says," Sims told The Virginian-Pilot. "But that was only a pre-spring practice depth chart. Each one of us has to think we're the starting quarterback."
London and offensive coordinator Steve Fairchild have been adamant that the spring depth chart is temporary, so Sims' attitude is not far from what the coaches are looking for in their quarterbacks. Virginia is working out all kinds of kinks with the installation of Fairchild's scheme, but an answer at quarterback could go a long way in giving the Cavaliers' offense an identity.
The player(s) who start the season under center for Virginia will get no easy breaks from their competition. The Cavaliers open 2013 with back-to-back visits from BYU on Aug. 31 and Oregon -- projected to be a Top 5 team to start the season -- on Sept. 7.
Dennis Dodd goes inside college football to explain why realignment is still an agenda ite...

Shedrick Jackson is a three-star wide receiver

Nigerians are making waves in the U.S. due to their intensity, intelligence and athleticis...
Have fun with this, SEC defenders

Making plays on the over/under for all 12 teams in the Pac-12

Mike Gundy and the Cowboys know there's one monster they have to contend with in their own...